Mobile market is showing no sign of slow-down; be it mobile apps, smartphones, Tablets, advertisement revenue or mobile internet usage. After record unit shipments and revenue in 2012, Tablet market bound to grow further in 2013. According to a latest report from ABI Research, nearly 150 million Tablets would be shipped in 2013 globally, resulting in $64 billion in revenue. However, due to growing competition and emergence of local device manufacturers in developing countries, price of Tablets could attract more discounts. And, this is the prime reason behind 28% revenue growth projection from Tablet sales despite of 38% year-on-year shipments growth in 2013.
Android Closing The Gap With iOS In Tablet Market
In 2012, Apple Inc (AAPL) significantly influenced Tablet market by controlling 60% of market share. While Google Inc (GOOG) Android managed to grab only 37%, other competitors – Windows OS (7,8 or RT), BlackBerry OS – managed to reach out the left over 3% of market.
However, the trend is changing; In Q4, 2012, Android market share surged up to 62.5% from 44.60% in Q4 2011. On the other hand, Apple's iOS market share declined to 35.7% in Q4 2012 from 54.7% in the same duration a year back.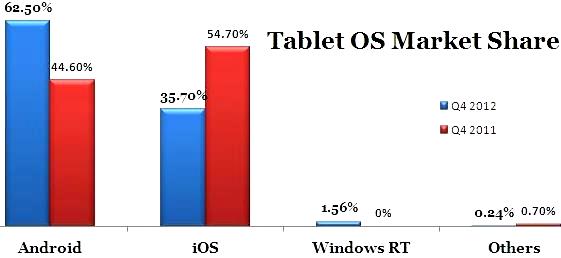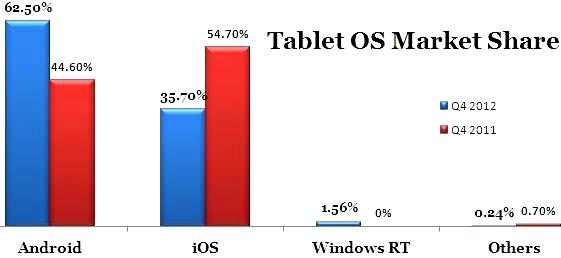 This growth of Android is largely pegged to Samsung as the company controlled 15.10% overall Tablet market in Q4 2012. As a matter of fact, 100% of Samsung Tablets are powered by Android till date and due to aggressive marketing and openness of Android, Samsung is able to deliver the best user-experience in Android Tablet segment compare to other Android Tablet makers.


According to another report, Android and iOS would stand neck-to-neck in Tablet industry. While Apple iOS Tablet market share would come down to 46%, Google Android would enjoy slightly bigger chunk of market with 48.8%, clearly indicating that the tide is turning towards Android.


Apple iPad Still Generates More Revenue For Publishers
In spite of all above, Apple iPad is still generating more revenue for publishers. As the internet users are migrating to mobile devices in score, advertisers are also adopting Tablet-first strategy over Smartphone because of bigger screen and higher-spent time. In fact iOS beats Android by a significant margin in terms of percentage of traffic, revenue and eCPM.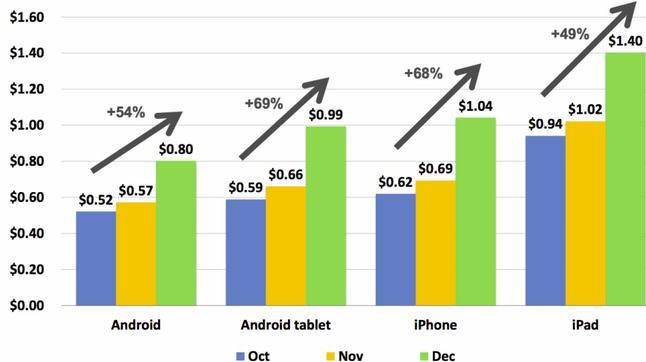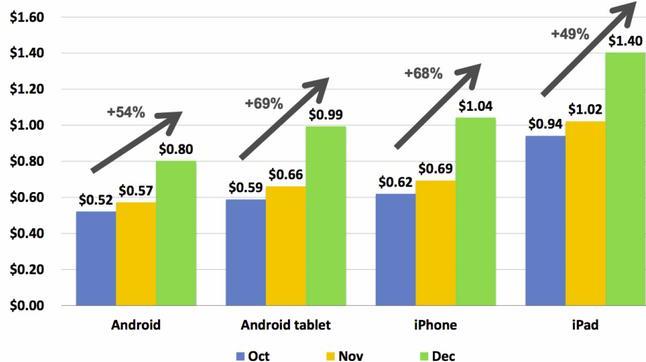 For Publishers, it's a great sign of success. Apple iPad convinces users to click more on ads, resulting in 2.2% CTR compare to just 0.9% on Android. Besides, the eCPM is also highest on iPad than any other mobile device. Compare to Android Tablets, iPad attracts 30% higher eCPM with an average cost of $1.40
In 2013, it's going to be a tough battle to win for Android and iOS both. While Android is betting big time on Samsung Galaxy S4, Mega Series, Samsung Tablets and Google Phone X, iOS has got lined up products roll-out including iPhone 5S, iPad 5 and iWatch besides a major overhaul in the form of iOS 7 scheduled for July.