Recently we reported that Email and search engine usage are the top most common digital activities and they are used in such a level by U.S. online users is that they have also reached saturation among online users.
Majority of online users say that email and search are the online activity necessary to efficiently use the web daily, unlike other online activities such as social networking, video viewing or gaming.
According to a new international study by ResearchNow and K&A Brand Research, Which highlights about online activities notes that music was most popular online activity among teens. The study also emphasizes on their attitudes towards online and offline ads. The study was conducted with respondents aged 12 – 17 years old from the US, Poland, Germany and the UK, teenagers in all four markets enjoy unlimited and unsupervised access to the internet.
The respondents reported that they are able to go online as long and as often as they wish, they do not need to ask for parental permission, and only in Germany are teenagers required to share internet access with siblings.
Also, 62% of the young people surveyed said that they go online every single day; 46% several times a day. Age doesn't make a much difference when comparing the amount of time teens spend on internet.
12 and 17 years old go online several times a day, 11% and 21% respectively. Teenagers in the UK and Poland use internet 20% more often than teens in Germany and America.
Most popular online activity
92% of the respondents go online to find out information, 'looking up things I don't know.'
While, 83% of teens are interested in finding out about events and what's happening, said to be the second most popular activity.
However, 74% of teenagers' research about public transport and do window shopping. The other 73% of teens enjoy playing online games.
On the other hand, teenagers in Poland use the internet to search for and purchase products more frequently than their international counterparts. Overall, only 35% of teens say they actually purchase items online.
Roughly one out of three teens surveyed from each country go online mostly via PC or laptop. The additional two-thirds reported accessing the internet through a tablet, smartphone, video game console, television or other devices.
The survey says, 27% of British teens go online via their smartphones, while fewer American (11%), German (9%) and Polish (2%) teens use their smartphone to access online.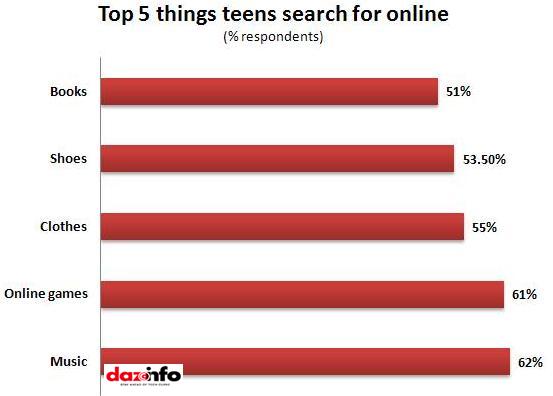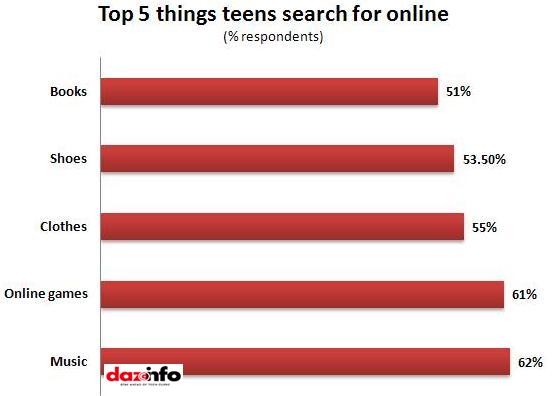 Teen attitudes towards ads
Music and CDs are the most popular items in terms of online search. However, teens in Poland search for online games more than music (64% in Poland as opposed to 59% in the US; 57% in the UK; and 56% in Germany). Shoes are also a popular search item among British (62%) and Polish (57%) teens.
When asked about a list of items respondents have ever searched for on the internet, including books, music, films, clothes and electronics, 36% of American teens reported have searched for mobile phones on the internet, while 58% of their counterparts in Poland, 53% in Germany, and 55% in the UK use the net to search for mobile devices more often.
Just about 80% of UK teens said they went online to visit social networks. And another seven out of 10 used the internet to listen to music.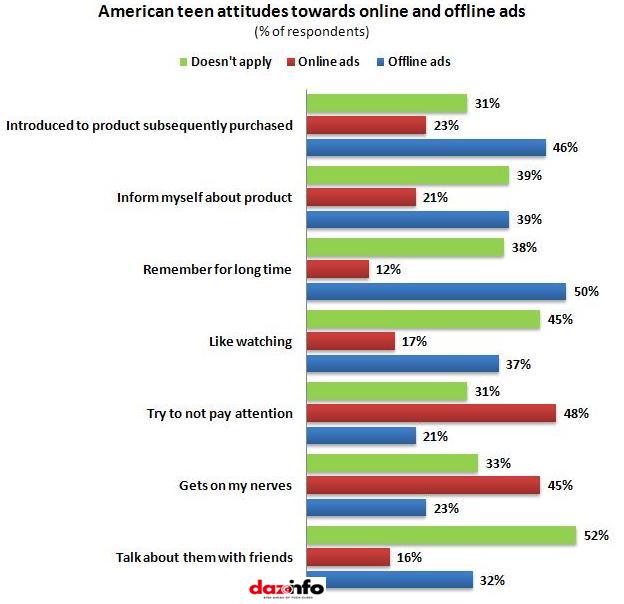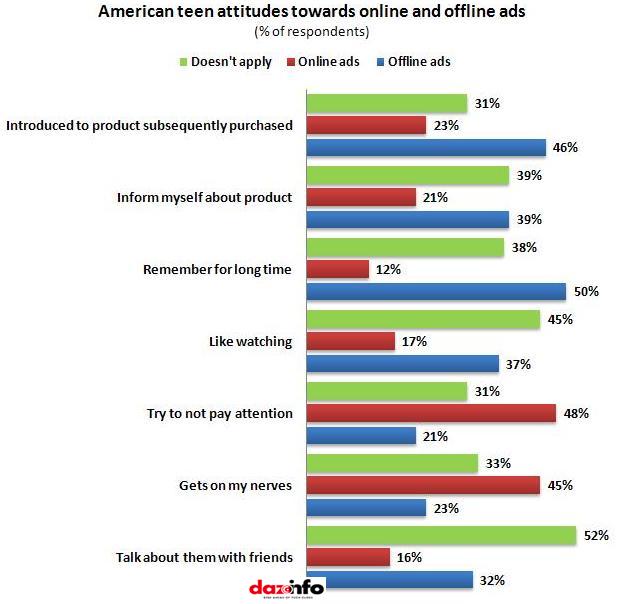 Teenagers in all four countries agreed that it didn't matter much which smartphone they had. Only 21% reported that the iPhone was the only smartphone for them.
This scenario matches with another report which said, 40% of teenager (respondents in survey) own iPhone, while 22% of teens are more likely to own Android smartphone as their next phone. Surely this says that iPhones are more popular among teens.
Anyhow, despite national differences, it's found that teens generally favorable attitudes towards traditional print or TV advertisements than online ads. Around 30% of the teens surveyed like to talk about non-digital ads with their friends. Roughly 50% of American, British and Polish respondents recall traditional advertisements, but less than a quarter said the same about online advertisements.
According to the survey, 28% of teens from Poland are the mostly annoyed by offline ads, while 50% of British teens are more annoyed by online ads.