Apple Inc. (AAPL), the world's most valuable technology company in terms of market capitalization, plays an important role in the U.S. economy. Last year, the company officially highlighted its importance to the U.S. economy. According to Apple Inc., the company was responsible for a whopping 514,000 jobs creation, either directly or indirectly, across 50 states in the country. More importantly, of these jobs, 210,000 were directly created by the company for iOS apps developers, those were creating apps for iPhones and iPads. And remaining 304,000 jobs included American component suppliers in engineering, manufacturing and transportation.
Apple Inc. Has Created 84,500 Jobs In Last One Year
It's really interesting to know: How much jobs did Apple Inc. create during the last one year?  The company has just reported that it has grown up the jobs figure to 598,500 (directly or indirectly) this year. In simple words, the Cupertino based company added 84,500 new jobs during a year period.
Apple Inc. (itself) has told that it hired 3,250 new employees within the U.S. over the last one year period. However, the company hasn't claimed anything about the addition of new jobs among its component suppliers. Undoubtedly, Apple App Store is the biggest contributor in job creation across the country. Despite, over the past few years, the company has been lashed out for establishing its manufacturing division in China, instead of the U.S.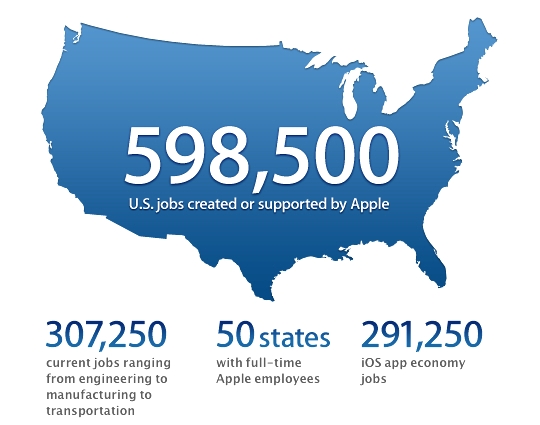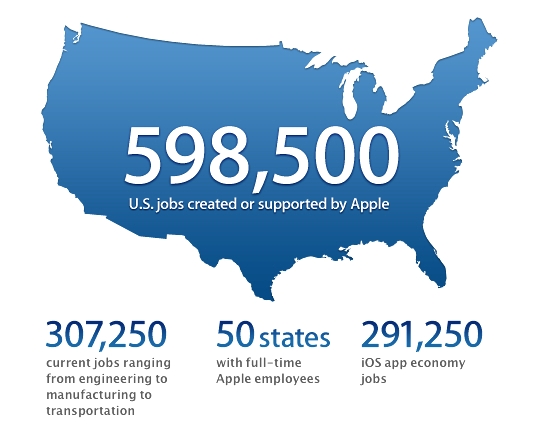 Recently, Apple Inc.'s component manufacturers were criticized for providing poor working environment to workers. But this time, the company is quite serious about the working condition of workers, involved in its component partners' factories.
As of December end last year, Apple Inc. announced to do some of its Mac manufacturing in the U.S.. The reason is quite obvious that the company wants to create some more jobs in its domestic market. For making the plan successful, it also announced to invest $100 million in the U.S.-based Mac production process in 2013.
Over the last two-three years, Apple App Store has been successful in drawing attention of a significant number of app developers towards iOS platform. However, the job related to app economy aren't considered similar to the company's own hiring. The most of the company's hiring are full time, well-paid  and also have strong benefit packages; even its retails workers are getting benefits from it too. The new jobs created during the last one year period, especially by the company's app store, are professionals employed by the third party development firms.