If you think your brand needs a social media presence, you're the person in charge of building it. A good social media presence of a brand enhances the purchasing ability of the consumer.
Take a look at this infographic from Intuit, While creating a social media presence for a brand is a major task, this infographic makes it easy by breaking down the process into a 12-month plan for your brand's social media marketing success.
First quarter
While we're on March now, though it is not too late to catch up. Here were the tasks for January, February and March:
January is the month to assess your social fitness; the month has to be started with few questions like; how would you be rating company's use of social media? What social sites are we using and how? What social media sites do we currently use, and how do we use them? Where are there opportunities to grow or improve our social media presence? In what areas of our business do we excel at using social media?
While February speaks about revisit social goals like; improve customer engagement, increase revenue, create a better customer experience and increase thought leadership.
March establishes few ways to measure success. At the end of the year, you won't know if your efforts are successful if you don't have a way to measure them. Few metrics which are important to watch are; the number of fans or followers, how much traffic social media drives to your website, social mentions across platforms and share of social conversations.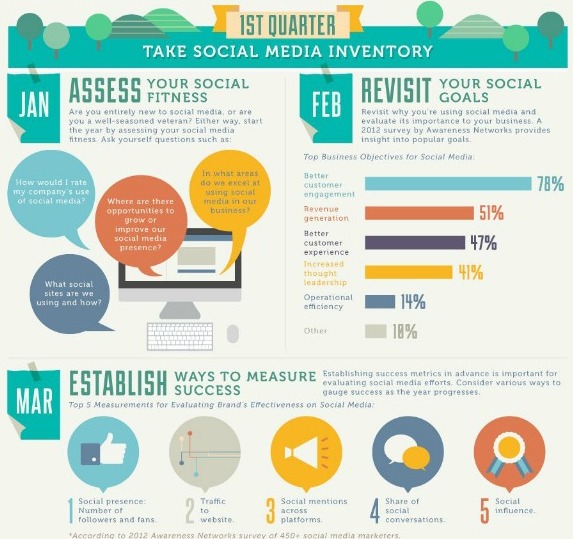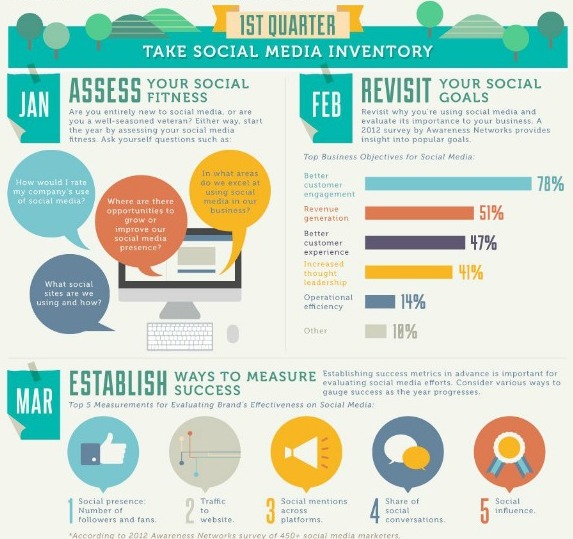 Second quarter:
second Quarter starts with April and this month indicates that social media is just not about outbound communications and to be a good listener by devoting some time for listening to their consumers.
May highlights about posting diversified content on social media to keep fans/followers engaged and interested. Also, it suggests to hold up some contests or giveaways in which your company can be more interactive with the consumers.
June is the month of development, a development towards responding to consumers and be open for all good and bad things.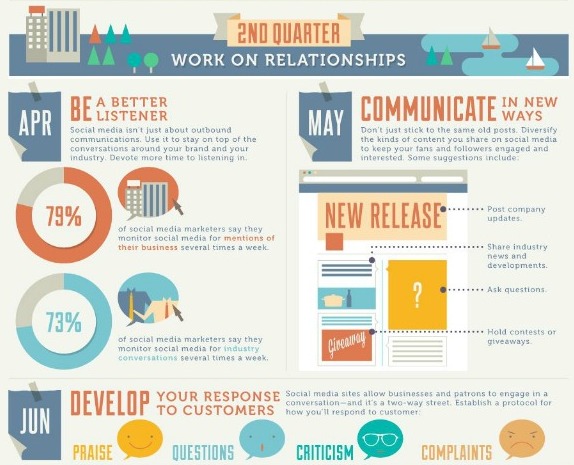 Third quarter
Third quarter consists of July, August and September and all the three months are entirely focused on integration. Usage of social media management app, integration of inbound activities such as directing followers to join mail or ask them to refer your business to others and integration of team members are the keys areas to focus in this quarter.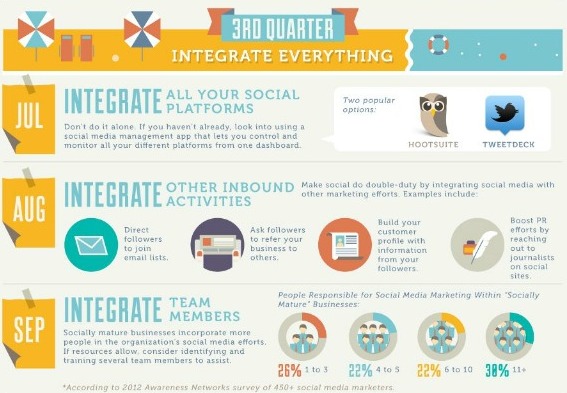 Fourth quarter
Though fourth quarter indicates the nearing of the year end and challenges increases so keep updated with the latest tools and trends in social media so that you can face challenges in marketing related issues. Also, November is the time to assess your year in social media and learn from the year-in-review. Regularly track for success, challenges and opportunities coming in your way. December is the month to plan for the future of your company for the coming years like outlining areas for improvement and places to invest more. It's also said that the top area of social media investment is to increase presence across social media platforms (66%) followed by increased frequency of content publishing (56%).