Apparently, Google's Android is currently the world's most popular smartphone OS; the platform recorded a whopping 88% and 218% Y/Y growth in terms of smartphone and Tablet shipments respectively in Q4 2012.  Interestingly, Google's Android has recorded 500% Y/Y growth in India over the last year. This is the main reason why the OS has become one of the concerning platforms for app developers to target. On other side, it's really not surprising anyone why Samsung is the biggest smartphone vendor in India; the company accounted for 38.8% smartphone market share, followed by Apple with 15.6% share.
Samsung is currently selling both types of smartphones—low-end handsets for price-conscious and high-end smartphones for premium users–in the country. On the other side, its biggest rival in smartphone segment—Apple—is offering iPhones at premium price tag. However, our discussion is concerned with Android versions distribution and devices, those have boosted Google's Android consumption in India. But have you ever tried to find out which is the most popular Android smartphone in the country? It's pretty much clear that people in the country are still willing to get their hand on cheaper Android smartphones.
Adoption Of Android ICS Version Is Growing In India
According to a study report, based on compilation of data of nearly 1.3 million apps downloads seen by 10 app developers over 109 Android devices, from PriceBaba, Gingerbread is clear winner in India with 45.18% share, followed by Ice Cream Sandwich, accounting for over 34% Android devices in the country. The growth rate of Ice Cream Sandwich version in India is even faster than its growth in global markets. However, we have already discussed that Android's Ice Cream Sandwich has reached to its peak level. But the scenario is little different in India, where it's expected the OS version will surpass the Gingerbread over next few months. In comparison to Google's Android ICS version, Jelly Bean currently accounts for over 10% of market share in the country.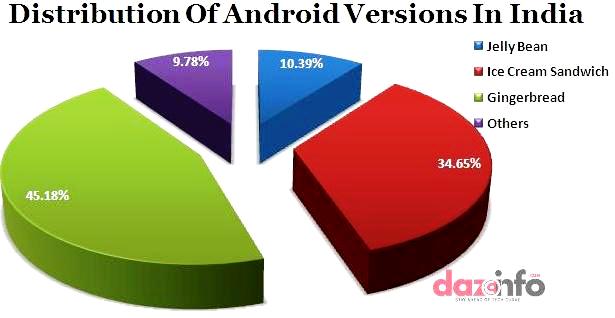 The fragmentation of Android platform has always been a major concern for app developers. However, the adoption of Android ICS and Jelly Bean versions has changed the outlook of the platform, which seems promising for app developers as well as users. More importantly, app discovery from Google Play Store is still a one of the concerns for consumers; they don't satisfy with specific availability of apps.
Samsung Galaxy Lineups Dominate Android Consumption In India
Out of 109 Android devices, those were tracked in stock at PriceBaba, 45 were running on Google's Android Ice Cream Sandwich, whereas 59 were powered by Gingerbread version. Out of these selected devices, 29 devices were from local brands such as Micromax and Karbonn, and most of those devices were running on Gingerbread version. It has been noticed that transactional apps are more popular on Gingerbread users, whereas Gaming /lifestyle apps are often used by ICS users.
In India, majority of Android tablet are currently running on Android Ice Cream Sandwich and Android 3.0 (Honeycomb); however, the participation of Honeycomb running tablet is just 0.27%. On the other side, Donut, Éclair and Froyo together accounts for less than 2.5% share; many app developers have discontinued their apps support for these versions. Undoubtedly, Google's Android consumption has reached to all time highest in the country–thanks to Samsung Galaxy lineups which have boosted Android consumption in India. The study reveals that Samsung Galaxy lineups dominate Android consumption in country.