Being as world's second largest mobile market, India is one of the highly focused countries for advertisers, marketers and businesses. Around 81% consumers aged above 16 years use a mobile phone and 84% of them use pre-paid mobile services. However, only 30% users receive mobile ads on daily basis compare to neighboring country like China – world's biggest mobile market – where 65% users receive mobile ads on daily basis. The stats clearly depicts how marketers and advertisers are yet to adopt the true potential of mobile messaging and advertisement in India.
According to a latest report by Nielsen, India is lagging much behind in terms of mobile advertisement adoption compare to other countries having less mobile usage penetration compare to India. Mobile marketers and advertisers in South Korea, Turkey, China and Brazil are more aggressive with mobile promotion and messaging.
Mobile Text Ads In India Receive More Clicks
The study also reveals that Text Ads are the most popular ads among mobile users. 54% People who participated in the study claimed that Text Ads are more attention drawers and they are more likely to clicks on Text ads compare to other forms of ads like mobile banners, images etc. Interestingly, almost the same number of people showed their comfort level with mobile messaging ads as far as they can get access to the content – promoted via ads – for free.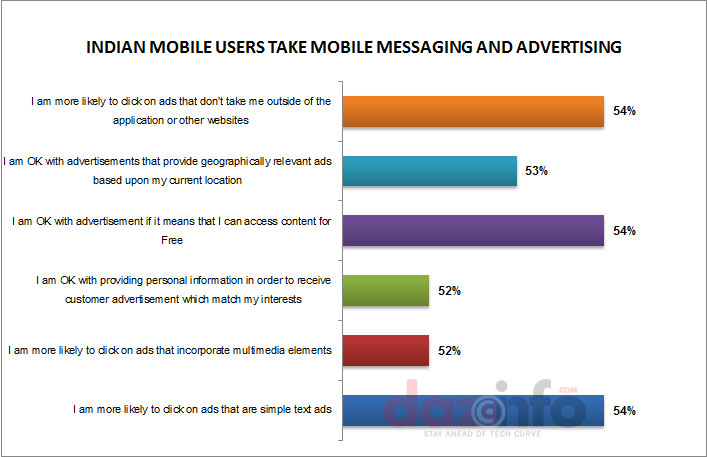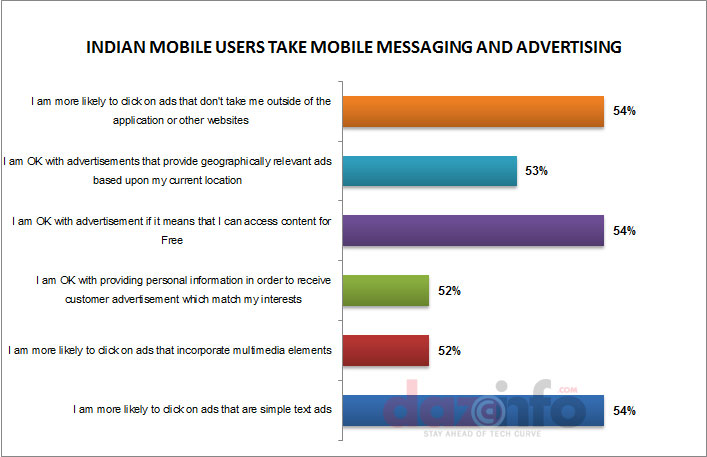 However, 52% mobile users in India cast their vote in favor of ads which contain multimedia elements. But the most surprise element came in the form of exposing their personal information against offers, ads relevant to their interest. Mobile users in India looked less sensitive towards personal data compare to all other countries. While in most of the countries, participated in study, only 1 out of 3 mobile users agreed to reveal their personal information against such advertisement but in India the ratio was almost double. 52% mobile users in India were identified quite comfortable in revealing their personal information as compare to 31% in China. Mobile users in Australia remained tight closed with their personal information against any such ads or offers.
The study was conducted over 100,000 mobile users across 27 countries including India. In India alone, 8 cities were covered to reach 3,067 mobile users who were interviewed face to face. Among these, 1,593 users were Smartphone owners.