Just one day after a disastrous earning report from Apple, Microsoft Q2 2013 earnings came to spotlight. Yesterday, Microsoft announced its financial results for Q2 2013 (ending December 31, 2013), which is considered as one of the most lucrative quarters over the last couple of years. The company posted net income of $6.38 billion on revenue of $21.46 billion (with earnings per share of $ 0.76).
Microsoft Q2 2013 Earnings
Microsoft showed off a nice gain in quarter-second of the fiscal 2013, compared to its previous quarter. In Q1 2013, the company posted revenues of $16.01 billion (or earnings per share of $0.53). For the company, the past holiday season was the strongest holiday ever in its history. Last year, the company jumped into hardware bandwagon; it invested huge on its hardware business. And finally, the company's big gamble paid off  in Q2 2013. At present, the company is quite aggressive with its future prospects, especially with Windows Phone 8 and Surface Tablet businesses.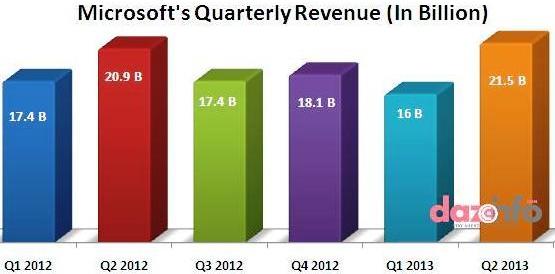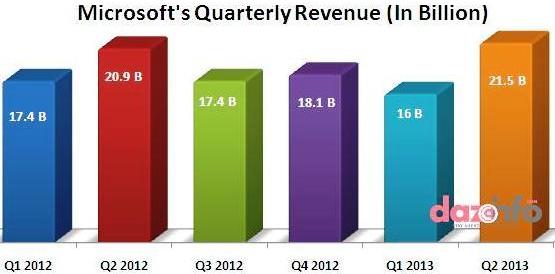 Windows Phone Succeeded to draw Users' attention
One important aspect came out of Microsoft Q2 2013 earnings reports is that Windows Phone is gradually gaining momentum in worldwide markets now. In quarter ending December 2012, Nokia shipped 4.4 million Windows Phone powered Lumia smartphones. Just a few days before, we described that sales of Windows Phone devices would surpass 10 million units in Q4 2012 (calender).
Due to anticipation of strong Q2 results, Microsoft's stock price has continuously been climbing over the past two days. Breaking out the Microsoft Q2 2013 earnings in terms of divisions, "Windows" division posted revenue of $5.88 billion in the last quarter, up 24% Y/Y. On the other side, the Server & Tools business reported $5.19 billion revenue for the quarter, up 9% Y/Y. The Microsoft Business division posted $5.69 billion of revenue, down 10% Y/Y, while the company's Online Service division reported revenue of $3.77 billion, down 11% Y/Y.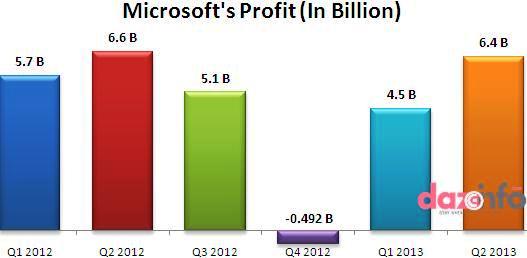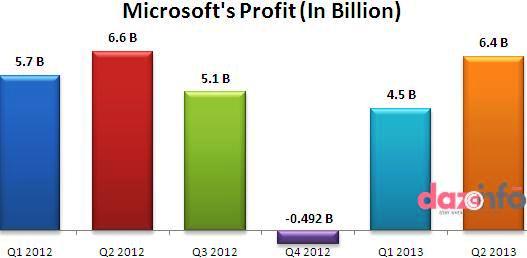 Nothing About Surface RT Shipments
Interestingly, you can't find anything related to the sales of Surface RT in Microsoft Q2 2013 earnings report. The company has kept silence on the number of Surface RT units sold. However, the company has only announced that Windows 8 and Surface Tablet have helped in revenue growth during second quarter of the fiscal 2013.
The company has already sold 60 million Windows 8 licenses till now. But majority of entrepreneurs are still reluctant to adopt the OS. During the last quarter, Windows 7 was on the peak of its popularity.
The company's recent launches, including Surface RT and more, have re-energized the Windows brand. More importantly, the number of Windows 8 certified systems has nearly doubled till the date, besides the number of apps in the Windows Store has also quadrupled. Till the date, over 100 million apps have been downloaded from Windows App Store.
Anyway, users are still confuse with Surface RT and Surface Pro Tablets. They are actually confused with whether these tablets would support Windows 8 apps or not. There's still a dilemma among people related to difference between Surface RT and Pro tablets. However, Microsoft is expected to ship 1 million units of Surface RT during Q2 of its fiscal 2013.