Advertisers are now more focused on Apple's iPhones and iPads than Android's smartphones and tablets. We have already discussed that users' engagement is comparatively lower on Android platform compare to iOS. Besides, Android users are also more reluctant to make purchases through their mobile devices.
According to a recent data from MoPub, a comprehensive monetization platform for smartphone application publishers, advertisers are keen interested to invest on iPad for advertisements. Due to higher Click Through rates (CTRs), iPad has surpassed even iPhone's popularity among advertisers. It has been noticed that advertisers are more willing to invest on Apple's larger tablet screen compare to its iPhones' smaller display screen.
iPad ads have seen the highest CTR (click through rates) during post Christmas holidays, from January 1-7 this year. Throughout the holiday season (during December 2012), the iPad saw 1.7% CTR. However, CTR incredibly increased to 2.2% from Jan 1 to Jan 7, 2013.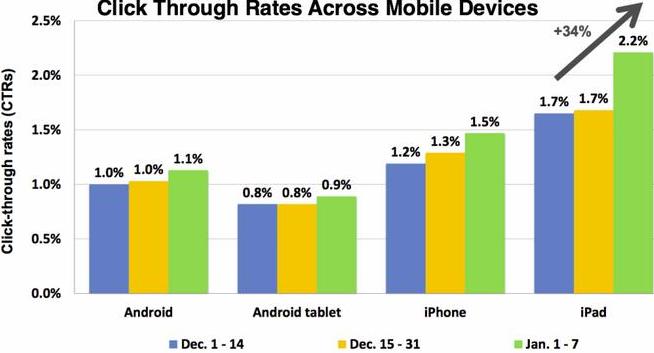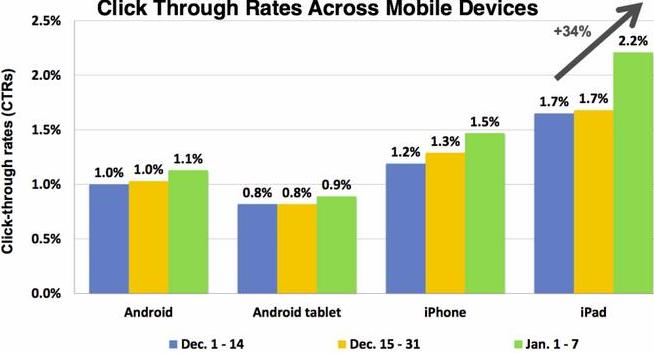 It's pretty much clear from the above graph that iPhone lost the ground to iPad in terms of CTRs during holiday season. The device (iPhone) showed off just 1.2% CTR at the beginning (Dec 1-14), and the click through rate surged to 1.5% during January 1-7. In comparison, Android smartphones were far behind of iOS devices—iPad and iPhone.
For advertisers, larger screen size of tablets seems more promising because they can easily translate their strategies from desktops to tablets. But smartphone screens are much more different than desktop screens, and this is the reason why they require a new strategy for advertising.
In terms of effective cost per thousand impressions (eCPMs), iPad again dominated on other mobile devices.  eCPMs for iPads surged to 49% during Q4 last year, from $0.94 to $1.40. Likewise, iPhone eCPMs mounted up from $0.62 to $1.04 during the same time period, followed by Android tablets from $0.59 to $0.99.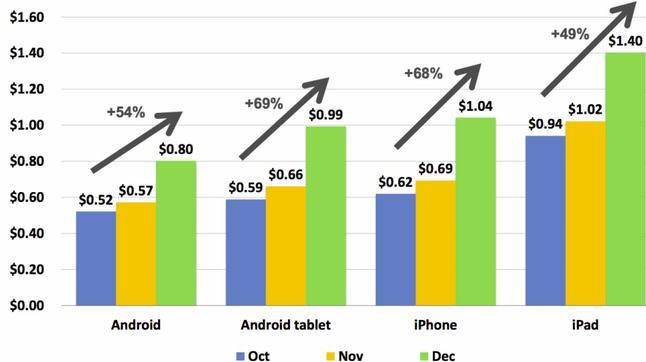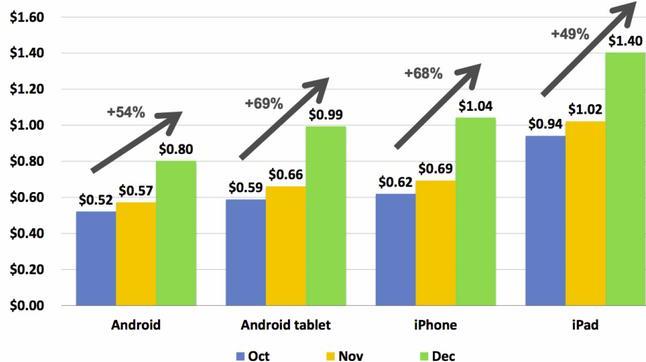 It's pretty much clear from the report that Apple's iPad is clearly winning over other mobile devices. Apparently, iOS platform is dominating in both spaces—CTRs and eCPMs—over Android. And this is the main reason why advertisers are focusing more on iPad rather Android-powered devices.