It's beyond the shadow of doubts that Android's market share is ramping up gradually, despite user's engagement on the platform is still low compare to iOS platform. In terms of monetization, Android platform is far behind of Apple's mobile OS. This is one of the reasons why developers prefer more to iOS platform compare to Android. But the most important issue that worries developers to build apps for Android platform is its fragmentation.
However, Apple's iOS has always been favorite platforms for mobile app developers. But we could expect decline in the interest of app developers since the launch of iPhone 5 and iPad Mini. In 2012, Apple has experimented with the screen size of their devices–iPhone and iPad. Previously, mobile app developers had to build apps (for iPhones and iPads) for two screens–10-inch and 3.5-inch–, which are widely available across the world. But this time, they have more ranges of screens–3.5-inch, 4-inch, 7-inch and 10-inch. In other words, developers will have to put extra effort to develop apps for iPad Mini and iPhone 5.
According to a recent survey report from Appcelarator and IDC, conducted on a pool of 2,479 respondents, 89%of developers are still willing to develop apps for iPhone, up by 2% compare to same period of the last year.  While 86% of developers are likely to build apps for iPad, representing 4% Y/Y growth. Nevertheless, Android is considered as second most favorite platform for developers; 77% of developers are likely to develop apps for Android Smartphones, while 64% prefer to develop apps for Android Tablets.
Majority Of Developers Are Willing To Develop Apps For Cross Platforms:
The survey report reveals that 49% of developers are willing to develop apps for two platforms, and 31% of respondents aiming for three different platforms. Certainly, where Apple has succeeded to gain the attention of developers for iPhone and iPad, while on other side, Android has lost two points (percentage of app developers) for both, phones and Tablets over past one year. More importantly, 88.4% of mobile developers have shown their intention to develop apps for two or more mobile platforms in 2013, up from 68.9% in Q2 this year .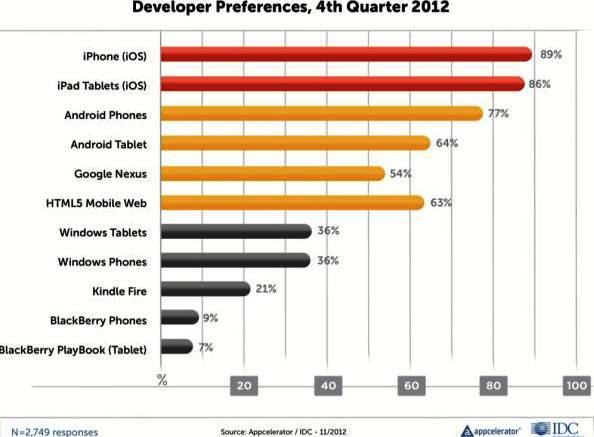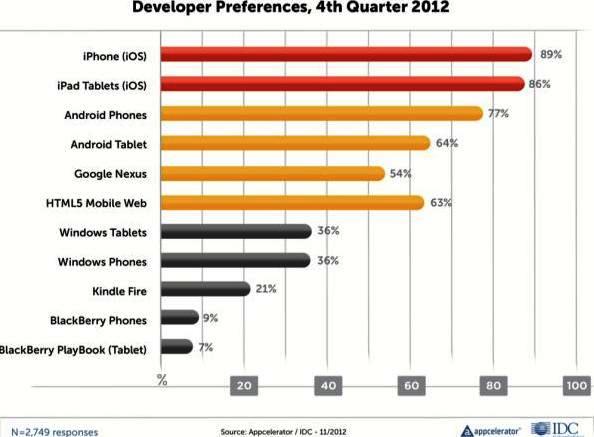 However, Google has managed to gain developers attention through Nexus devices; 53.8% of developers are "very interested" to build app for Nexus devices. Mobile app developers are more willing to develop apps for Google's Nexus device compare to BlackBerry and Windows Phone. Developers believe that Google has taken a stronger role in Android hardware, especially with Tablets. The survey report reveals that 35.1% developers are saying that Android hardware partners should take the Nexus line as model for their own devices development, while 26% of developers believe that Google is just another device manufacturer. Furthermore, 7% of developers believe that Google's own hardware is affecting to the overall ecosystem.
Microsoft Still Needs To Work Hard
Microsoft's Windows Tablets have experienced a modest rise in developers' interest. However, majority of app developers accept that Surface Tablet is nice in hardware perspectives, but they would prefer to develop apps for the platform when it proves itself, truly successful.
As per report, it seems that iOS is still most preferred platform for developers for app development. However, 90% of developers (respondents) admit that iOS platform is either equally or more difficult compare to other platforms in terms of apps' submission process, monetization and some other issues. It seems that fragmentation on iOS platform has little (almost negligible) affected to developers' interest.