Nowadays, Smartphones and Tablets are buzzing around. Windows is still winning in desktop OS war, but the OS has gradually been losing its ground to Android and iOS in overall computing device OS market share. Over the past few years, we could easily see a major transformation. An advent of Tablet and Smartphone has changed the scenario of computing market completely.
In the year 2000, PCs were considered as primary internet connected device; 139 million PCs were shipped in that year. But now, the scenario has changed significantly. With 29% of market share (among overall internet connected devices), PCs are now considered as secondary internet driven device. Today, Smartphones and Tablets account for 66% of total internet connected devices.
Undoubtedly, Microsoft was leading PC OS provider in 2000, with 97% market share. But today, 42% of computing device market is led by Android OS, followed by Apple and Microsoft with 24% and 20% respectively.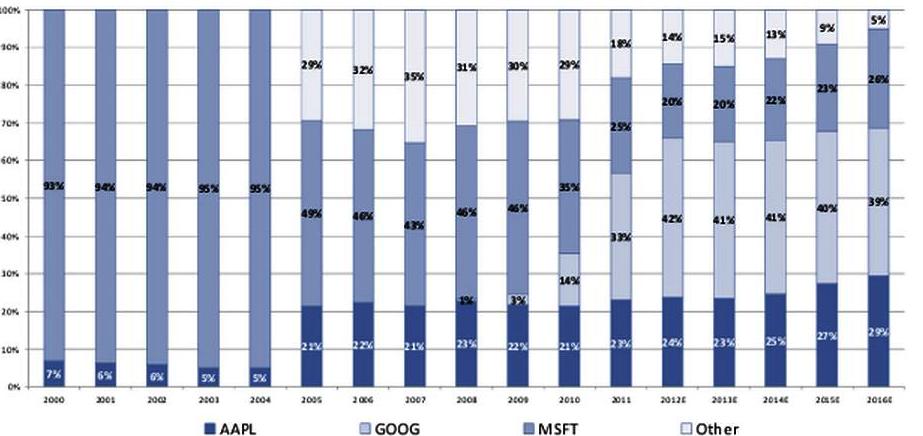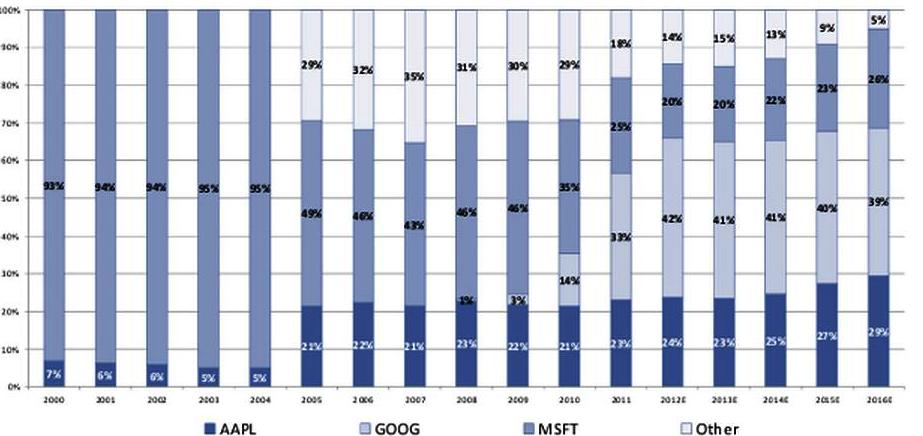 Apple's iOS and Google's Android-powered Smartphone and Tablet installed base is expected to surpass Windows PC installed base next year. It's pretty much clear, computing devices such as Smartphone and Tablet are now growing with dizzying pace, while shipments of PC has steadily been declining. The PC industry showed off more than 8% Y/Y decline in Q3 2012.
For the growth of Android market share, the credit goes to Samsung's Galaxy lineups, Google Nexus Tablet and Amazon's Kindle Fire Tablet. Today, Android powered Google Nexus 7  and Amazon Kindle Fire HD have become a major threat for Apple's iPad. On the other side, Microsoft has little presence in the tablet market, even after the arrival of Surface RT.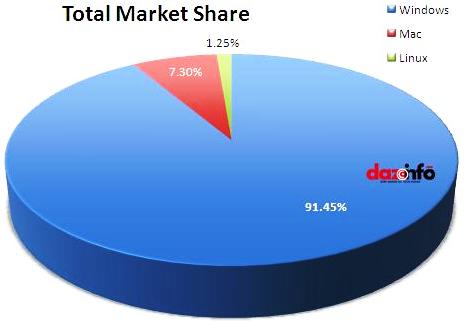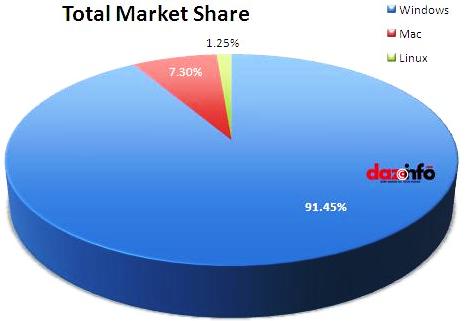 Still, Microsoft managed to hold 91.45% of overall PC OS market share till the end of November this year. Its nearest rival in PC segment (Apple) has just 7.30% market share. Of course, Microsoft is currently sitting on the safe chair, but as market scenario is changing, it would be tough for the Redmond-based company to sustain its position. However, Linux is currently out of the race, and it's not easy for anyone to predict whether it will gain market share in coming years or not.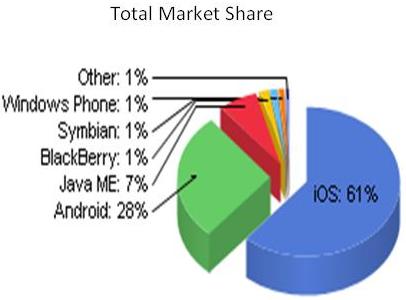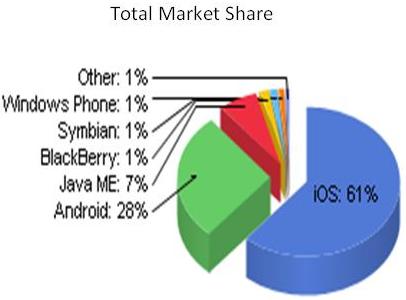 In terms of mobile OS (Tablet + smartphone) market share, iOS is quite ahead of its nearest rival Android. Apple's iOS is leading the mobile OS segment with 61% market share, followed by Android, Java Me, BlackBerry and Symbian with 28%, 7%, 1% and 1% respectively. On the other side, Windows Phone has just 1% market share. However, the market share of Windows RT has not been included in the above pie chart.
Furthermore, 4.2 million units of Windows Phone-powered Smartphones are expected to be shipped in Q4 this year, whereas shipments of Surface RT tablet is expected to touch 500,000-1 million units figure in the same quarter. This is a great hearsay for Microsoft. Apparently, the company could leverage on its Windows Phone 8 and Windows 8 to regain its computing device market share in forthcoming quarters.