The Search Agency, in a survey conducted by Harris Interactive, found that among 2,006 U.S. adult Internet users. The Search Agency, in a survey conducted by Harris Interactive, found that among 2,006 U.S. adult Internet users, more than 33 percent of those questioned believe search engines make money by selling personal data to marketers. While, West online adult users said the search engines sell advertising that runs with the search results (84 percent). Also, just over  75 percent of the total U.S. online population are known with the fact that this as being a source of funds for the engines.
Also, users have no clue about few interesting facts about Facebook, Twitter, Pinterest etc.Despite huge user base among these social networking sites, users had no knowledge about many minute things which they use daily. For example: many users don't understand how the social networking site – Facebook makes money, length of tweet, how search engines make money.
Few facts which unveiled during the study:
Facebook: only 54 percent understood how Facebook makes money. To be more specific the percentage is divided on the basis of men and women users –  57 percent men and 51 percent women. Additionally, only 70 percent of online adults voted that they know how to post to someone's timeline; 76 percent of women said they do, compare to 64 percent of men.
Twitter: 37 percent of men know the length of tweet compare to women 27 percent.
Pinterest: On the contrary to Twitter, women (48 percent) are well known with the term "pin" compare to men (42 percent).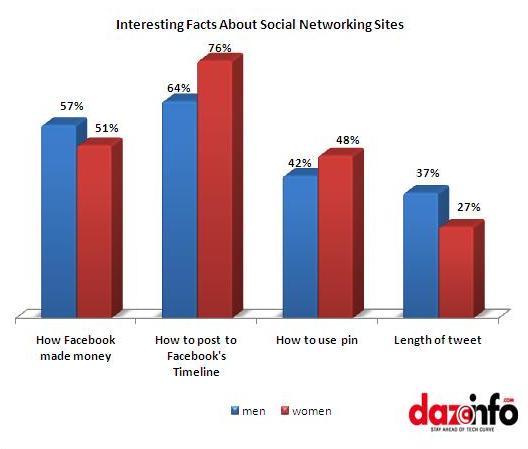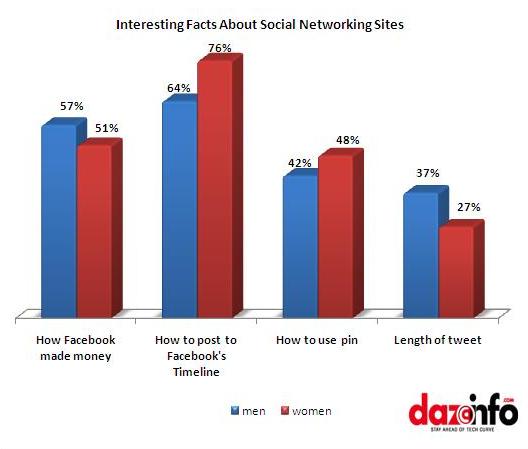 The tendency to click over paid links were seen more in south part of U.S online adult users compared to other regions like northeast(20 percent), west ( 19 percent) and Midwest(17 percent). While American users aged between 18-34 (30 percent) click on search engine ads almost two fold more than the users aged between 35+ (18 percent).
Also, The Search Agency's vice president of agency products "Keith Wilson", told about the knowledge gap between men and women,
It's really incumbent upon advertisers, and publishers, as well, to help educate consumers on how data can be used in a useful fashion. That's the key thing. Everyone says, "Oh, this ad is not relevant to me." But if you get ads that are more relevant to you and you understand the relevance based on the queries that you're making … there is relevance there. They'd rather be served that ad than the alternative, which is something more spammy.
Finally, the study shows the gap between the knowledge among men and women related to social networks varies.