At CES this year, Samsung didn't talk much about its mobile devices, but it announced other products such as smart TV, Smart camera and more. For the company, Smartphone has become one of the most profit driving sources. Besides, the company is expected to ship 63 million Smartphone in Q4 last year. According to the company's latest earning guidance, it has made $8.3 billion profit in Q4 last year. However, the company has  decided to release its full earnings report on January 25 this year.
At present, Samsung is the biggest Android partner, accounting for about half of the global Android market share. It's quite obvious that the company has swallowed the market share of other Android partners. And this is the reason why HTC and some other Android-device vendors are looking for alternative platforms to standalone their business. However, HTC has succeeded to make its presence as Android's second biggest vendor in the market.
HTC Failed To Impress Users With Its Smartphones
Samsung Galaxy SIII and Galaxy Note II are considered as Samsung's arch-weapons for its potential growth in the market. Both the devices played significant role for company's revenue generation in the last quarter. The South Korean company is currently selling 500 phones per minute.
Last year, Samsung released 37 phones, while HTC released just 18 models. However, both the companies have the same strategies with Smartphone selling, offering a wide range of Smartphones with different price tags and screen sizes. Apparently, none of the HTC's Smartphones succeeded to draw the attention of wide audience around. However, HTC One X somehow managed to generate skimpy revenue for the company in the last quarter.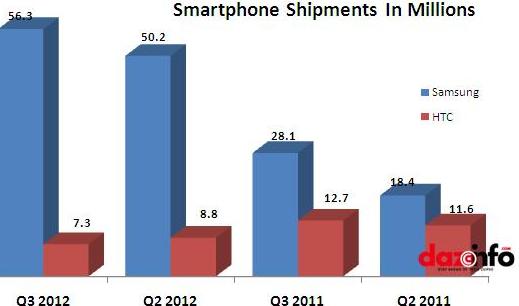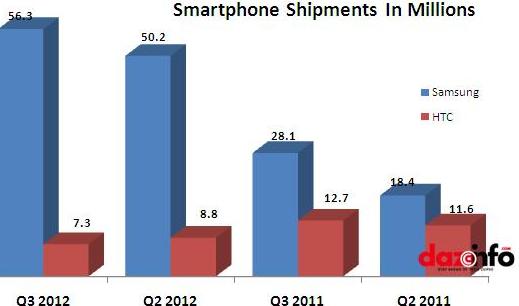 Q1 2013 Would Be Tough For Both Samsung And HTC
Interestingly, Samsung's profit is expected to drop in the current quarter due to decline in profit margin on mobile handsets. The company could launch Galaxy S 4 in March or April this year. It means, there's not even a single high-end Smartphone from the company in Q1 2013. A considerable number of users are expected to wait for the new Galaxy S4 model, coming with an unbroken screen and full high-definition quality resolution (440 pixels-per-inch), more powerful processor and better camera. On the other side, HTC did not launch any potent product during the last quarter that could compete with Samsung's flagship Smartphones, and it has not unveiled so far about its big launch for the current quarter.
HTC Q4 2012 Earnings
Yesterday, HTC declared its another dismal quarterly report (Q4 2012). The operating income for Q4 2012 was $21 million, besides an unaudited income was $34 million, a 91% Y/Y drop. In Q4 2012, HTC revenue dropped 41% to $2.69 billion. However, the company has not yet provided its non-operating income for the quarter.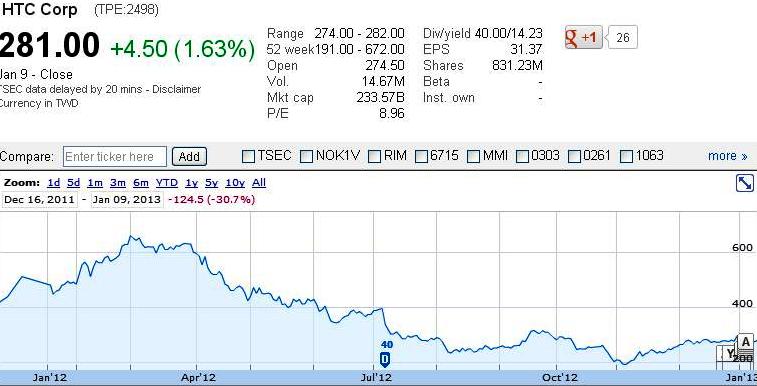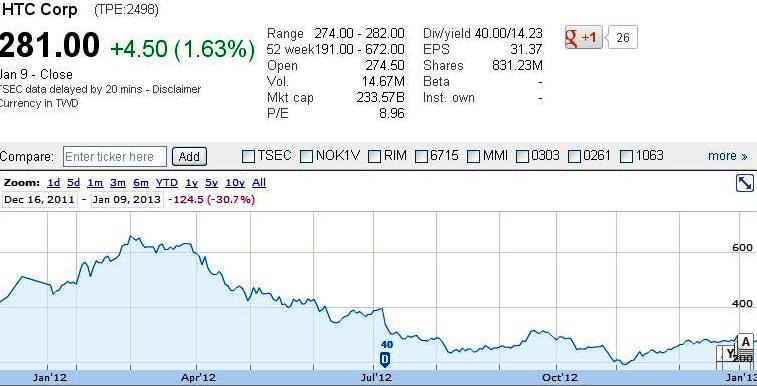 Samsung Is Swallowing HTC's Smartphone Market
As of Q3 end, Samsung succeeded to hold 31.3% of global Smartphone market share, up from 22.70% in Q3 2011, and 32.60% in Q2 2012. On the other side, HTC's Smartphone market share declined to 7.30% in Q3 2012, compared to 10.30% in the same quarter of the last year.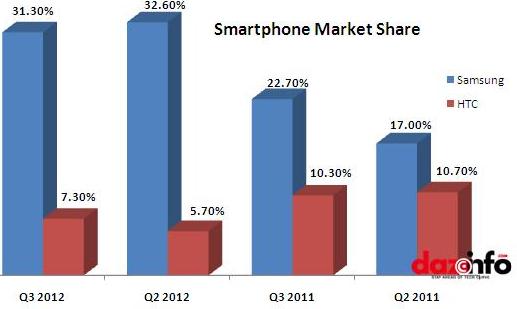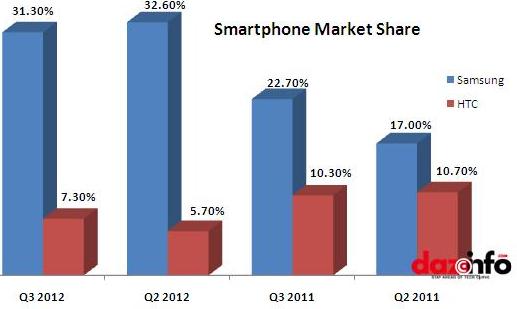 Last quarter, HTC settled its patent disputes with Apple. As per the cross-licensing deal, HTC will have to pay $6-8 for each Android handset sold for 10 years. On the other side, one of the U.S. court ordered Samsung to pay $1 billion to Apple in damages for infringing several patents of iPhone maker. This time, Samsung has planned to increase its Smartphone shipment up to 390 million in 2013.
Anyway, Samsung's growth in Smartphone segment has become fatal for the Taiwanese company. HTC is currently facing competition from Samsung on Android as well as on Windows Phone Platforms.