The explosive growth in global mobile market has helped Tablet PC industry to grow leaps and bounces in last 2 years. Worldwide Tablet PC shipments remained all time high in 2012 and is expected to surge multi-folds in next few years. With such astounding forecast, the debate over the most adopted Tablet PC screen size is also on and Tablet PC makers are now focusing more on Tablet PC market trends to in-line their future shipments to beat the need. At present, an affluent number of Tablets is available in market at very affordable price tags with incredible functionality. As the trend of on-the-go internet access is ramping up, the demand of portable internet-enable device such as Tablet are also mounting up with the similar fashion. This is the reason why the sales of Notebook have continuously been declining since last couple of years.
According to a recent report from NPD DisplaySearch, sales of PC Tablet will surpass the Notebooks sales this year. The firm has estimated that 240 million units of PC Tablets will be shipped this year, while Notebook will touch just 207 million units figure. Thanks to low-priced Google Nexus and Amazon's Kindle Fire HD Tablets which have fueled the Tablet shipments. However, we could expect more number of low-priced Tablets from local and global brands this year.
Tablet Pc Market: 7-inch to 8-inch Screen Sizes Will Account For Nearly Half of Market
More importantly, Apple's iPad is still dominating the Tablet segment. Despite, there is a huge room for other new entrants. The Tablet shipment is expected to mount up by 64% Y/Y in 2013. The year (2013) will be considered for innovation in screen sizes of Tablets; the size of the device will be center of attraction. Although the Tablet market is currently being ruled by Apple's 9.7-inch iPad, but by the end of this year, some new class of small Tablets will take over the market. Tablets with 7 inch-to 8 inch screen sizes are expected to account for 45% (or 108 million units) of Tablet market share. On the other side, the 9.7 size Tablet will account for just 17% share (about 41 million units) of Tablet market share.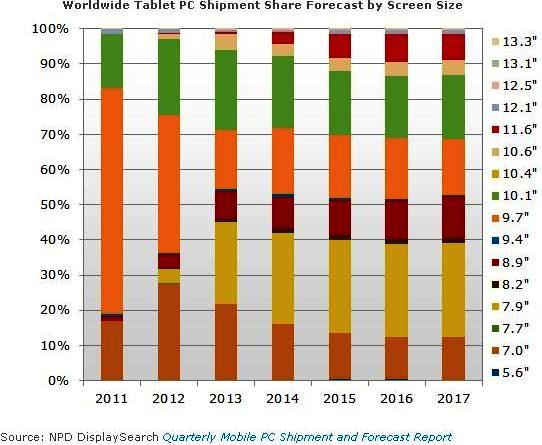 China Will Hold Second Position In Terms of Tablet PC Sales In 2013
It has been noticed that the demand of Tablets has continuously been increasing in emerging countries. China is expected to account for 27% of the global Tablet market–65 million Tablets are estimated to be shipped in the country this year. In China, the staggering growth of Tablet will be driven by local brands. However, North America will remain the world's largest Tablet market with a 35% share (85 million units) in 2013.  Interestingly, in China and North America, Tablet PC shipments already surpassed the sales of Notebook PCs in 2012.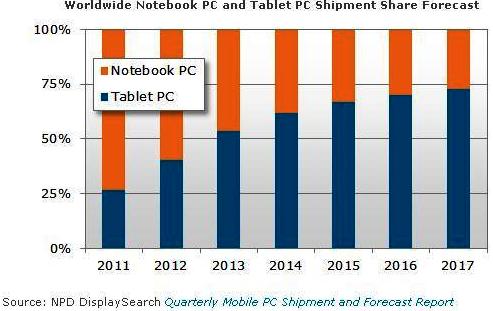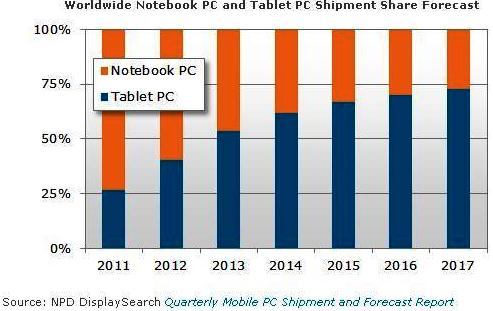 As per Gartner's report, global shipment of PC declined by 8% in Q3 2012, compared to the same quarter of the previous year. Nevertheless, the shipments of Notebook will be stimulated somehow by the emerging markets. It's pretty much clear that an increasing demand of Tablets has gradually been eclipsing the Notebook's growth.