Now, Samsung's CES 2013 media event is over. Everyone was expecting more Android Smartphones and updates related to mobile products from the company, but it was happened so. The south Korean company announced mainly about new smart TVs, Smartphone appliances, smart camera and new Windows laptops, but it didn't promulgate anything about Smartphone or Tablet.
Samsung Is Selling 500 Handsets Every Minute
It's really interesting to listen that Samsung is now selling 500 handsets every minute. This time, Galaxy Note II is selling quite well around the world. Last year, Apple rolled out just a single new Smartphone (iPhone 5), while Samsung bumped the market with 37 different Smartphone models with variant flavors. In comparison, HTC, Nokia and LG launched 18 , 9 and 24 models respectively in the last year. At present, Samsung is offering a wide range of Smartphones with different price tags and screen sizes around the world, and this is the main reason why it has succeeded to draw the attention of a significant number of users.
Interestingly, this time, everyone would like to see the Samsung's balance sheet for Q4 last year. However, the company is going to release its full earnings report on January 25 this year. It's pretty much clear that shipments of Samsung's flagship Galaxy SIII surpassed iPhone 4S in Q3, and it became the world's best selling Smartphone for the quarter.
Samsung Is Expected To Ship 63 Million Smartphones In Q4 2012
In addition, the company is expected to ship 8 million Galaxy Note II Phablet (hybridized smartphone) in Q4 last year. Furthermore, overall Smartphone shipment (Samsung) is expected to hit about 63 million in the last quarter. Besides, there's also a speculation that the company could launch its next iteration of Galaxy SIII with unbroken screen and powerful processor in the first quarter of this year. Of course, the early launch of Galaxy S4 could boost the shipments of the company's Smartphones.
Samsung has just divulged that it has succeeded to sell over 30 million units since the launch of the device. However, the company sold 20 million units of Galaxy SIII models in early September, and then 30 million units in early November. In other words, the shipment of its flagship Galaxy SIII was a lackluster in 2012 Christmas shopping battle.
This time, Samsung is looking to surge the shipments of its mobile phone around 20% in 2013, compared to 2012. The Korean Times has reported that the company has planned to ship 510 million phones in 2013, up from 420 million (projected) in 2012. More importantly, around 390 million (76% ) out of 510 million phones will be Smartphones.
Samsung To Widen Lead On Apple In Smartphone Segment
The figure seems little optimistic for the company's shareholders. Just few months before, we discussed that Samsung could sell 303.6 million units of Smartphone in 2013. Thanks to its flagship Smartphones such as Galaxy SIII and Galaxy Note 2, which have fueled the Smartphone maker to attend an impressive growth.
This year, the company will offer Windows Phone, Android, Bada and Tizen (a joint project with Intel) devices. Now, the company is considering about 'price strategy' in order to drive its growth in developing markets. It has also planned to offer LTE-enabled handsets at lower costs. On the other side, Apple was expected to sell over 125 million iPhones in last year.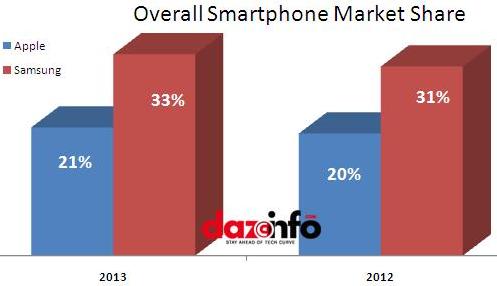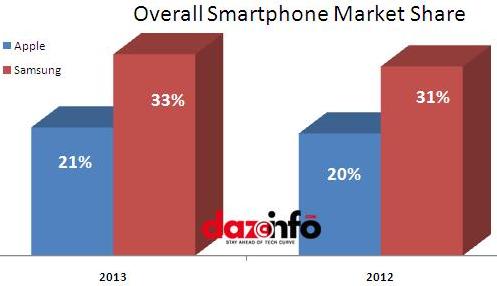 Indeed, Samsung currently seems quite aggressive to widen its lead over Apple in global Smartphone sales this year.The company has planned to mark 35% Y/Y growth this year. The mobile chip making company is expected to get 33% of  entire Smartphone market share this year, up from 31% in 2012. In comparison, Apple is expected to hold 21% of overall Smartphone market share this year, up from 20% in the last year.