The rapid growth of Pinterest has led to budding of new look-alike websites. Already there are dozens of websites like the Pinterest for videos, Pinterest for porn, Pinterest for shopping, Pinterest for designers, Pinterest for men, Pinterest for brides etc, and the list will go on. And now it is Boxnutt that almost looks like Pinterest.
Boxnutt is a place where you can find out the most popular and happening news on the world. Users can share the most stunning, amusing, obnoxious and "never before seen" stuffs over the internet just like the Reddit style. Users can share videos, photos, text content or photos via Boxnutt.
Users can sign in with a Facebook and twitter account and the contents can be shared in Twitter.
 Why Boxnutt is a mixture of Pinterest, Snip.it and Reddit:
Pinterest allows users (mostly women 87%) to share the personal, catchy, beautiful or interesting images over the internet. It has a unique design where users can pin images to their board and allow users to repin other's content. But a lot of users are only woman. 87% of Pinterest users are women. Coming to Snip.it, it allows you to just share or snip any content online which you feel is interesting, add some thoughts to it and put it in your collections. You can keep on adding new snips and categorize various topics under collections. And Reddit is a social news website where users can submit the content in either text or link.
But Boxnutt is most probably a combination of all this. The design of Boxnutt is similar to Pinterest, except the user have to "rebox" in order to "reshare" the content on the website. More over the commenting feature is similar to that of Pinterest. Sharing of Boxnutt can be done in a "snip.it" style, but the only difference is that there is no plugin for a straight away sharing of web content. And most of the content in Boxnutt is similar to the content in Reddit, except that they are displayed in a grid manner like in the Pinterest.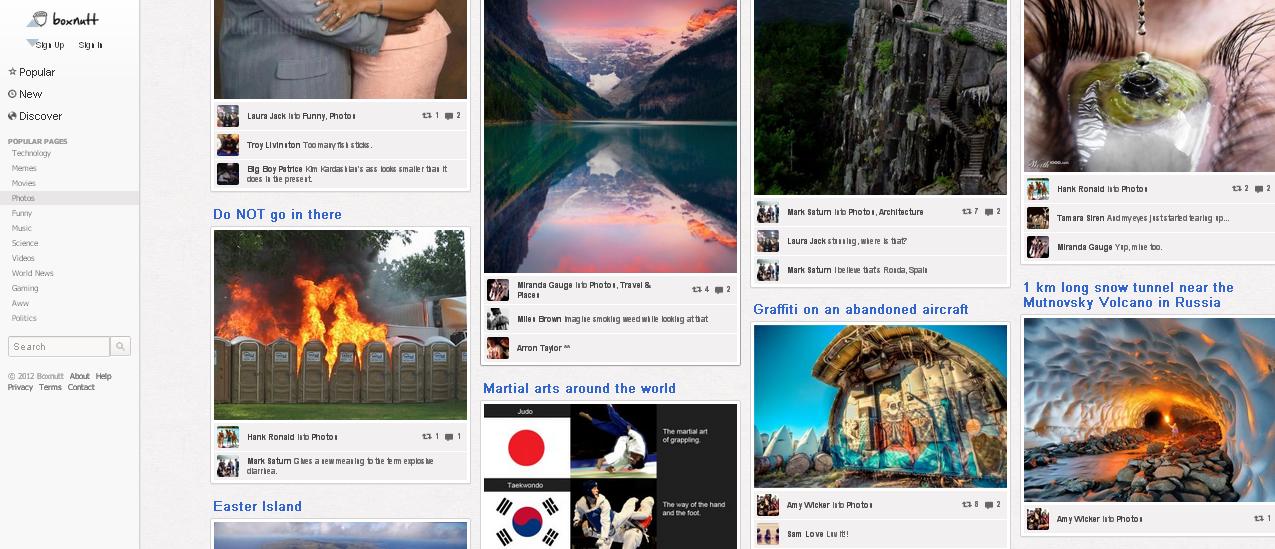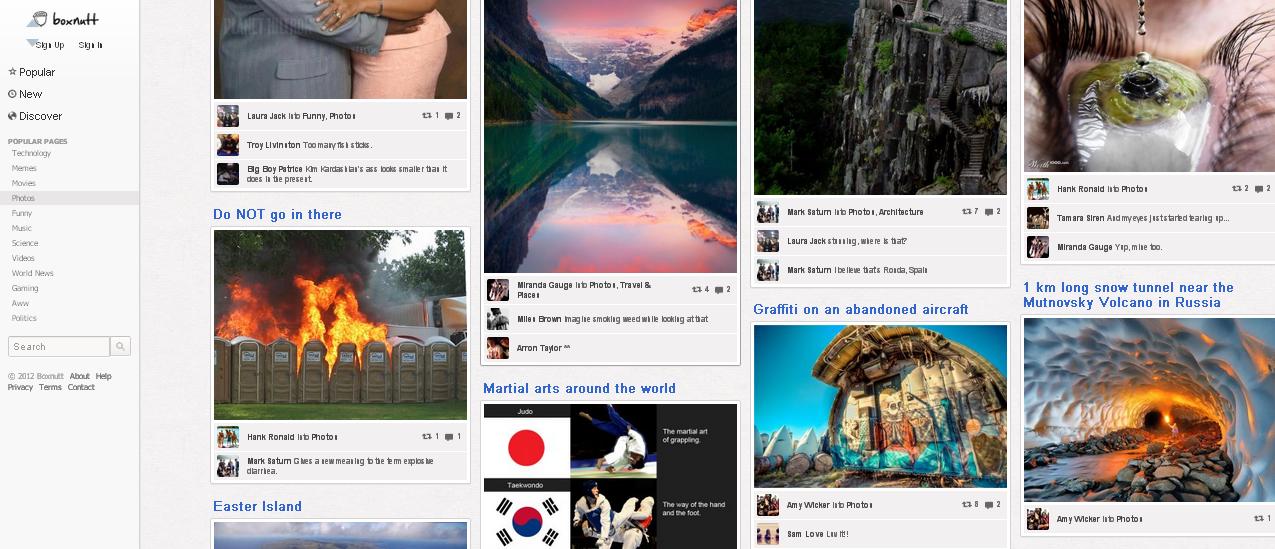 What makes Boxnutt interesting:
The most interesting thing about Boxnutt is the latest news and the newest updates, added everyday to the website, especially those gif images that lure in the users to further scroll down the pages. A lot of funny and even serious content can be found in this website. In simple it can be described as a Pinterest and Reddit for men. Another interesting thing about Boxnutt  is that there are no repeating content found in the website, mostly.
Boxnutt's founer – Brandon Kruzeniski said:
"Boxnutt was created to fill a void in my own online experience. I've been an avid user of social news sites, first Digg and then more recently Reddit, and always felt from a design standpoint things could be improved greatly"
One fascinating thing about the site is that Boxnutt has the potential to drive a lot of people towards it, especially men, for keeping users up to date about random news around the world in a more fun way and already a huge number of users are using Boxnutt.