I have already mentioned why iPhone is so important to Apple. The reason is crystal clear, it's  accounting 40% to overall revenue of the company. It has been more than five years of the iPhone's launch and now, it has revolutionized the standard of whole mobile ecosystem. At present, iOS is the second most popular platform in the U.S. after Android.
According to a ComScore's recent survey, iOS succeeded to grab 31.9% market share at the end of May this year, with 35.1 million iPhone owners. During five years of period, Apple has launched five different models of iPhone–iPhone, iPhone 3G, iPhone 3GS, iPhone 4 and iPhone 4S. Most notable point is here, the company has relied more upon Sprint and Verizon rather than AT&T in the country. As per survey, nearly 3 out of 4 iPhone users in the U.S. are using either iPhone 4 or iPhone 4S.  At present, the original iPhone (released in 2007) is accounting just 2% of overall iPhone market share.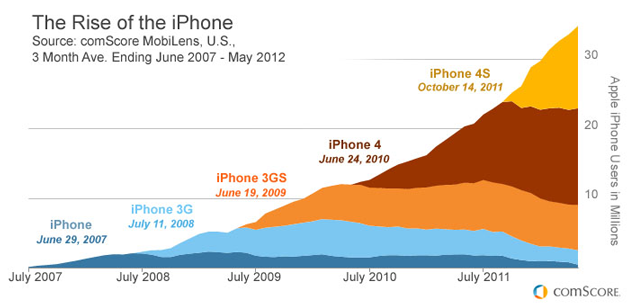 Until July 2007, almost 9 million Americans (4% of total mobile users) were having Smartphone, but now, 110 million folks are owning the device. Now, majority of users are owing Smartphone and a significant number are willing to get their hand on the device in the future. Last holiday season will always be remembered for Apple; majority of folks in the U.S. were shown their interest to own iPhone 4S device. Apple sold over 37 million iPhone in Q4 (calender) last year.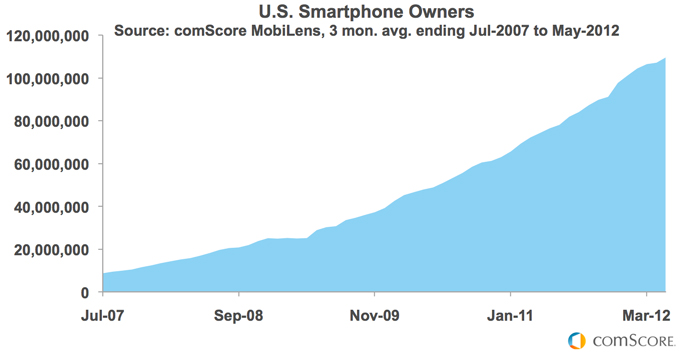 Indeed, it's important to know about the demographic interest to own iPhone in the U.S. Until 2007, 61% iPhone owners were male, and 39% owners (owned iPhone) were female. In 2007, majority of iPhone users were between 25-34 years age group, followed by age group between 35-44 years. I have already mentioned how household income is responsible for the purchase of Smartphone. In 2007, 48% iPhone owners had household income more than $100,000 and 19% owners were between $75 k to $100k household income group. In May of this year, the participation of female for iPhone purchase increased tremendously. Till May, 47% iPhone owners were female, besides the participation of lower household income group (> $100 k ) also increased.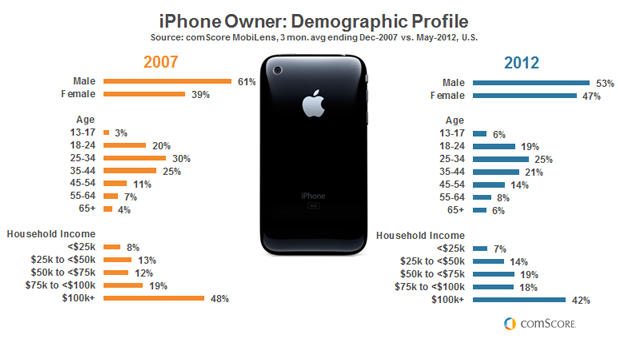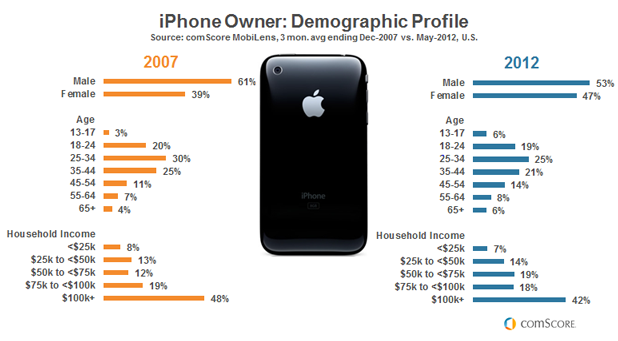 Really, in five years, iPhone has shown an incredible growth. iPhone 4S is still considered as one of the most innovative Smartphone of this time, even though lots of high-end mobile, including Samsung Galaxy SIII, Motorola Atrix HD, HTC Titan II , Nokia Lumia 900 and more, are available in the market. One thing is quite worthy here that the inclination of low household income group towards Smartphone has also been increased. However, we can also see a change in demographic perception for Smartphone purchase since beginning of this year.