Now a days Social Media has become a trend for the brand companies to promote their products and inject the idea of  "default brand". For example when I say cool drinks, the first thing that pop in the mind is Pepsi or Coca Cola. People engage in groups by various Brand companies in social networking sites like Facebook & Twitter.
They share the likes and comments about the particular product, out of which a good number of people actually talk about the brand and end up buying it. And it has been analysed that presence over Twitter and Pinterest helps brands to improve Facebook engagement ratio.
Having said that the success rate or ranking of any brand varies from each social networking site. For example, according to the statistics of socialbakers, the rank of Coca Cola based on fans is 1st in Facebook, 16th in Google+, 20th in YouTube and 37th in Twitter.
Even though Facebook is in the top, branders can not take chances of joining only Facebook. According to the study by virtue, there is a higher engagement rate of 50% for the brander signing up with multiple social networking sites other than Facebook.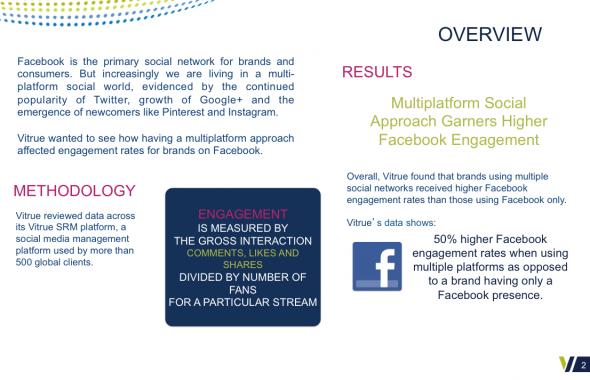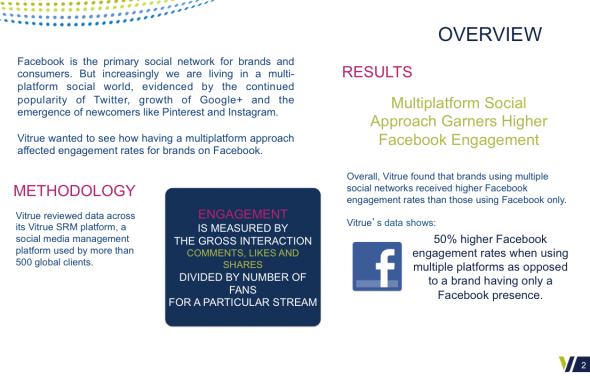 According to the Business Insider, brand companies having accounts in Facebook, Twitter, Pinterest as well as Google plus, helps them to increase the engagement rate that they require from Facebook fans to their brands. For example, if a person is interested in cars, say Lamborgini, and if the same person has pinned a number of photos of Lamborgini in Pinterest and meanwhile follows Lamborgini in Twitter, then that active user will be definitely curious to know the number of Likes and fans to the very same car in Facebook.
The fans engagement will not be there if a particular brand company is not present in at least three of the top 5 social networking sites, hence hindering the brand popularity. But the marketers of top brands have their hands on every popular social networking sites as possible.
Only 11% of brands are on Facebook, Twitter and Google+ all together as shown in the figure below. There is a myth among some of the small brand companies that they might loose credibility if the brands are promoted through social networking sites. 42% of Brander only follow Facebook. And there is a 60% plus engagement rate in Facebook by following emerging platforms like Pinterest and Instagram on Virtue SRM as shown below.
Its very clear that no single social network can benefit brands significantly and the help is indeed needed form other supporting arms of social media ecosystem to ensure the highest engagement ratio over Facebook for companies and brands. Campaigns and various sweepstakes other other social network as well push people to stay connected and Facebook takes the biggest pie of this being 'Tiatn' of the industry.