Tech-savvies are currently discussing about the WWDC event. They are very inquisitive to know about what Apple is going to unveil. Numbers of speculations around the world are speculating that apple could unveil its iOS 6 specifications at the event. The company has ditched to Google's maps from its iOS 6. However, I have already described about 'leaked images' of iPhone 5. In addition to these, there's a buzz around, Apple could integrate Siri with iPad Mini. Undoubtedly, breakthrough of Siri around the world has compelled the company to integrate the same with its another platform. Citing to a trusted source, a digital portal "9to5Mac" has revealed that Apple has tested "Siri" on iPad. Apple is trying to fetch all the features of Siri (which are on iPhone 4S) to the iPad, except some phone related commands. The features will encompass Music playback, iMessaging, Maps Integration, E-mailing, Calender managing, reminders, weather, Notes, Contents searching, Wolfram-Alpha searching, Safari integration and more.
However, there might be a debate about the compatibility of the voice activated personal assistance with the larger screen size device (7-inches and 10-inches). Lots of rumors have stated that the application is unable to hear properly and interpret the commands correctly on the iPad. But, the digital portal has annulled all these suppositions. The app is correctly working on iPad Mini as  it's working on iPhone 4S.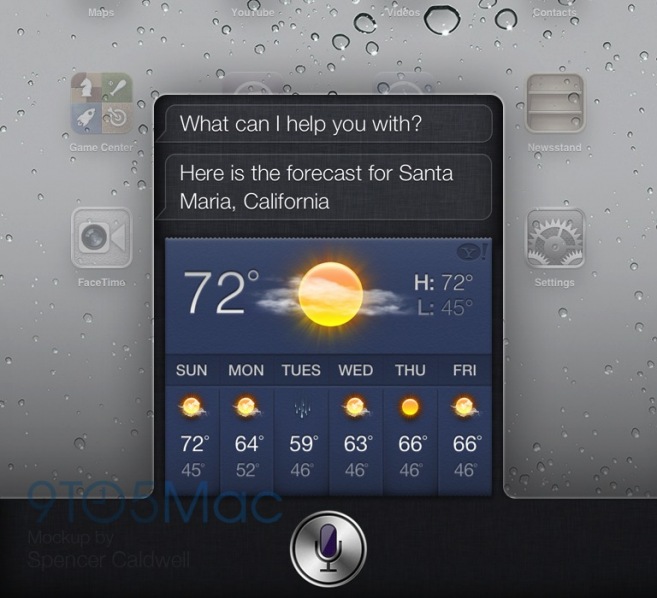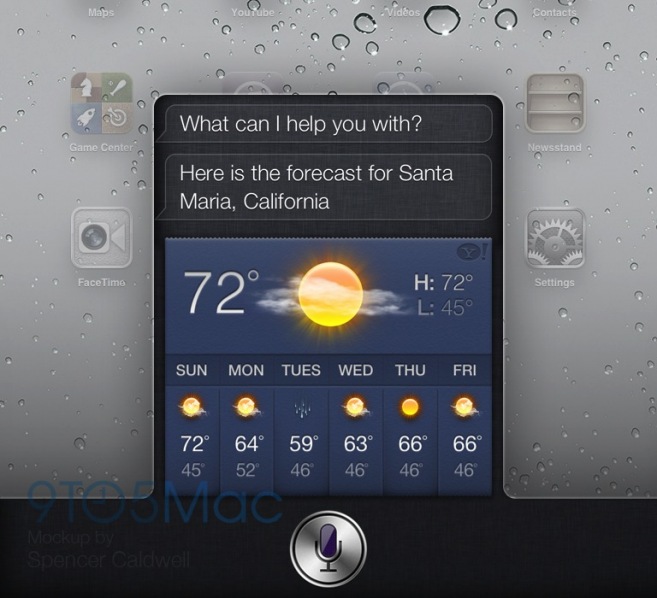 Is it trustworthy to believe that Apple is going to launch its iPhone 5 and iPad Mini in September of this year? Citing to a Topeka Capital Markets analyst, Brain White, BGR has revealed that Apple could launch its iPhone 5 and iPad mini in September of this year.
Brain said, "We also gathered more data points to support our thesis of a unibody, aluminum casing that we believe will be manufactured by Hon Hai Precision and potentially another company. However, our contact was skeptical around the plethora of news stories highlighting Liquidmetal Technologies' potential involvement in the iPhone 5."
As I said, screen compatibility might be an issue for Siri. A mockup of siri (on iPad) has been provided above. The mockup is clearly depicting that Siri does not support full screen experience. For activating the app on iPad, user will have to hold the home button quickly like iPhone 4S. In the above mockup, the app has been displayed with rounded corners sits at the bottom center of the iPad screen. Apple is  currently testing the app for iPad 2 and third generation iPad.
Anyway, it's really pleasing to hear that Apple is endeavoring to integrate Siri in its forthcoming Tablet. However, it's admissible that users could get their hands on iPhone 5 and iPad Mini in September of this year.
Image credit: 9To5Mac