Despite of a long political maneuver, GSM connections are still staggering month-over-months in India. According to a recent report from Cellular Operators Association of India (COAI)–which incorporates numbers of GSM telecom operators–has reportedly stated that 6.86 million new GSM connections were added by different telecom operators in March of this year , up 1.04% compare to 657 million subscribers a month before. However, the number of newly added connections have been declined compare to 8.77 million in the prior month.
Uninor managed to add 1.29 million new subscribers in the last month, taking its base to 42.43 million. It's well-known that Uninor's license was cancelled by Indian Supreme Court after hearing the 2G scam petitions.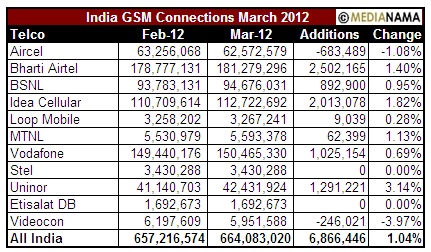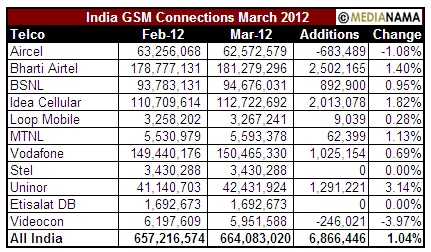 On comparing, the stats provided by COAI in the last month and this month, undoubtedly, we will find a little-bit discrepancy. In the last month the authority reported 93,426,223 subscribers for the month of February, but this month, it has reported subscribers' numbers for February as 93,783,131.
Bharti Airtel dominated in the numbers of new connections, added 2.50 million new subscribers in March 2012, taking it base to 181.27 million, followed by Idea cellular, added 2.01 million connections, and accounting 112.72 million to the base. On the contrary, Aircel and Videocon declined in numbers of new subscribers, whereas, Stel and Etisalat DB were unable to attract any new subscribers in the last month.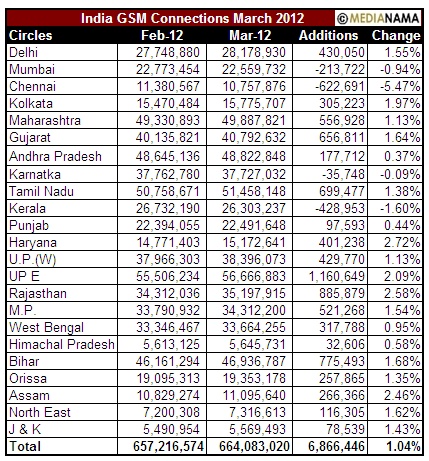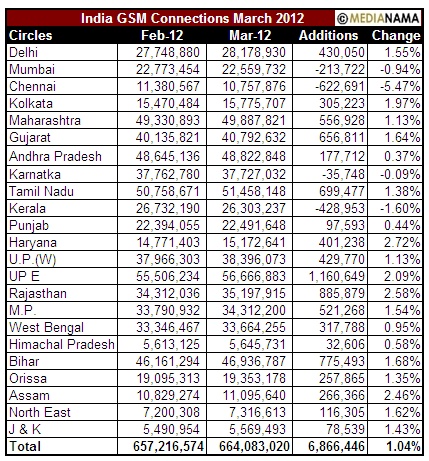 In terms of GSM connections circle-wise, UP East was at the top in the last month, added 1.16 million new connections, followed by Rajasthan and Bihar with 0.885 million and 0.775 million new subscribers respectively in March 2012. While in metros, Delhi added 430,050 GSM connections in the last month, followed by Kolkata with 305,223 connections. On the contrary, the GSM connections in Mumbai and Chennai declined by 0.94% and 5.47% respectively in the same period.
via: MEDIANAMA