The Cellular Operators Association Of India (COAI) has reportedly stated that 8.77 million new GSM connections were added in February this year, up by 1.35% from 8.44 million in January this year.  The Supreme Court of India cancelled all 122 licenses after hearing of 2G scam petition, despite of this, Uninor incredibly added 2.34 million connections in February this year, taking it base to 41.14 million. It's pretty clear that the judgment of the Supreme Court of India made a little impact on subscribers' addition.
However, some other players like Videocon, Loop, STel, and more will have to struggle  till July 2nd of this year for the permission of further operations. There is also a probability to be renewal of bidding spectrum, if it will happen so, then carrier vendors will have to acquire the spectrum for its operation in India.   The table (below) might be helpful for you to understand the distributions of new connections among different carrier vendors in India.
Idea Cellular was at the top with 2.58 million connections in February this year, taking its base to 110.70 million, followed by Uninor, Bharti Airtel, and Vodafone with 2.34 million, 1.82 million, and 0.83 million new connections respectively during the same period. However, Aircel was succeeded to add just 0.79 million connections in last month this year.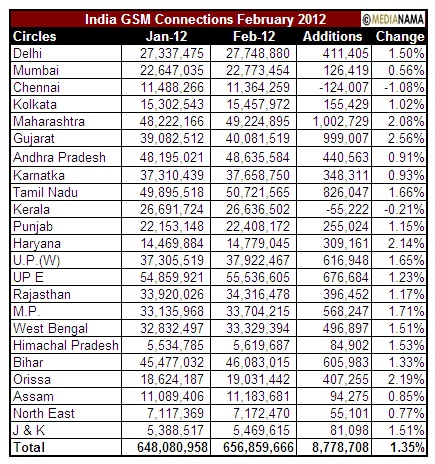 In February 2012, Maharashtra was leading in numbers of GSM connections, followed by Gujarat and Tamil Nadu. However, in Chennai, the GSM connections went to negative in the last months this year.
Image credit: MEDIANAMA