The low-price Amazon's kindle Fire had incredibly marked its presence everywhere in the market in Q4 last year. It has reportedly stated that the online retail giant had shifted around 5.5 million units of Tablets in holiday season last year. And also, it's expected that the company is going to ship 18.4 million Tablets by the end of this year. There's a big question, are users satisfied with their Kindle Fire Tablet? A research analysis firm—ChangeWave—has endeavored to answer the question by its recent survey–comprises 254 new kindle Fire users.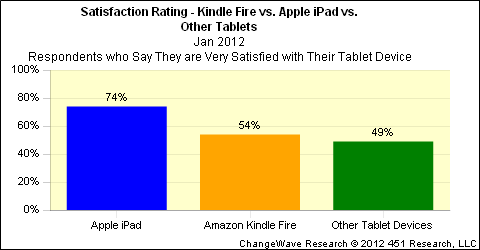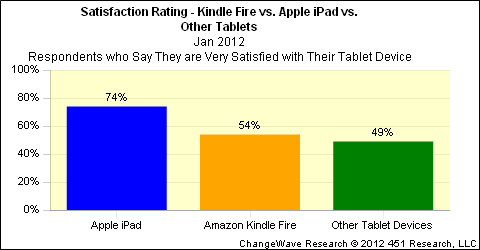 More than 54% Kindle Fire's users told to research analysis firm that they were "very satisfied" with their device, while 38% told, they were "somewhat satisfied" with their Tablet. The "very satisfied" numbers of Kindle Fire is far behind the Apple's iPad "very satisfied" users number. Definitely, Apple was leading in users' experience, while Kindle Fire was ahead of average of other Tablets' "very satisfied" users . In a way, there are 92% users (very or somewhat) satisfied with Kindle Fire.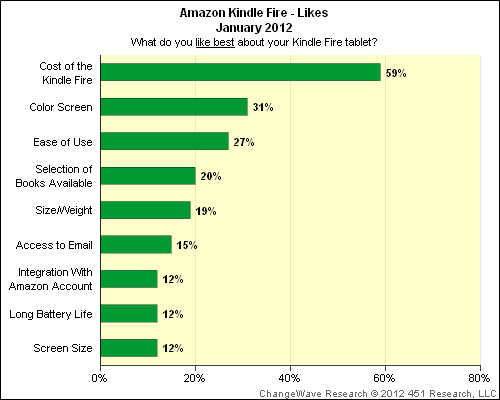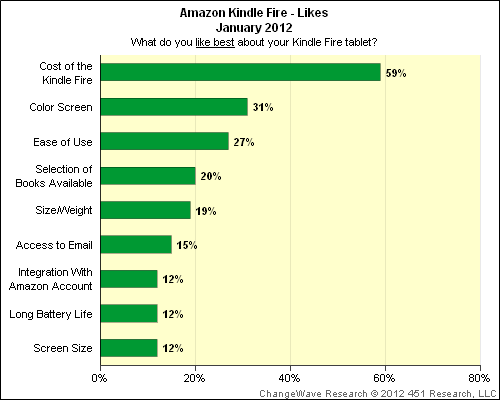 Kindle Fire's price was the big advantage for Amazon to lure more users, 59% users agreed with this logic. In this contrast, Apple's cheapest Tablet cost $499–which is more than the Kindle Fire at least by $300. 39% users impressed with Kindle Fire's color screen, while, 27% users agreed with ease of access. 20% of users liked online  availability of huge number of books on Amazon's online store.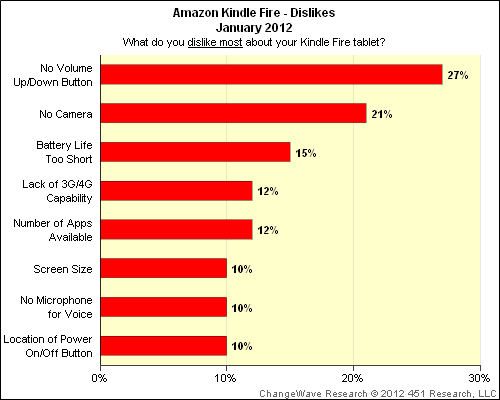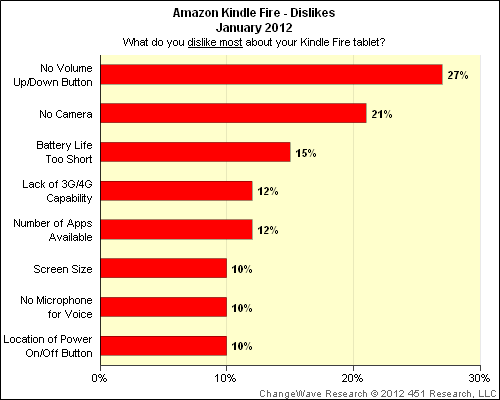 Despite of number of amenities available on low-price Kindle Fire, it was lacking lots of things including Volume up/down buttons, camera, too short battery life, lack of 3G/4G capability. The analysis firm has reportedly said that there were shortage in number of apps, the size of the screen, no microphone for voice, and location of power on/off buttons, which disgruntled users during the survey reporting. There might be a question, how much privileges can be provided in just $199? Definitely, the Tablet should have at least 3G compatibility, good battery life, a camera, and good physical buttons in just $199. However, lots of assignments are ahead for Amazon to entice more users in upcoming years.
source: ChangeWave
via: DigitalTrends