Apple reportedly sold 37 million Smartphones in Q4 last year, marked 128% growth compare to same quarter a year ago. Apple ranked third in total mobile handset shipment globally in Q4 last year. Recently, Asymco has calculated the profit and revenue share of top 8 mobile makers and also counted its total shipments in Q4 last year. After calculation, it has found that Apple was the biggest gainer in the Smartphone battle in Q4 last year. Despite of Android popularity, Apple managed to make 75% profit share of combined profit share of top eight companies that includes Nokia, SE, HTC, Samsung, RIM,LG, Motorola and Apple itself. Doing the similar calculation study reveals that Apple contributed 39% of combined smartphone revenue (of top 8 mobile majors) in Q4 of 2011. Samsung – consider Android-based devices only–emerged as the only company that managed to compete with Apple. However, the the efforts didn't pay well as there was a sharp profit share gap between them in Q4 last year.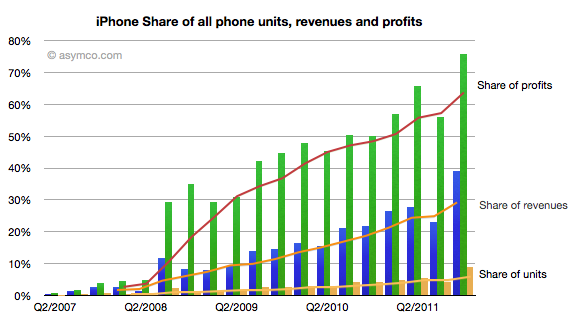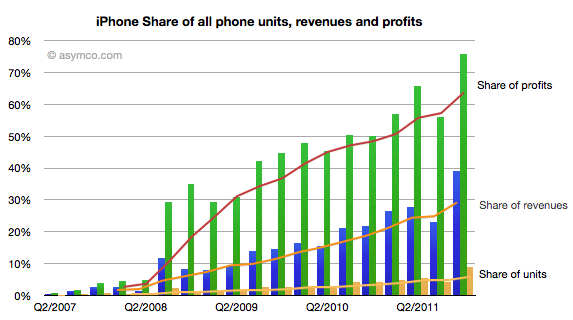 Jointly Apple and Samsung accounted 91% of the total profit share and 64% of total revenue share in Q4 last year. Apple dominated the mobile segment in profit as well as revenue in Q4 last year followed by Samsung. The world's largest handset manufacturer—Nokia—had managed to assert Samsung and Apple in terms of revenue and hold the third notch in total revenue share. Despite of a huge market shares' loss after three days outage in Oct last year, RIM accounted 3.7% of the total profit share in Q4 and grabbed 3rd rank.
Apple's momentum was really significant in the last year. The company had generated 19% more revenue, and also augmented 20% of more profit in Q4 than Q1 in 2011.


The last year was definitely the year for Apple, and the company outstandingly dominated over its rival. However, the proliferation of cheap Android OS had affected the total shipment of Apple's Smartphone, but company managed its shipment in the holidays' season. Apple's iPhone 4S was most preferred Smartphone in the Christmas day alone.
Source: Asymco