The proliferation of updates of iOS and Android mobile operating systems are more often. iOS and Android has reportedly surpassed 10 billion apps last year. There has always been an issues of apps crash, now, there's a big question why apps crash? There might be lots of reason for the apps crash, recently, Crittercism CEO—Andrew Levy—has pointed out some of them. He said that crash may be occurred due to the hardware issues—such as location or GPS services or camera.
In addition to this, the issue might be occurring due to the improper net connection at the certain moment, or disconnection between 3G and Wi-Fi. Sometimes, the language support on certain devices creates the issue, otherwise, shortage of memory for apps' use can create apps crash climax.  It's often seen that the involvement of the third-party in the apps by developer causes app crash—recently, Apple's iAds gave problem to some developers due to non-adhere to certain standard. A proper blend of hardware and software is required for non-occurrence of apps crash.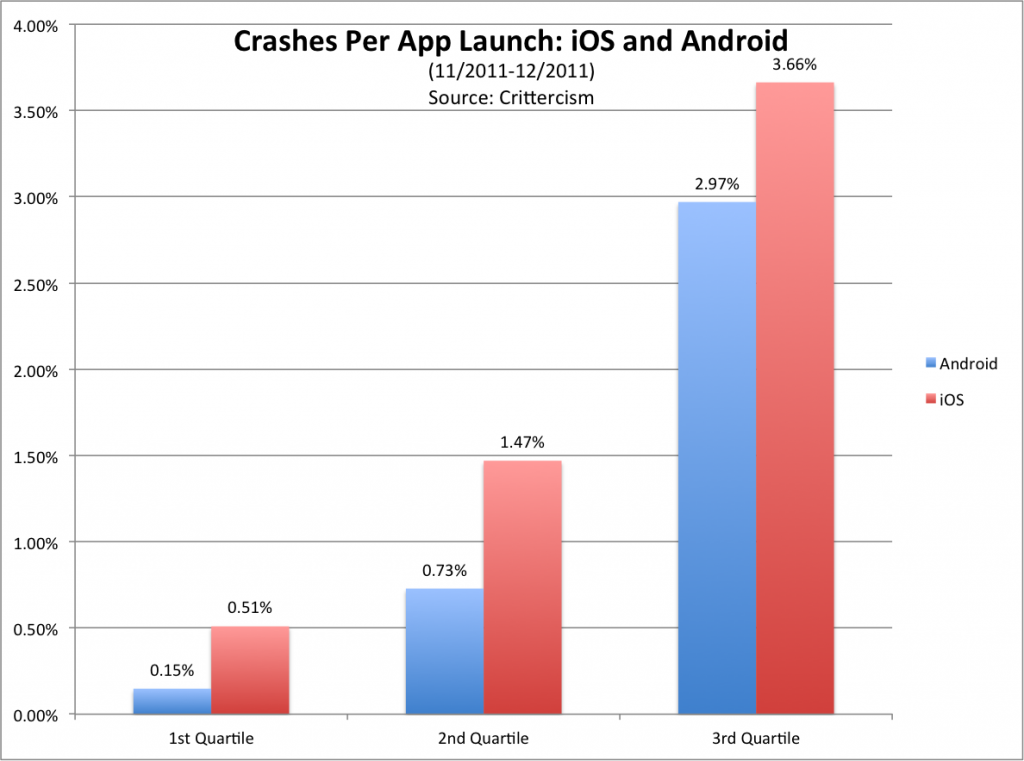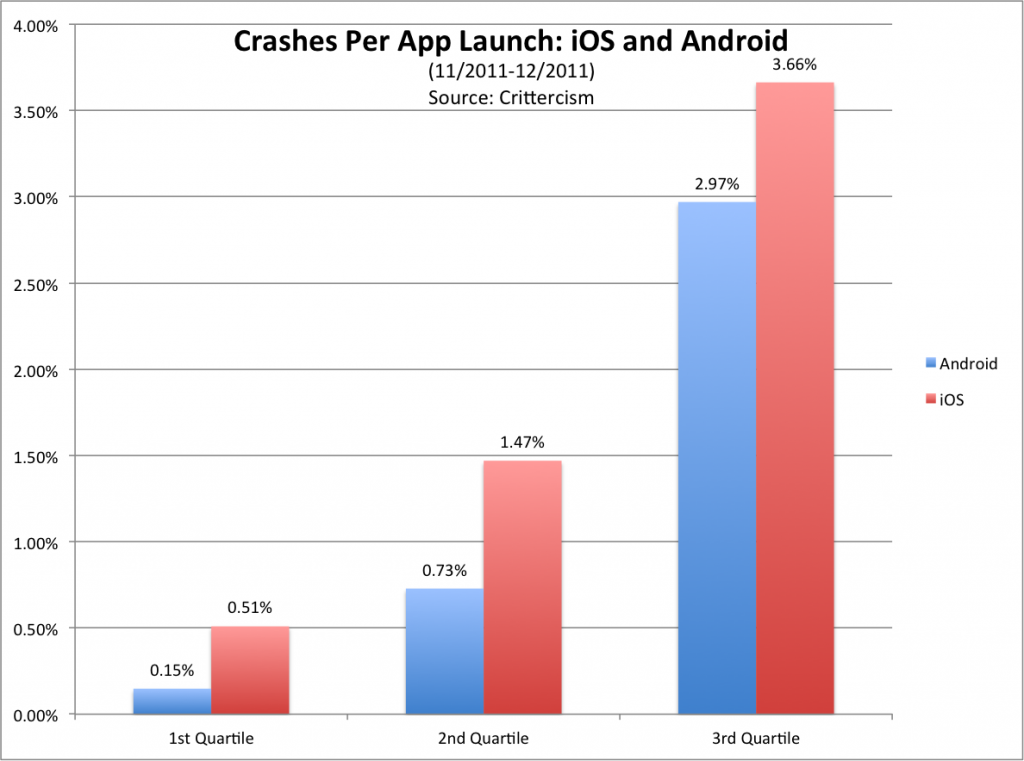 A recent analysis by Crittercism has revealed that there were 23 different iOS and 33 different Android OS on which apps had crashed in between Dec 1-15. Apple's iOS 5.01 hold first rank with 28.64%, whereas, older versions including iOS 4.2.10 and iOS 4.3.3 were at second and third position with 12.64% and 10.66% respectively in apps crash. iOS 4.1 had also contributed 8.24% of app crash.
Developers always create new updates time-to-time for their apps to fix the bug. Sometimes, it's due to users' negligence, the issue remains intense. The developers often test all previous versions of their apps to make sure that it's properly working on new OS or not. Crittercism analyzed a total more than 214 million apps launched in Nov-Dec 2011. In the first quartile, Android apps crashed 0.15%, while iOS reported 0.51%. In second quartile, Android apps crashed with 0.73% and 1.47% iOS apps crashed–was still higher than Android. In third quartile, Android and iOS apps crashed with 2.97% and 3.66% and respectively. The apps crash also depend on the types of the device use, Crittercism tracked the apps crash on iPad was least with 10.72%, and maximum were on iPhone (74.41%).
The code send by Android developers which can show up in real-time, while it takes a day or even sometimes a week in the case of iOS developer. That's why, there is more possibility of Apps crash in the case of iOS, on the contrast, android developer fix the bug frequently. It's clear that Android has lower app crash rate than iOS, but Crittercism has said that apps crash might increase with Android—since; limited number of devices had ICS till analysis which had expected to increase by the end of this year. Overall, protecting apps from crashes is not only important for apps developers—whole and sole of the apps for running smoothly–but also important for businesses.
source: Forbes