The discussion over the fragmentation of Android has been most marinated hearsay for last couple of weeks. Undoubtedly, Android is more open than iOS or Windows Phone, but Google's pretension about Android OS openness is worthless. Google has permitted to manufacturers to use Android OS for their devices and also allows to customize according to their quirks. But, Google's own mobile suite—Android Market, Google Maps, and Gmail—are still close source for manufacturers. The reluctance of Google's Mobile suite reveals that the openness of Android OS isn't as transparent as Linux.
A week ago, Jon Evans said, "Android's fragmentation has become a giant millstone for Android app development, leaving it worryingly behind its iOS equivalent. It's not the panoply of screen sizes and formats; the Android layout engine is actually quite good at minimizing that annoyance. It's not the frequent instances of completely different visual behavior on two phones running exactly the same version of Android; again, annoying, but relatively minor. Device fragmentation is just an irritation. OS fragmentation, though, is an utter disaster."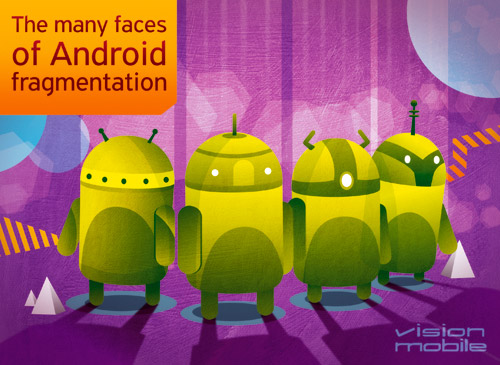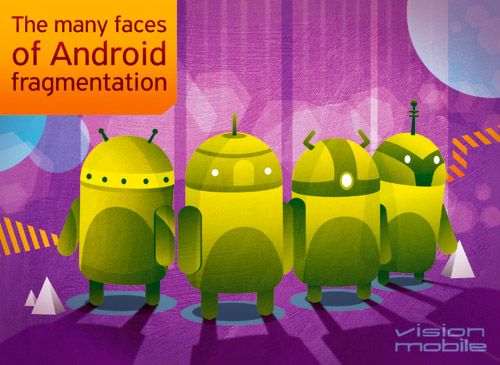 Jon points out that User Interface, Device, OS, Marketplace, and service are the five axes for the mobile platform fragmentation. Similarly, Charlie Kindel—served Microsoft for 21 years and recently was in charge of getting third party apps on the Windows Phone platform—said that fragmentation of Android is not good for end users, developers, mobile operators, device manufacturers, and even for Google also. However, Charlie has clearly explained that fragmentation doesn't mean that Android is going to "die" or "fail" but said that it's not good from the company's perspective. He confidently added that Android is completely exempted from Google's grasp and to regain it is a futile endeavor. He says, Apple's iOS has no fragmentation along the marketplace and the company has carved iTune—the only support marketplace. Apple is little liberal at the user interface (UI) level due to different generation of iPhones with different hardware capabilities.
He states that Windows Phone is superior because of its unidirectional inclination into the market side in the chain like: Developers->Users-> Carrier-> Device Manufacturer-> OS providers. On the contrary, he said that sometimes people use word "diversity" instead of fragmentation and sometimes its combination with market side shows positive outcome, but often, it consequences negative.
However, he  accepted that Apple and Google dominate the OS market, and Microsoft has stuck with these two big players. According to Charlie, Apple is interested to pushup its high-margin business—money by getting paid ~$150 up from mobile operators per iPhone sold—and promote its market share to grow revenue from services. Whereas, Microsoft has succeeded to  bring up the revenue from Office, Xbox Live, etc but its Windows' revenue has been plummeted. It's also a fact that Microsoft has generated huge revenue from Android patent issues.
Last week, executive Chairman of Google—Eric Schmidt—said, "With Android, Google's 'core strategy' is to get everyone on Ice Cream Sandwich, the latest version of the platform."
The company has recently endeavored to hold back access to Google services by the quotation of "Follow our rules or you can't use Google Search." Presently, the combat of social networking site has insisted Google to launch Google+ around the world.
The fragmentation of Android might mystify to users when they use the device of different manufacturers—using open source code of the Android OS—and they would not have the rights to access Android Market. Android is available on the gadgets of different companies on any carrier according to users' wish, which leads the fragmentation of Android devices. Windows also seems, apparently, fragmented among its new version and old version. Android fragmentation might be the decision of Google's hardware manufacturers, and wireless carriers.
Do you think that the fragmentation of Android is really prejudicial for Google as Microsoft's Charlie Kindel has stated?