Facebook has updated the Comment box plugin for mobile to make it easier for media sites to engage people across their mobile devices. The comment box for mobile is the latest update to make commenting more social and authentic and improve the quality of conversation online.
This upgrade automatically becomes available to all the websites that have the Facebook commenting installed and it is automatically optimized for mobiles. The plugin recognizes when the user is on the mobile device and will automatically show the mobile version. The new version is the right size and makes it easy to comment ,Like and share posting to Facebook.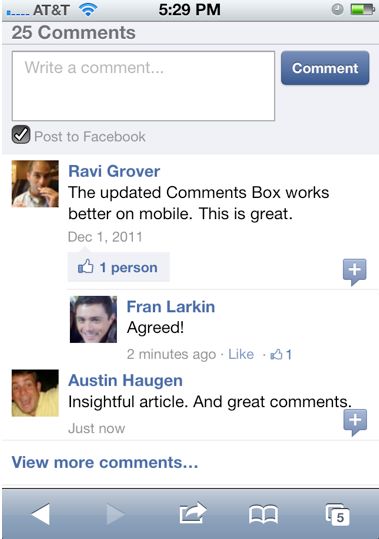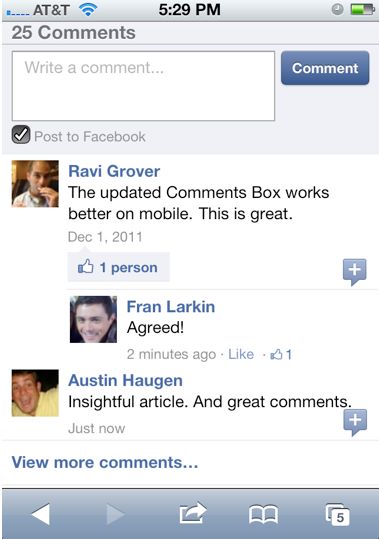 This makes implementation easier for developers, and for users the features seems to load more quickly. People who are able to post anonymously (or pseudonymously) are far more likely to say awful things, sometimes with awful consequences, such as the suicides of cyberbullied young people. The abuse extends to hate-filled and inflammatory comments appended to the online versions of newspaper articles — comments that hijack legitimate discussions of current events and discourage people from participating.
Previously, websites that integrate Facebook had to resize the box for mobile users,but there was no such dedicated mobile version. Facebook is strongly promoting its comments plugin as a way for media sites and blogs in order to improve the engagement and reduce spam.If sites find the plugin easier then they may become more open to using other Facebook widgets.
Apart from this, Facebook is expected to roll out its first mobile ad service by the end of March 2012. This new service will give the social media a fresh source of revenue and awaited IPO of Facebook is also expected in mid of 2012. Let us hope all this new roll outs and the new updates will definitely help Facebook in strengthening its business in future.
People who are interested in integrating the new comment plugin can get the help from here.