The eye-catching events for Microsoft in last couple of years; marriage with Nokia, the acquisition of Skype, second its entrance into blockbuster gaming console in the Xbox, followed by its decision to bring Windows Phone 8 this year. It's estimated that Microsoft's Data-Center software division had led the sales of $17.1 billion last year. However, it's well known that Ballmer played a crucial role to bring the company at the lead position, but the corporate executive take Ballmer's works in different way.
Previously, the IT professionals criticized Ballmer to work like a business man rather product-oriented visionary. Microsoft profit machine was droning due to its PC market dominance and long-term software license. The failure of "Windows Vista" has catastrophe the company and its most of the consumers and businesses have distracted from the company's software. The responsibility of failure was mended over Ballmer's head.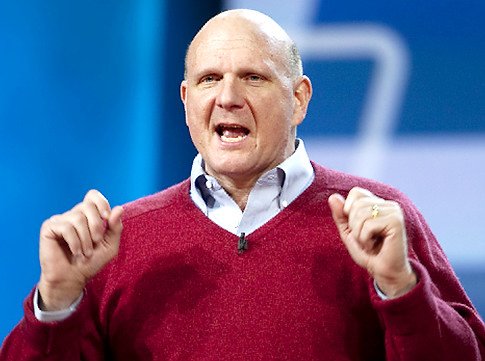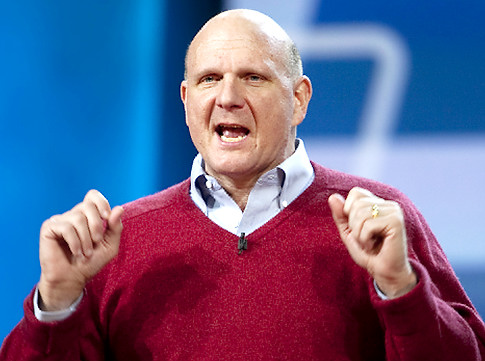 Microsoft's business was mostly affected by the invasion of Apple's revolutionary product—like iPhone, MacBook and iPad–, Google's search engine, and Amazon's involvement in diversified sectors. Meanwhile, Facebook's accent in the market was sufficient to plunge Microsoft's share. Last year, Microsoft hired "Qi Lu" from Yahoo to revamp its search engine but result was futile.
Microsoft Senior Vice President—Steve Ballmer—once said, "I'm not going to pretend I'm some visionary or going to try and have central planning on the technology side for everything that goes on. Let's agree on what the basic set of things are that we believe in, and we'll share those things or share those technology approaches. The only way to get great execution with great ideas is to have guys in our leadership who can really take things to the next level—not wait to hear from me what the instruction is but take things to the next level. I had to find my role relative to the product side, which I hadn't had to find really as much while Bill was still here."
In October 2011, Microsoft acquired Skype in $8.5 billion which has strengthened the company a lot. It seems that Ballmer manage the company through people and made commitment to interdisciplinary work. That's why Ballmer was criticized for the lacking of unique leadership the company is seeking for. At the same time Microsoft was severely criticized for poor music players, smartphones, search engine—Bing–, and social networking initiatives. Despite of all these issues, Microsoft managed to triple the revenue, and manage to resolute the share price.
On January 9, 2012, Microsoft delivered the opening Keynote at the international Consumer Electronics Show in Las Vegas. Now, Ballmer has decided to focus on the presentation of company before the consumer rather its presence in CES.
Presently, Microsoft seems very aggressive about its retails shops and at the moment it occupies 14 retails shops and has planned to open more than 75 retails over next three years. The company is in discussion with Wal-Mart, BestBuy and other third parties to setup 20,000 sq foot retails nearer distance from its headquarter Retail Experience Center (REC).
Ballmer would be known for Microsoft's cloud computing strategy; it is estimated that 40 million people subscribe to the $60-per-year for the Xbox live services. The company has introduced Zune service for Music and Movies which is responded over PCs and Phones, runs across Xboxes. This year, Microsoft has published its Office software to the cloud, and the company has got the opportunity of 10,000 of the paying customers on its business software service—Azure. The company is releasing a number of updates like Bing, Windows Phone, and Xbox on the internet.
A chief scientist at Kaggle—Jeremy Howard—stated, "When you talk to other entrepreneurs and tell them you're using Microsoft's cloud services, they look at you like you have leprosy."
Skype plays a vital role in the Microsoft's campaign which delivers 750,000 new downloads of its software and handles more than 531 minute of calls. In the regime of Ballmer, Microsoft has augmented the revenue from $25 billion to $70 billion over the last 10 years. Ballmer has brought the company as leading players and made a profit of $6.6 billion in last year. Comparing the total annual profit growth of the company, Ballmer (16.4%) has surpassed GE's CEO—Jack Welch (11.2%)—and IBM's "Louis Gerstner" (2%).
The company has invested $9 billion on the research and development last year which is greater than any other tech company so far. Steve Jobs will always be admired to bring the Apple at the zenith. Whereas, Ballmer has spent much of his time as CEO and dare to expand the business beyond gate's vision.
Anyways, Ballmer has played a dynamic role for the company, however, at present the company doesn't seem bullish towards innovation. Contemporary, the company has beleaguered to others by its IP license agreement, which is jeopardy for the IT sectors. Ballmer should focus on its different sectors including Windows Phone, Bing, Social networking, and browsing instead of distressing other smartphone makers for patent issue.