The evolution of the iPhone has been a remarkable journey that has transformed the way we communicate, work, and live. As the iPhone continues to evolve with each new generation, it remains a symbol of innovation, design excellence, and technological prowess, leaving an indelible mark on the history of consumer electronics.
Apple, Inc. (NASDAQ: AAPL) began developing the iPhone in 2005, however, it went on sale in the United States on June 29, 2007. Not many people are aware of the fact that the word "i" in iPhone (as well as in iMac, iPod, and iPad) stands for internet, individual, instruct, inform, and inspire. The features of the first-generation iPhone made it such a mind-boggling device at that time. Its 3.5-inch multi-touch capacitive touchscreen, lack of a physical keyboard, liquid contact indicator, and many more made the first iPhone a world apart from the other mobile phones available in the market. The 4 GB iPhone model was priced at US$499, while the 8 GB model was priced at US$599.
Apple iPhone runs on an operating system known as iOS. It is capable of supporting applications from Apple and other 3rdparty developers.
We are going to make history together today" -the keynote by Steve Jobs at Macworld 2007 convention.
httpv://www.youtube.com/watch?v=EHWRkuDlNOE
iPhone has to be managed using iTunes, the same as iPod. The earliest versions of iOS required v 7.3 or later. v 3.1 requires iTunes 9.0 and iOS 4 requires v 9.2.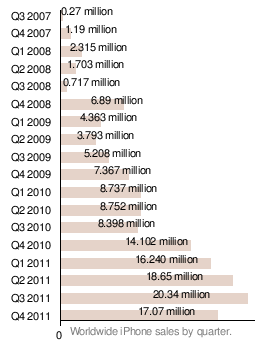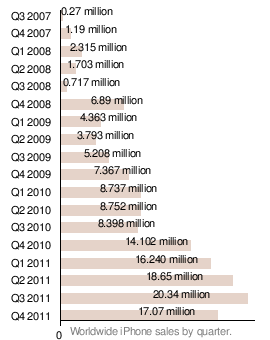 Source: Wikipedia
iPhone has evolved for years, with each release having advanced features, better camera quality, and a better interface. The sales of iPhones have also increased almost every quarter, ever since its inception in Q3 2007 and since then has never looked back.
Evolution Of iPhone Timeline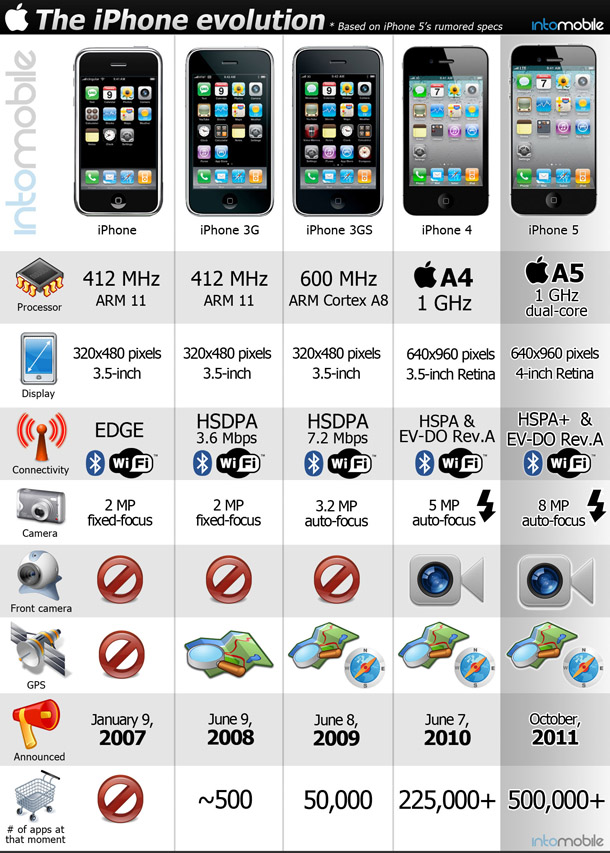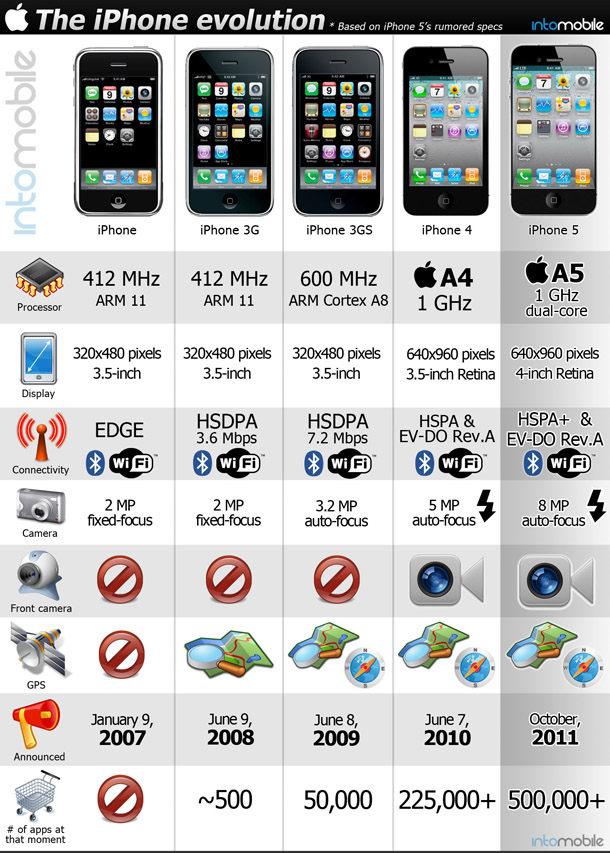 Above is a speculation about the iPhone 5 specification by "intomobile"- which has gathered all of the leaked data so far and has also depicted the evolvement of iPhone over the years. Though the speculations may not be precise, these are a few things that can be expected. Being said and done about the development of iPhone over the years, we can safely say that there is a lot more we can expect from Apple with its iPhone 5 and future devices. And while there are rumors about iPhone SJ being next in line for the iPhone series, time alone can give us the verdict.
Image Credit: intomobile