Apple is going to dominate over global computer equipment market in upcoming years—2012 and 2013. Presently, the company has become the most disruptive for the other PC manufacturers like HP and Dell.  It's expected that the slowdown of the world economy and popularity of Tablets might be responsible for the mount down of PC shipment in last quarter of 2011. Gartner has reported that the shipment of world's two PC giant manufacturers—HP and Acer—has declined in Q4, 2011 than its shipment during the same period a year ago. However, Apple has tremendously raised its shipment by 20% in the same quarter.
Apple had dropped its MacBook Air's price from $ 1800 to $1000 in late 2010. Last week, lineups of Intel Ultrabook were introduced at CES in order to contend MacBook lineup. Intel has introduced a sequence of Ultrabooks in CES with the collaboration of different manufacturers including Hewlett-Packard, Lenovo, LG and Asus.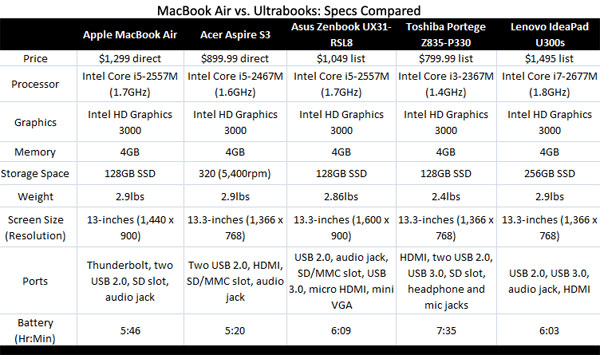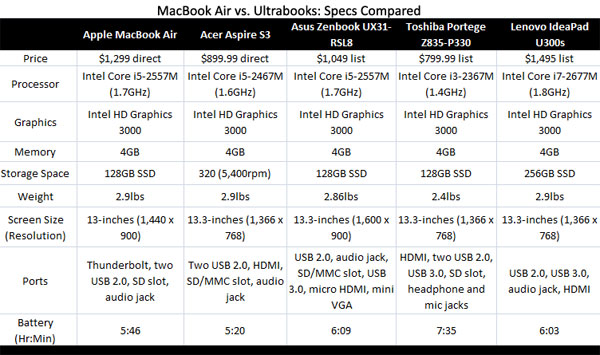 Intel's Ultrabook product manager –Anand Lakshmanan—said, "Intel holds the Ultrabook trademark, expects 70 more notebook designs will arrive in 2012. Most of the Ultrabooks cost upward of $900, though Intel wants to work with manufacturers to bring the average price down to $700."
A number of Ultrabooks lineups including Dell's XPS 13, HP's Envy 14 Spectre, and Acer's S5 Ultrabook have marked its presence in CES last week. Dell's XPS 13 has price tag of just $1000, 2.99 pound weight and measures less than an inch thick. Whereas, Acer's S5 UltraBook weighs less than three pounds and its thickness 0.59 pounds, thinner than even MacBook 0.67 inch thickness. On the other side, Hewlett-Packard's Envy 14 Spectre is expected to have $1,400 price with a shiny glass body—made up of Gorilla Glass—, and  a high-resolution screen.
The Intel's device manufacturers are highly enthusiasm with the Ultrabook, which might strengthen the company as leading chip manufacturer worldwide. Presently, Intel is nowhere in Tablet or Smartphone sector—which is dominated by Qualcomm, Samsung and Nvidia. The most mobile devices are running on the ARM architecture based processor. Intel's major chip rival AMD—in PC chips – has announced at CES that it's going to develop "Trinity"—a class of processor—which will power "ultrathin" laptops that will cost as little as $500.
The rise of low price ultrathin laptops has respond to decline of the PC industry which has changed the trend with a small, portable and affordable power efficient system. However, Intel believes that regular computers are more efficient than Tablets and the company wants to sustain both categories—PC as well as Tablets—into the Ultrabook.
Intel has clarified that thinner notebook is just an initialization; the company has planned to fuse together the Ultrabook with compact laptop and Tablets. It's expected that in few years from now, an Ultrabook will be thinner, lightweight and also will have a detachable screen like Tablets. Presently, a Chinese computer manufacturer –Lenovo—has displayed at CES its "IdeaPad Yoga"—a convertible laptop that transforms into Tablets. Ultrabook is going to hit the market with its low price tags $500 to $700.
Intel has endeavored to assault Tablet segment through the introduction of its "Ultrabook". Definitely, it doesn't seem weak in any aspect than MacBook, and also, the company would try to clinch the market of different chip manufacturer like Qualcomm in coming years.