The power of Group-buying is cherishing the people across the globe which has shaped up as Billion dollars business model stand alone. This has winked the eyes of thousands of Investors who are (have) ready to burn their hard-earned "green-papers" on the rage. Indeed, it's paying off heavily and made "Groupon" – leader in online group buying and daily discount deals business – as one of the fastest growing company worth $6 Billion in just 2 years.
Assured with the success of proven business model, many clones of "Groupon" have been cropped up in almost every country which has significant internet penetration. In India alone, as I know, there are more than 20 such clones which are active online at national or regional level. Besides many Indian startups like dealsandyou, sosasta, koovs, buzzintown, mydala, snapdeal and taggle, technology giant Google – made a failed attempt to buy Groupon- and social networking titan Facebook have also joined the rat race with "GoogleOffers" and "FacebookDeals".
However, with tons of resources to choose from, it has become virtually impossible to track the best deal in desired town by monitoring all "daily deal sites" every day or at regular intervals. Consequently, people started realizing the need of another 'sub-set of group buying business model' which, possibly, can throw only the best deals after scanning all "daily-deal-sites" from all sources.
Interestingly, after hours of research and struggle online I bumped up with a site which augments your group buying power through deal aggregation – Dealies.in. I am not here to claim if there are few more such deal aggregators in Indian market but Dealies India is the one which somehow satisfies my (and many other people's) thought process and needs. With a quick glance, visitors can see every deal being offered in a particular city, all at once.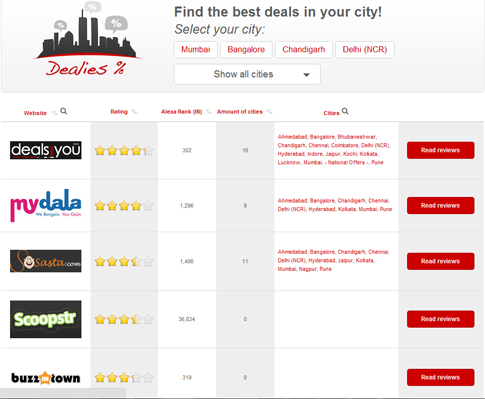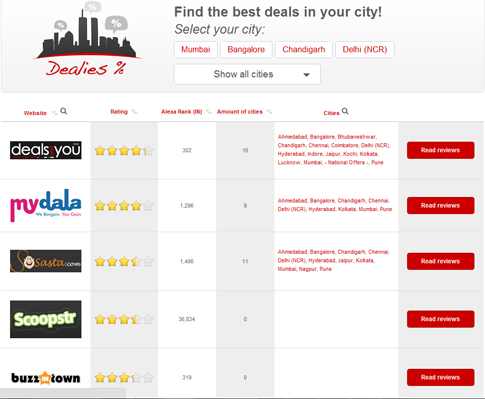 A just born startup baby, Dealies India aims to provide a one-stop shop for everyone looking for deals in their region. The site was launched at the mid of December last year and expanding quickly just through word of mouth in short span of 2 months. Company is, apparently, customer centric and committed to expose best deals in your city through its deal aggregation mechanism.
The website goes one step further by featuring all the discounts and deals gathered within a city and the possibility of filtering these deals according to a certain category (Health & Beauty, Entertainment, Shopping, etc.). Dealies.in offers a simple, clean interface, where you can also see the number of "Likes" on Facebook as well as reviews by customers, for each merchant. In addition to group buying offers, website also provides an overview of all the group buying merchants currently operating on the national scene and provides the possibility to users and customers to share their own experiences buying from them. Weighing the reliability of the different merchants is further possible through the Alexa Ranking index.
Despite of improvised buying power, people in India still value their money in best form and always scrutinise before they burnout. With many more deal aggregators in future, potential consumers are finding great sources to enhance their group buying power and strengthen their bargain skills.
We would like to ask our readers about their experience with such "daily-deal-websites. Please don't hesitate to use the comment section to introduce more such deal aggregators you come across.