Popularity of any web property can't be visualized better than this way. With 133.2 million combined active users, Facebook and Twitter has surpassed the milestone of reaching more than 60% of U.S. Internet users together in 2010. Interestingly, Facebook alone has contributed 52.2% out of 60% with 116.8 million US users. Twitter has maintained the rest of share with 16.4 million US active users.
As per the latest report published by eMarketer, Facebook will have significant reach of almost 50% of US population by end of 2013. Though Twitter growth may not spike to similar figures but with 11.4% expected reach of U.S. population by same time frame will surely be an impressive achievement for micro blogging service provider.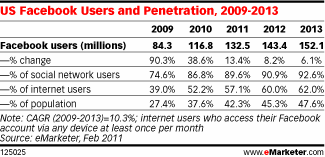 Report also forecasts the usage trend of 2011 in U.S. This year compare to 20.6 million U.S. users, 132.5 million US internet users are expected to login to Facebook.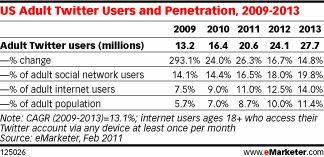 "eMarketer's estimate of the US Facebook and Twitter populations presents a realistic assessment of actual usage, in contrast with widely publicized data that track numbers of user accounts, site traffic or other metrics that don't fully reflect usage," said eMarketer senior analyst Paul Verna, author of upcoming reports on Facebook and Twitter users.
Sitting on huge pile of valuation worth $70 Billion and $10 Billion respectively, Facebook and Twitter both have introduced a new era of digital communication and connects though social networking. However, as great achievements also bring great challenges and responsibilities, Facebook and Twitter both have admitted the challenge of service availability across all the platforms as their top priority.