How much important 'offline map' is for Nokia seems from the launch of its vector map in 2006. Due to presence of offline maps, Smartphone has become an ideal personal navigation device for users and really, Nokia is taking its offline map app very seriously since its launch. The Finnish handset manufacturer has been endeavoring to make its offline maps more user-friendly and informative along with ease of access since last six years.  'Nokia Drive', a Nokia's personal navigational mobile map app, is available with full-fledged experiences for Nokia Lumia models, Nokia Belle Smartphones and Nokia N9 (even Nokia N95 has offline navigation app).
Groupon Now! On Nokia Map
A new turn was seen yesterday when Nokia released a new updates to Nokia Maps with Groupon. At present, Nokia is trying to provide a local experiences to user from anywhere and everyday. 'Groupon Now!' on Nokia Map provides limited time offer to users from local retailers, service providers and restaurants. It's a great way to get nearby deals on Nokia's Smartphone which is available on demand for the same day. Really, it provides a great experiences to users by offering wonderful deals around their home city or while travelling around.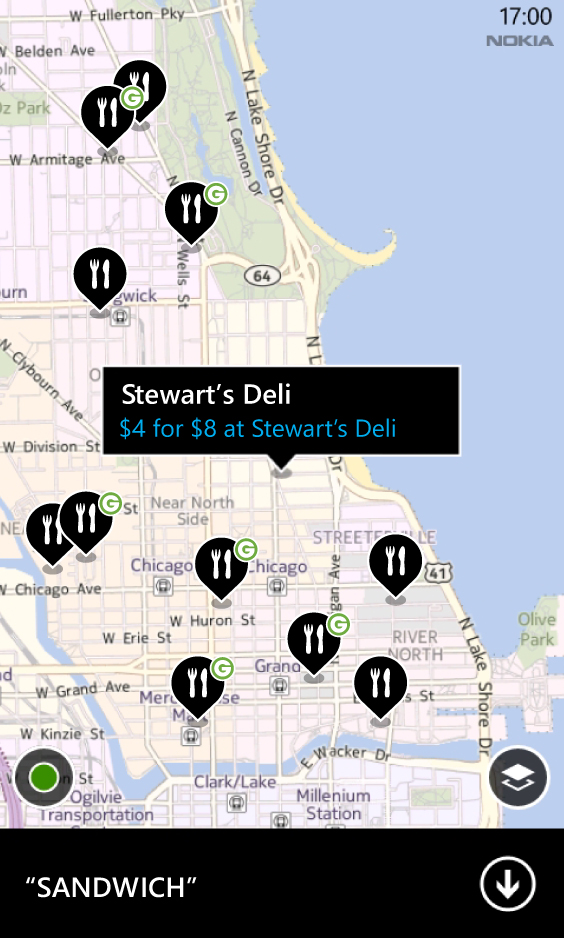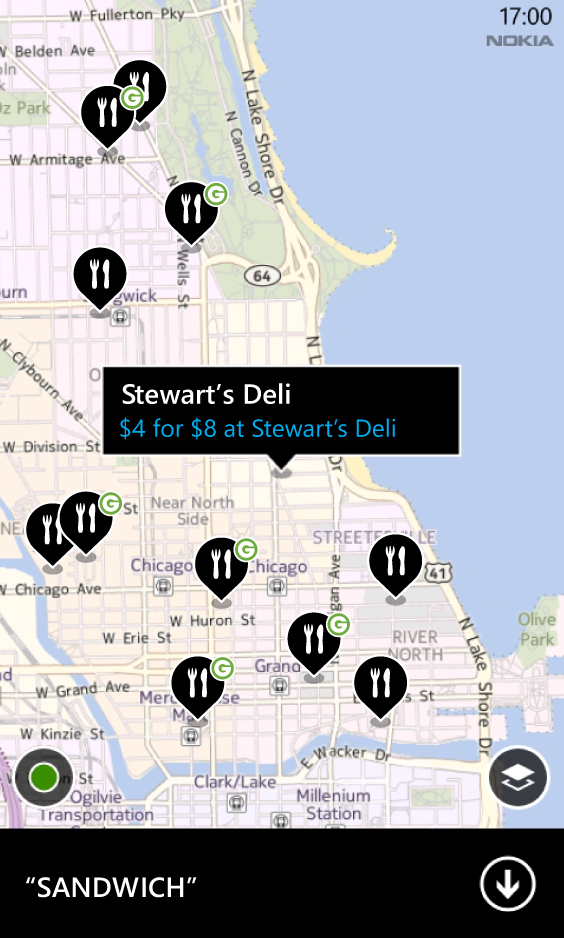 It's very easy to find out and buy the deals on Groupon Now!. As on the above image, number of relevant deals will be shown to users with the Green G of Groupon, where users will find an exhaustive description and then they will have to select one of them. Thereafter, users will be redirected to Groupon mobile sites.  The map will be run on Lumia (610, 710, 800 and 900) models and the updates will be downloaded from Windows Phone Marketplace for free of cost. Nokia is trying to provide smarter travel experiences, but the feature is limited to U.S. only.
Why Nokia Has Teamed Up With Groupon?
At present, both Nokia and Groupon are struggling to meet investors expectations and by forming successful partnership, they could lure investors attentions. However, Nokia's Lumia models are considered as less competitive products compare to Apple's iPhone and Android smartphones. Nokia is currently struggling to recover its market share in the smartphone segment and somehow the conditions are similar with Groupon as well. Undoubtedly, map application is a popular feature of Nokia's Lumia Phones and Nokia is trying to leverage over the application by integrating exciting local deals.
Nokia Could Deal With Some Other Local Vendors
If Nokia succeeds to clinch a significant numbers of users with this partnership, then definitely, it will try to promote its business to rest parts of the world by teaming up with considerable number of local retailers. It's the time and money saving strategy by Nokia. But, we will have to wait for sometimes whether the effort is effective or not.