Held yesterday, the AGM of Reliance Industries Limited was full of surprises, including the Saudi major Aramco buying 20% stake of RIL's oil-to-chemical Business, valuing it $75 billion. The announcements related to Reliance Jio, Jio FibreNet and Reliance Digital, Reliance Entertainment, along with few others, were the major attraction of this AGM. But, the biggest surprise came in the form of Reliance JIo subscribers growth that left many surprised and stunned.
RIL's Chairman Mr. Mukesh Ambani revealed that with 340 million subscribers Reliance JIo has become the fastest growing mobile telecom operator. There is absolutely no dispute to the claim; Launched in mid-2016, the growth of subscribers base of Reliance Jio in the last 3 years has been just outstanding. With 340 million subscribers in August 2019, Reliance Jio has become the largest mobile telecom operator in India, leapfrogging Vodafone-Idea.
But, right after the announcement, in a bid to attract eyeballs of unsuspecting readers, few media houses claimed that with 340 million subscribers count Reliance Jio became the world's largest telecom operator.
The jaw-dropping claim was enticing enough for us to take a deep dive into the matter. The findings are not just surprising enough, but also quite informative.
Before we jumped to the conclusion, it's important to understand the current telecom market scenario in India first.
Telecom Subscribers in India
After the merger of Vodafone Idea in August last year, the new company Vodafone Idea Limited emerged as India's largest telecom provider, beating Airtel and Jio with distinctive margin. The company claimed the dominant position in India Telecom market with 422 million subscribers by the end of Q2 FY19. This was followed by Airtel with 339 million subscribers. Reliance Jio held the third position with 252.3 million subscribers.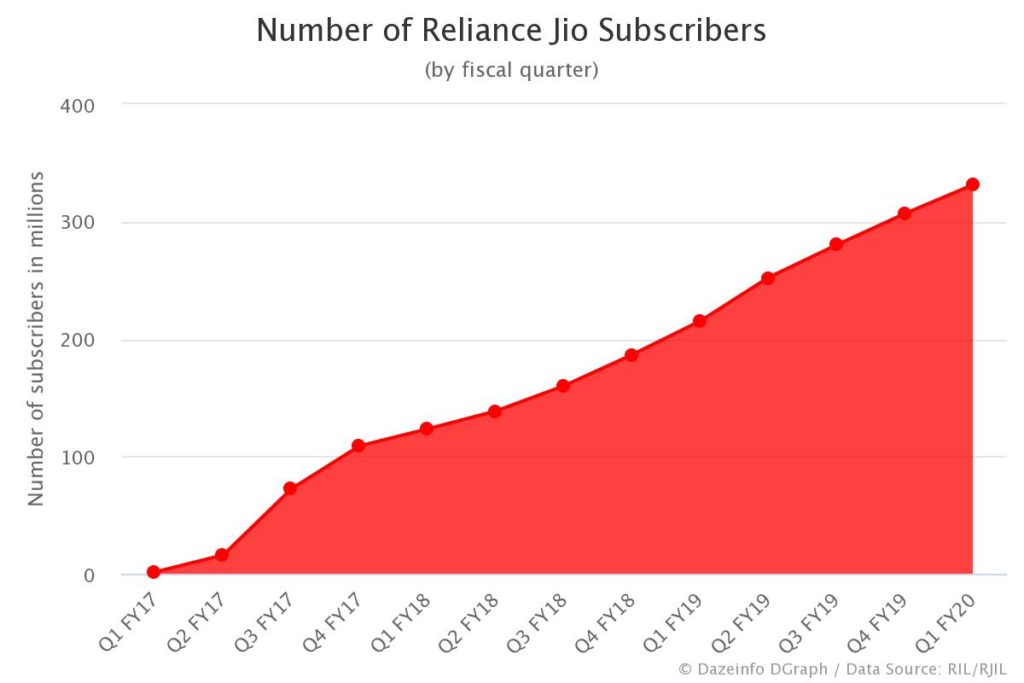 In the last three quarters, however, the market equations in terms of mobile subscribers changed drastically. Despite the market consolidation, barring Reliance Jio, all the major mobile telecom providers continued to lose market share. Vodafone-Idea lost over a whopping 100 million subscribers between Q3 FY19 and Q1 FY20 (Octoner 2018 – June 2019), while Airtel lost nearly 60 million subscribers during the same time. In contrast, Reliance Jio subscriber base continued to swell and added nearly 80 million new subscribers during the same period.
By the end of Q1 FY20 (June 2019), Reliance Jio leapfrogged both Airtel and Vodafone-Idea to claim the top position in the mobile telecom market with 331.2 million subscribers. Vodafone-Idea slipped to the second position with 320 million subscribers, and Airtel reached to the third position with 281.1 million mobile subscribers in India.
The unprecedented growth of Reliance Jio helped it to become the undisputed king of India telecom market by the subscribers count. But the question remains, is the figure large enough to claim Reliance Jio the largest telecom provider in the world? It requires little more data digging.
The World's Largest Telecom Provider
China and India are the world's largest mobile market in terms of subscriber base. The population of China, as well as India, has been attracting the eyeballs of all the global telecom players.
The penetration of mobile phone in India, however, is still low as compared to China. Hence, it makes sense to evaluate the growth of China' leading telecom player to understand where exactly Reliance Jio stands in terms of subscriber base.
There are over 1.5 billion mobile users in China, and a whopping 83.2% of them are on 3G/4G network. In comparison, total mobile subscribers base in India reportedly reached 1.16 billion by the of May 2019, and less than half of are on 3G/4G network.
China Mobile is the leading telecom player in China with over 935.04 million mobile subscribers by the end of June 2019. What is more interesting is the fact that 733.8 million of these are 4G customers.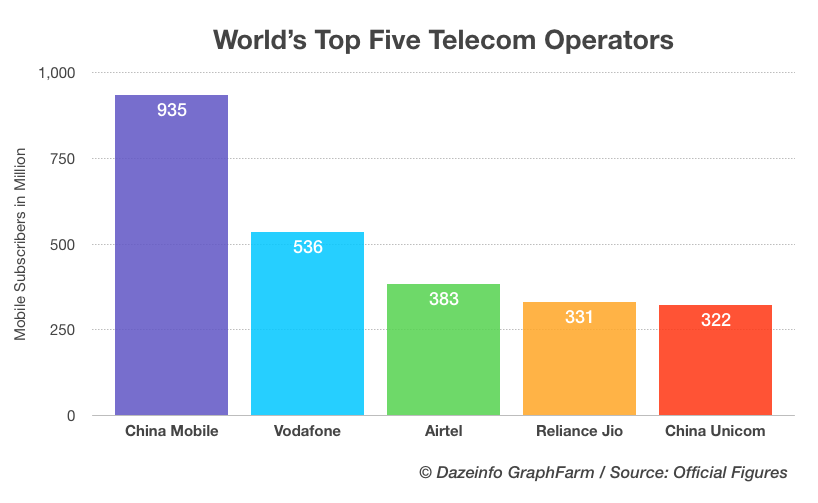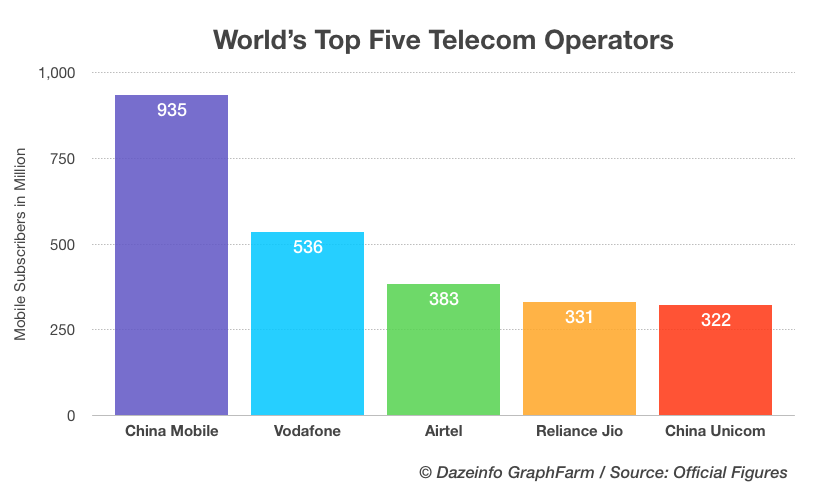 A straight forward comparison proves that India's largest Telecom player, Reliance Jio is way behind China Mobile. In fact, considering the fact that 4G adoption rate in India is below than expectation, primarily due to pathetic network services in Tier 2 and Tier 3 cities. It's quite unlikely that Reliance Jio would overtake China Mobile in terms of subscriber base anytime soon.
This leads us to another question – do these figures make Reliance Jio the second-largest telecom player in terms of subscribers? Yes, but only if you list the telecom players by the total number of subscribers by country. In total, China Mobile, Vodafone and Airtel is much ahead than Reliance Jio.
The unprecedented adoption of mobile subscribers by Reliance Jio is really commendable. Besides, the low penetration of 4G network and smartphone devices paints a big window of opportunity for Reliance Jio in the future. While telecom operators in China have already reached a saturation level, Reliance Jio has got a lot more to penetrate. Ans, if Reliance Jio could rope in at least 50% of total mobile subscribers in India, it could become the second-largest telecom provider by the total number of subscribers worldwide. Reliance Jio has to cover a long way, still.