The war of triple camera smartphones has been kicked off. Since the beginning of 2019, the global smartphone industry is witnessing one after another launch of a smartphone with a triple camera setup. Xiaomi is quick to realise that the year 2019 is going to be a year of triple camera smartphones as the 5G enabled devices are still away a year or two.
Acting swiftly on the plan, Xiaomi is all set to launch its first triple camera smartphone Mi9, launched today in its home market China. And, considering the initial reviews and responses, it appears that Xiaomi has done a fantastic job with Mi9 and could end up capturing a sizeable share of the triple camera smartphone market by the end of the year.
DXOMark, a trusted industry standard for smartphone, camera, and lens image quality measurements and ratings, is out with its rating on Mi9 camera review. It's no less than a surprise to learn how good the image and video quality Mi9 is able to produce.
DXOMark has rated Mi9 with 107 points overall, placing it among the top three devices on the list of best camera smartphones in the world. While it's trailing behind Huawei Mate 20 Pro and P20 Pro, factoring the price of all the three devices clearly gives Mi9 and edge over Huawei's top performing camera smartphones.
Xiaomi Mi9 Camera Review: Already Turning Heads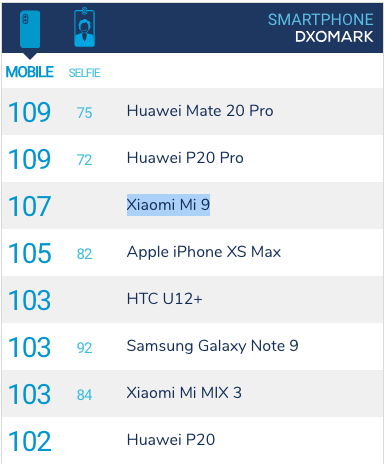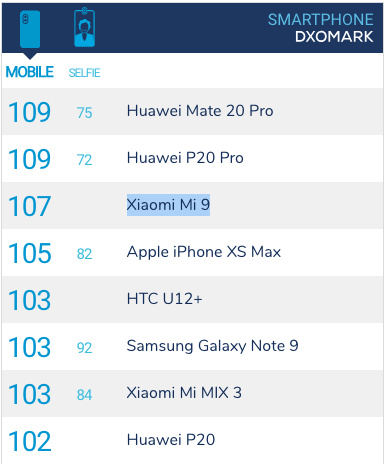 Xiaomi Mi9 launched today, on 20 February, in China. It's expected that Xiaomi would go for a kill by setting the price of Mi9 for less than US$500. Huawei Mate 20 Pro, launched late last year, is price tagged with $900 and P20 Pro, launched early last year, is starting from $650.
According to the DXOMark rating of Mi9, the device has outclassed most of its closest competitors with a distant margin. Besides competing closely with Huawei's flagship devices, it beats Samsung's best camera smartphone Galaxy No 9 placed at the sixth position with 103 points in the DXoMark ratings.
With 112 photo quality score Mi9 falls behind only Huawei Mate 20 Pro and P20 Pro, but still capable of capturing stunning photos, both the daylight and low light conditions.
However, Mi9 outpaces both Huawei Mate 20 Pro and Huawei P20 Pro when it comes to video quality. DXOMark has rated Mi9 above both the top performing camera smartphones in terms of video quality. Xiaomi Mi9 scored 99, beating Mate 20 Pro and P20 Pro having scored 97 and 98, respectively.
Xiaomi Mi9 sports a primary 48Mp camera with Sony IMX586 quad-sensor. A 12Mp tele-camera and 16Mp Super-wide-angle camera make the Mi9 one of the best triple smartphone available in the market.
To make the most of upcoming MWC 2019, the world's largest mobile conference, Xiaomi has planned the global launch just ahead of the event. The company has already sent out the invites for the launch scheduled for 24 February.
People interested in watching the live streaming of the launch of Mi9 can visit the company's China website on the said data at 2:00 PM in China (11:30 AM IST).
Undoubtedly, with such remarkable DXOMark score, and jaw-dropping price, of course, Xiaomi Mi9 is all set to take the market by storm. However, it's a bit too early to be conclusive about the overall performance of Mi9. Another few days and we will all know if Mi9 is able to make heads turn or people will give cold shoulder to the best camera smartphone Xiaomi has ever made.