Looks like the Indian job growth trajectory is moving north! The outlook for employment for the period October 2018 – March 2019 is thriving. Opportunities are blooming with hiring, new job roles and upskilling of existing employees; all thanks to booming IT Industry and Startup ecosystem in Idia.
IT hiring in India will witness growth starting this month right up to March 2019. These predictions have been made concrete by Experis IT Employment Outlook Survey.
After a rather dark period, wherein 56,000 employees were laid off due to new US visa rules, this survey report acts like one silver lining.
Apparently, Experis reports that there is a positive net employment outlook of 53% from October this year, till March 2019. The survey included approximately 550 IT employers as respondents across the country.
Indian IT Hiring Is All Set to Turn a Corner!
IT hiring in India has been sluggish in the last two quarters. However, jobs are being created and IT hiring will pick up slowly in the coming months and see an upside by March 2019. Non-IT companies will be the big players in IT hiring as more and more companies establish their captive centres in India. – Manmeet Singh, President of Experis.
The Indian IT industry is coming on really strong about its hiring intentions for the next six months. According to the reports, a major slice of this whole recruitment pie will be for the junior tier. The IT software firms with all major employment prospects have been a ball of fire, along with new entrants! In fact, non-IT organisations too have followed suit, and are taking charge over their hiring strategies to meet this whole paradigm shift due to digital transformation.
Startups will emerge as potential contributors to the IT employment in the country. Apparently, the ever-thriving startup web, with about 5000-5200 digs have been working on cutting-edge technologies such as Artificial Intelligence, Blockchain, Robotics, Internet of Things, Big Data Analytics, etc. This kind of data backs up the growth in the talent demand chart which includes "Web Technologies" as the top practice area. According to Experis, "Web Technologies" pocket in a net employment outlook of about 32%. Most IT companies are positive about securing at least 5% of their jobs for freshers who are skilled in those technologies given the requirement set of India.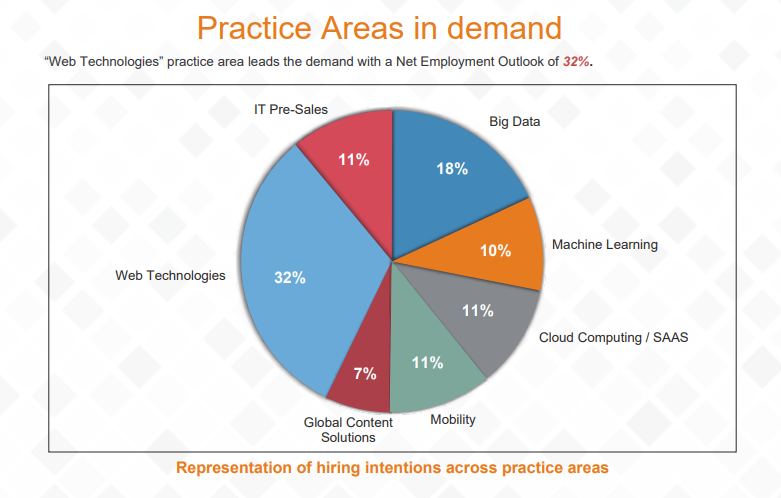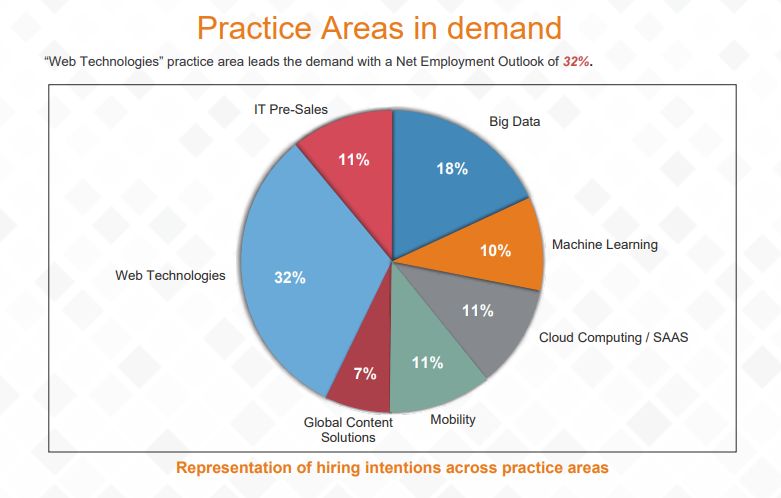 Indian IT companies are bustling towards a flexible workforce strategy, commonly known as 'flexi-staffing'. Now, what exactly is this fancy word? In this strategy, employees are recruited on a temporary basis from third party recruiting companies, as contractual employment facilitating hiring, on-boarding, experience etc.
Key Takeaways:
The net employment outlook for IT workforce in India amounts up to 53%, an increase of 1% point from the last quarter.
Major hiring will happen for the junior level, and from a rigorously skilled section, through a comparatively challenging selection process.
Non-IT companies are also upbeat about their hiring plans in order to match the rapport with big players, including IT majors.
The southern and western regions boast off about the strongest hiring outlook with an Employment Outlook that amounts to 27%.
The junior rank will be in demand, wherein trained fresh graduates will be the most sought-after.
The upskilling and reskilling of the current working spectrum continues to be of utmost importance and will be checked upon.
Indian IT respondents across India were into this survey, with a prime focus on the current employment trends in accordance with the geographical regions, organization and their types as well as skills sets and experience level.