As the world's top companies have started announcing their financial results for Q3 2018, their quarterly performance has directly impacted their ranking. Apple Inc. (NASDAQ: AAPL) continues to reign as the most valuable company in the US. However, looks like someone else has positioned itself as the novel No. 2 in the town and it's none other than Microsoft Corporation (NASDAQ: MSFT)!
Most Valuable Company In the US: Microsoft Overtakes Amazon!
In a dramatic turn of events, Microsoft gained on Amazon.com, Inc. (NASDAQ: AMZN) to emerge as the second most valuable company in the United States, as reported by Reuters, this Friday.
One may gasp over the sudden change in rankings, but this can be considered as the repercussion of an unfortunate drop in the stock value of Jeff Bezos's Amazon, following a miss in revenue expectations. Apparently, Amazon had a quite unanticipated feeble quarterly report, wherein it wiped out $65 billion worth of market cap!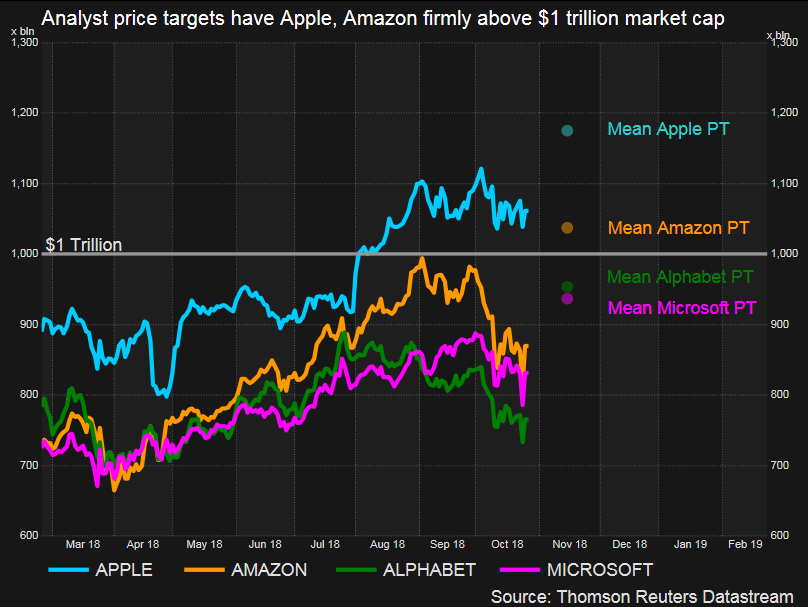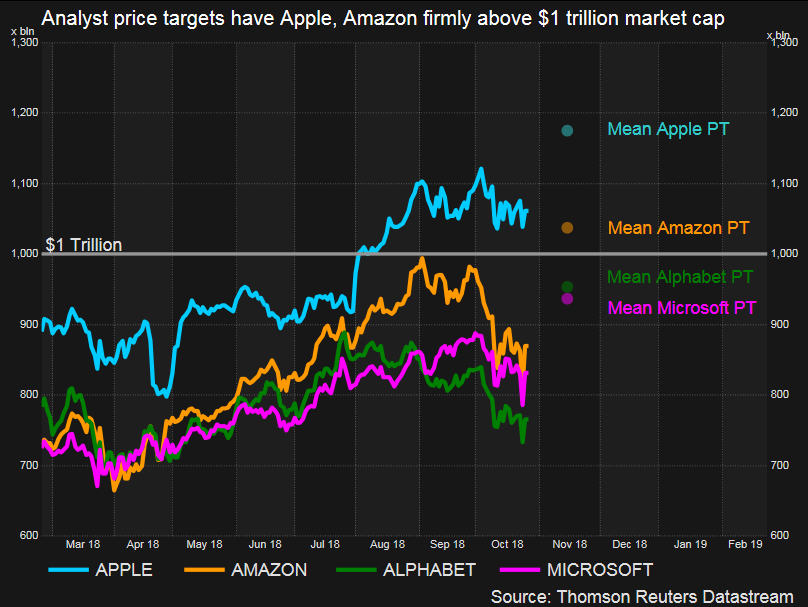 In consonance with reports presented by Reuters, Apple continues to be at the top with a market capitalization of $1 trillion. In the aftermath of crossing its own threshold last month, it will provide the company's quarterly financial report in the upcoming week. Adding a feather to its hat, Apple is now the very first US company to have such record stock buybacks that resulted in a valuation of above $1 trillion.
Microsoft At Its Coveted Position:
Microsoft has been considered as Wall Street's top honcho in terms of market capitalization during late 1998 through early 2000 before it was set straight with Amazon entering the arena.
However, in the latest revelations, Microsoft managed to regain its coveted spot as the second most valuable U.S. company. This may be attributed to the disappointing quarterly report from Amazon. Microsoft shares remain up by 4 per cent from Wednesday wherein it beat quarterly profit expectations, which was bolstered by its cloud computing business, Azure.
Amazon's stock value stood at $805 billion, while Microsoft's sat at $823 billion on Friday, helping the four-decade-old software company to become of the second most valuable company in the US.
In the latest FY19 Q1 report, ended September 30, 2018, Microsoft's cloud computing business Azure marked revenue growth of 76 per cent which is in clear competition with the cloud service provided by the rival, Amazon.
In general the cloud business will continue to grow but not at the previous pace and that's an indication of the market maturity – Sid Nag, senior director, cloud technologies and services, Gartner Research.
Apparently, Microsoft continues to grow in cloud services, but alike other cloud service providers show signs of deceleration.
Amazon Result Warns of Slower Growth?
For Amazon, it seems, the bright side isn't bright at all. Although revenues continue surging higher and profits continue to grow, the recent revenue downturn has been raising questions on the huge-premium-dreams of Amazon and is a sure sign of deceleration.
For Amazon, its international e-commerce business has been a sheer disappointment. Investors are anticipating that the overall revenue growth may be just half the rate it delivers now and is a matter of great concern since this quarter has been the busiest season. The looming problem now is the company's growth deceleration rate, and what's making the matter worse? The company's denial of its prolonged downfall.
Tech-Giants Falling Short of Revenue Expectations?
Google's parent company, Alphabet. Inc (NASDAQ: GOOGL), has seen a fall of 1.8 per cent as a result of missed revenue expectations in Q3 2018. This has further reduced the company's market capitalization by $15.29 billion. Apparently, the company displays earnings per share of $13.06 on revenue of $33.7 billion in Q3 2018.
Facebook, Alphabet and Netflix have all followed suit, missing revenue expectations, pocketing in huge loss! All these companies have lost more than 15 per cent market cap in the last quarter.
Friday's reports push Amazon farther from the big-lofty $1 trillion market capitalization. This sure is bad news for Amazon which lost 9.1 per cent since last quarter. However, the newbie "top valuable company" in the town, Microsoft, won't be toning down the celebration anytime soon!