Xiaomi has been on an all-conquering streak for some time now. The Chinese smartphone manufacturer is doing away with competition left, right and centre, that too at an alarmingly fast rate. Early this week the report on India smartphone shipments Q3 2018 highlighted how Xiaomi claimed the numero-uno position by capturing 27% of the market. Now, another recent report by Canalys depicts Xiaomi's current state of dominance in the online smartphone market in India during 2018.
Online Smartphone Market In India 2018
The report gave us information about the state of affairs of the online smartphone retail market in India as of Q2 2018. At the same time, the report also helped forecast statistics about Q3 2018.
It is estimated that out of all the smartphones sold in India during Q3 2018, 15 million were sold through online channels. This is an impressive 25% YoY and 32% QoQ growth in the online smartphone market in India. The share of total online smartphone sales in India expected to increase from 35% in Q2 2018 to 38% in Q3 2018, ad the figure is bound to swell with each quarter, rejecting the claim of saturation in online smartphone sales.
Here are few of the major highlights of the report:
In Q2 2018, online channels such as Flipkart, Amazon, Paytm Mall, mi.com, OnePlus.com, etc., sold 11.7 million smartphones, accounting for about 35% of the total smartphone sell-in to India. That is a significant 65% YoY growth.
Out of the total online smartphone sales in India, only 9% of the smartphones were sold directly from the website of the manufacturers. The rest 91% of the smartphones were sold from retailers like Flipkart and Amazon.
Nowadays, almost all smartphone vendors have some sort of online presence, but Xiaomi is ruling India's online market with a whopping 54% share! This is followed by the Korean giant Samsung with 13%, and Huawei with a mere 7% share.
Online Smartphone Market In India: The Rising Effect
For the last few years contribution of online sales channels to India's overall smartphone sales is increasing with each passing quarter. From accounting, just one-fourth of total smartphone sales in Q1 2017 to capturing an estimated 40% share by Q4 2018, the rising influence of online channels is clearly visible.
What's even more interesting is that since the beginning of 2018, the annual growth in the online smartphone sales in each quarter has amazed many industry experts.
The exposure towards the internet, better post-sales support and jaw-dropping discounts have boosted the confidence of shoppers in e-shopping in India. All this has started resulting in more number of smartphone buyers who are turning towards the internet to buy smartphones.
One of the other important factors that have been driving the growth of online smartphone sales in India, is the multi-brand strategy of Chinese smartphone manufacturers. After capturing the entry-level smartphone segment completely, these smartphone manufacturers have set their eyes on the high-end and premium segment, albeit with a different brand name. The emergence of Xiaomi's Poco and Oppo's RealMe is a result of a similar strategy. However, to keep their mid-range and premium-range devices competitive enough, companies are apparently relying more on online channels to avoid the sizeable marketing budget which is required to sell these smartphones in the offline market. The success of RealMe and Pocophone is quite evident now; Quite recently, RealMe is voted as a brand having the highest consumer satisfaction.
It is estimated that RealMe and Pocophone would be playing an instrumental role in boosting the sales and share of online smartphone sales in India in Q3 and Q4.
Xiaomi: The Undisputed Champion?
In one of our earlier analysis, we talked about how new-age Chinese smartphone manufacturers have topped the consumer satisfaction chart, changing people's perception of the quality of Chinese smartphones. This is going so much under the radar that we keep on forgetting the simple fact that Xiaomi is actually the best selling smartphone company in the whole country. During Q3 2018, Xiaomi recorded its highest ever smartphone shipments in India in a single quarter. The growth is largely driven by the new Redmi 6 series.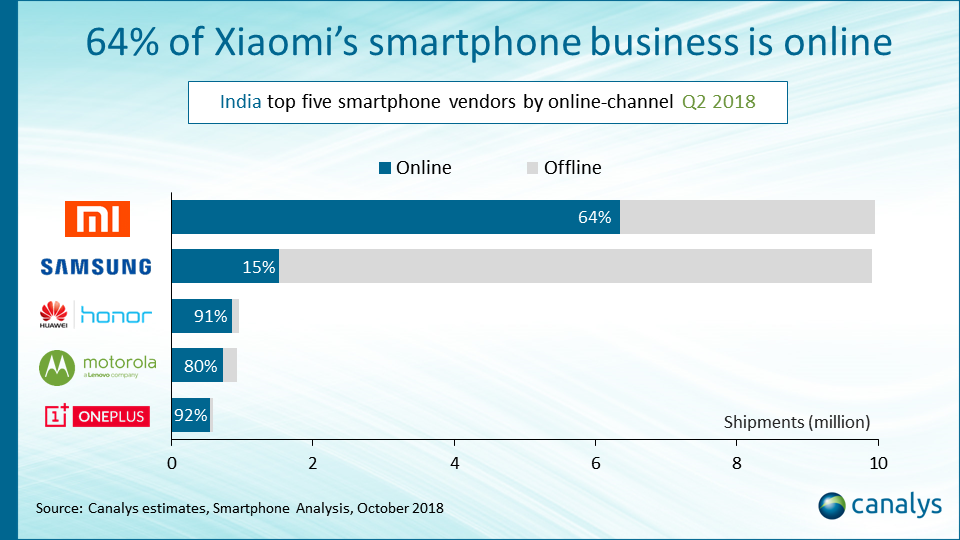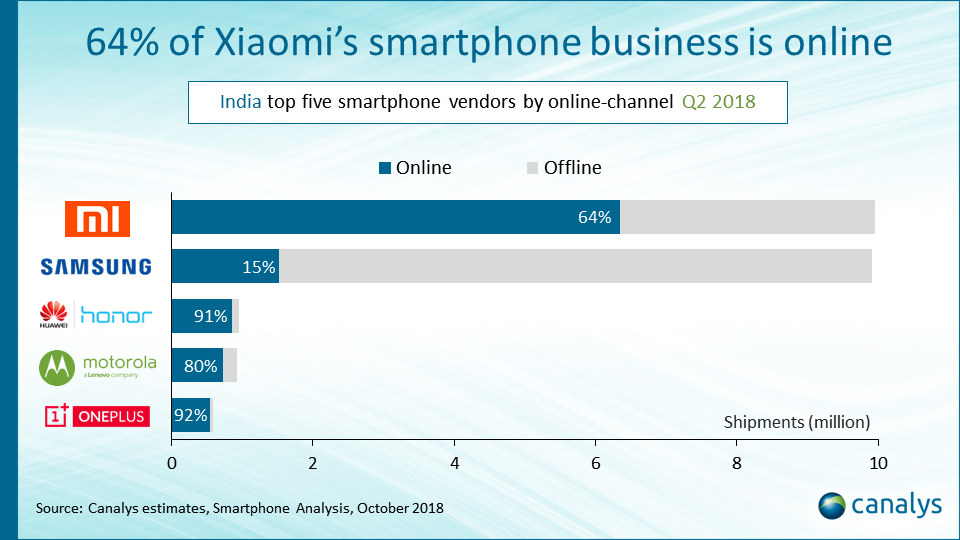 Xiaiomi's dominance over the India smartphone market is largely driven by online sales of its smartphones. 64% of Xiaomi's total smartphone sales in Q2 2018 took place online. It also highlights the high-dependency of Xiaomi on online channel, which is in sharp contrast with Samsung.
At this point in time, it has become really difficult for Xiaomi's competitors to shake its online dominance. But, measures are continuously being taken to do the same.
Now that Xiaomi has managed to achieve quite a strong foothold in the budget smartphone segment, it is now eyeing to replicate the similar success in higher price segments with Pocophone. And with the features that are offering, it might just give Samsung, Apple and OnePlus something to think about.