Can you imagine a cross between a smart speaker, digital picture frame and a video camera? Well, Mark Zuckerberg has conceived this imaginary notion and is making headlines!
In consonance with surfacing bulletins, Facebook Inc. (NASDAQ: FB) is marketing its first ever stand-alone hardware device that is specifically focused on video chatting. The product, dubbed as Portal, can be used to call other Portal users as well as anyone who is connected via Facebook or Facebook Messenger.
Say Hello to Facebook Portal and Portal+
Facebook Portal and Portal+ are slated for release at a price of $199 and $349, respectively. The tablet-sized Portal has a 10.1-inch 1200 x 800 display, a built-in 10-watt speaker, and a 12 MP camera. The regular Portal blends in easily in couched rooms, say the kitchen or above a TV.
Portal+, the larger version, has a 15.6-inch 1920 x 1080 rotating display and additional bells and whistles include 20-watt speakers along with a 12 MP camera. This upgraded device is best suited for halls or say, living room, and can notably stand out wherever set up.
This AI-controlled device simplifies video-chats with an exemplary wide-angle camera which can identify the user, pans the body and can then keep tracking you wherever you move around. This, obviously, is one relief from the long, lethargic hours of holding up a phone onto your face and is much more comfortable than crouching for extended periods, worse in the same position.
Once a chat is initiated, the device's camera will automatically pan all the people in the room and put them in one frame. And intelligent enough, the wide angle will be used to fit in multiple people, while zoom in focus will be used for one user.
According to Facebook, this makes the video chat more of a natural process without the usual worry of keeping certain angles. Clearly, Facebook Portal is up for creating an augmented reality experience wherein it will create a sense of connecting a big room, full of people.
Add-Ons and Limitations:
When not up and busy with video calls, Portal will scroll through Facebook photos. Additionally, one may also watch shows from Facebook Watch, If not this, there are other verified apps for idle browsing called Pandora, Spotify or the news service known as Newsy!
Likewise, few additional, immersive features have been added up to make the video chat more effective in augmented space. Reality effects like adding masks while chatting are also deemed necessary to improve the experience of the video call.
But there are certain limitations which can be frustration inducing for many users! One out of many others are – One cannot watch YouTube. Adding to the woes, one cannot even surf through any web browser. There's no speck of Instagram or Whatsapp in the platform and one cannot connect via normal Facebook messages.
Not a fully functional computer yet, this is somehow dwarfed by likes of it, say, Echo Show or Google Smart Displays.
Why is Facebook Betting So Much on Virtual Socializing?
"In the future, more of us are going to contribute to culture and society in ways that are not measured by traditional economics or GDP. That's why I'm so excited about augmented reality. It's going to make it so that we can create all kinds of things that until today have only been possible in the digital world, and we're going to be able to interact with them and explore them together." – Mark Zuckerberg
Mark Zuckerberg tasted virtual reality when it made its first bet on Oculus Go, a pioneer virtual reality headset. Convinced with the fact that VR is the next big thing in the computing platform, Facebook bought Oculus in a $2 billion deal.
Apparently, Zuckerberg has, since then, pushing his engineers to work earnestly towards an AR and VR driven future. This push makes complete sense, given the fact that both the technological spaces have so much in common, be it hardware or sophisticated software components. Artificial Intelligence has been so integral for Facebook that it's in-app camera, powered by AR, is dubbed as an "AI Camera." This shows how this digital shift is fundamental and probably, the next big thing!
Apparently, Zuckerberg aims at making virtual space, less of a distant reality or worse, an abode solely for hardcore gamers! He wants virtual reality to be open for everyone in order to socialize since that's a key to get people to stick with the AR, VR space over time. He plans to keep the 1 billion count engaged on Facebook—and still be able to garner more!
Addressing Elephant in the Room: Privacy!
Although Facebook has been striving really hard to be an integral part of people's lives, the truth surfaces – Consumer's trust over Facebook is still at a low; Thanks to the scandal slate!
Given this long shadow that Cambridge Analytica or #deletefacebook continues to cast, the idea of putting Facebook-connected eyes and ears in one's home will surely raise some eyebrows! It's even more difficult to believe that given those privacy breach issues, anyone will even line up to get a product that will head straight away into their homes.
However, Facebook is aware of this long-drawn perception and has been clear at addressing these concerns beforehand.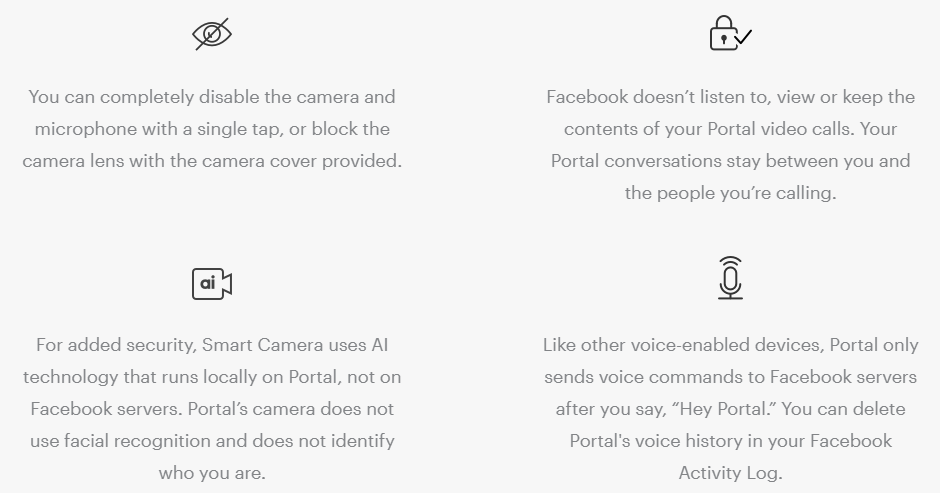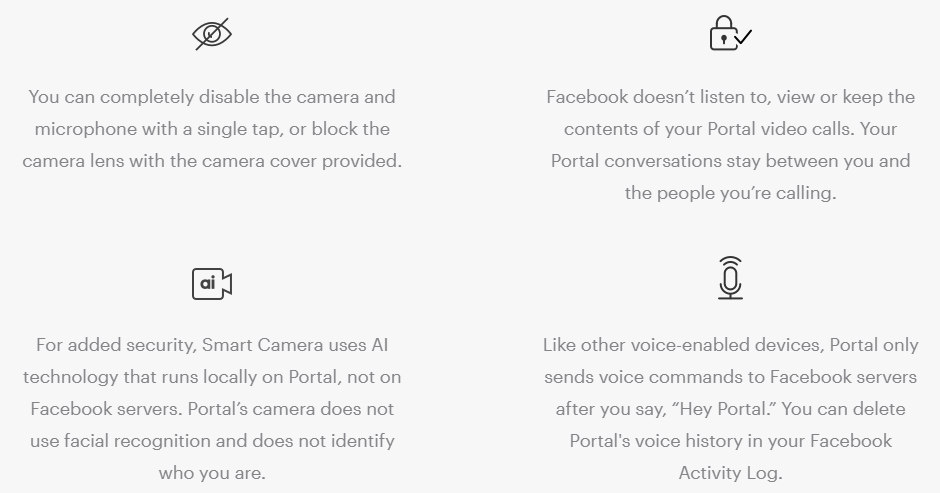 The company states that it won't allow Facebook to listen, view or even keep track of the contents of video calls over Portal. Furthermore, it states that the calls over Portal will be encrypted. The history of voice commands can be duly accessed, and even deleted upon the user's discretion and the information won't be stored on Facebook' servers too.
Despite all the promises made by Mark Zuckerberg in regards to Portal, it's hard to believe that a company completely relying on ad revenue will not be peeping into users' personal info using Portal. It's no hidden fact that for an ad server to run efficiently tracking users' data is a must.
Looks like Mark Zuckerberg is already aware of the situation. The fast-changing dynamics of the smartphone and mobile app industry convinced him to take the Facebook to the next level – beyond the app. Oculus, Portal devices could be the just beginning, but provide us with some sense how Facebook would be functioning in the future.
On the positive side, with the launch of Portal devices, Mark Zuckerberg has passed the message to all critics that Facebook is here to stay and no way, it would meet the similar fate MySpace met after dominated the internet for few years.
The future belongs to devices and machines, and Facebook could very well be the torchbearer of the next digital revolution, driven by devices!