Looks like Wipro has made a moulded comeback, this time resilient, into the array of the billion-dollar big leagues!
According to reports, Wipro Limited (NSE: WIPRO) has won its largest ever IT outsourcing contract, at a big fat value $1.6 billion over 10 years, from the US Based HR and Financial Solutions Alight Solutions.
Reportedly, Wipro will continue a ten-year partnership with Alight Solution which has about 1,400 clients and 14 global delivery centres. The company deals with cloud-based human resources and financial services and has made a killing on revenues of $2.4 billion in the year 2016.
As of now, Wipro and Alight are in their most absolute and conclusive phase of the partnership, and the duration of the contract may even go beyond ten years of alliance.
This partnership with $150-$160 million in annual revenue will change by about $1.5-1.6 billion over the contract span. This accounts for more than the $1.1 billion from Wipro's previous deal win, from Canada-based logistics and utility firm ATCO in the year 2014.
The Big-Fat Horse Trade
"We are delighted to be chosen by Alight as their long-term strategic partner in their enterprise transformation journey to bring digital experiences and offerings to employees and employers globally. This is a testimony to the capabilities we have built through our strategic investments in Wipro Digital, cloud platforms and cognitive platform Wipro Holmes." said Abidali Neemuchwala.
According to Wipro officials, this deal is strategic and unlike other full-fledged company deals, there are very few and far between companies providing such a full suite of services wherein BPS and application services is given. Apparently, Cloud Enablement, company's consulting practice and deployment of Holmes platform will also be deployed soon.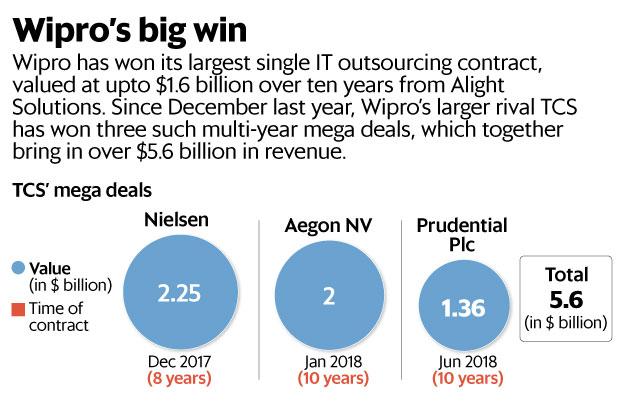 IT firms, on a conventional note, take about fifteen to twenty months to close outsourcing deals which are valued at more than $1 billion. However, under the vigil watch of Neemuchwala, this whole IT outsourcing deal was completed.
Wipro's arch-rival, Tata Consultancy Services, since the ending of last year, has been able to grab three such multi-year mega-deals, hoarding in over $5.6 billion in revenue. Typically, this has been a go signal for TCS in order to garner a double-digit growth this ongoing fiscal year.
If this current deal is given a nod, it will enable the digital transformation of Alight's offerings across health, wealth, HR and finance solutions. If this wasn't enough to put shimmery eyed goggles already, there would be a shift in the employee experience as well.  Wipro's headmost strength in the field of digital technologies, cognitive automation and data analytics can be out on the double!
If reports are to be believed, Wipro and Alight signed a $117 million deal, which stands as a testimony to the capabilities of the company.  The deal closes on to run captive centre operations of Alight in India.
Amidst a fading, and dimmer growth rate among all IT bigwigs, the deal is seen as a major boost to Wipro.
The Wipro-Alight Takeaway:
Wipro jumped 5.74 per cent, in the aftermath of the staggering announcement where it won a ten-year engagement with the Illinois based Alight solutions LLC, a leader in technology-enabled health, HR and finance solutions.
The over $1.5 billion deal from Alight Solutions LLC, is by far, IT top honcho's biggest deal till date.
As per the deal, Wipro will provide a comprehensive suite of solutions and services to Illinois-based Alight Solutions for 10 years of dedicated engagement.
With the current deal being locked, Wipro saw its first-quarter profits grow over 2% to Rs 2,120 crore and revenue rising 4.72% to Rs 14,307 crore in the current fiscal year.
Additionally, shares of Wipro also saw the biggest intra-day percentage gain in over five years.