Is Google (Alphabet Inc (NASDAQ: GOOGL)) curtailing down YouTube algorithms on non-Chrome browsers? If the above hearsay is true, then the world can watch while "Net Neutrality" can suffer a slow-death!
Mozilla's software technical program manager, Chris Peterson, put fire ablaze with an allegation by tweeting about how Google is defying the whole concept of net neutrality.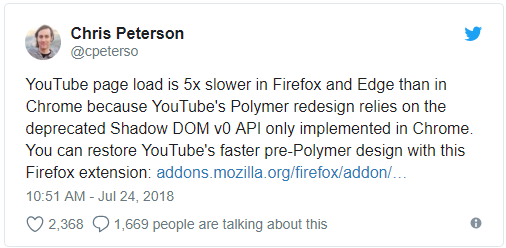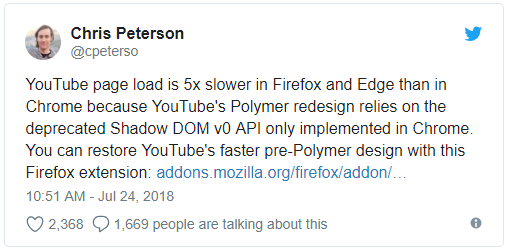 As per the reports, YouTube is decelerating on non-Chrome browsers like Mozilla Firefox and Microsoft Edge. While doing some testing, Peterson discovered that YouTube page takes five times to load on non-Chrome browsers than Google Chrome browser– Thanks to the latest architecture!
Google incorporates Pre-Polymer architecture for the YouTube on Edge and Firefox. Apparently, this change makes it slower in performance, as compared to YouTube on Chrome.
Contradicting the tweet, Google came forth in response to this tweet and claimed that there's no such disparity on the browsers. According to Google spokesperson, overall YouTube performance is the same, following Google's revamped architecture of YouTube site. Further, Google added that the new redesign facilitates the site to load faster, even at lower bandwidth speed.
Google's Move, A Clear Monopoly?
As blunt as it may sound, even after being liable to pay more than $7 billion in fines to the EU for anti-trust violations, Google hasn't mended its ways. There is no doubt that the tech giant, Google may have tested the redesign on rival browsers, but impulsively deciding the poor performance on other browsers came at a hefty price.
Undoubtedly, given the incumbent space and the hunt for dominance has been ever-growing in the Browser's Arena.
Google has also resorted to attracting customers on other browsers, by displaying Chrome ads over the YouTube platform.
The "Best Browser" Battle-Ground
To get the battle up and running, Firefox and Chrome have pushed their latest versions. New versions include substantial new features like better fonts, more sophisticated privacy measures, and a lot more.
Mozilla recently launched Firefox Quantum, keeping its fingers crossed, trying to get the better of Google Chrome and get going on its much-awaited best-browser pedestal march!
However, going forward with an impulsive decision considering just speed will only be a one-way route. One may prefer a browser that sets privacy as it's topmost priority, while one may want to fine-tune preferences.
Google Chrome hasn't gone through much of a drastic change. But again, given its long-held position as the top-honcho in browsing arena, it doesn't need to.
Additionally, Google's video streaming company, YouTube reported a phenomenal growth by registering more than 1.8 billion viewers every month. If this wasn't enough to top charters, more than 400 hours of videos are uploaded every minute, in the last quarter.
Being one of the most visited sites in the world, YouTube's service performance serve as brownie points for Tech-leviathan Google.
According to analytics firm StatCounter, Chrome is the most popular web browser and wins over other browsers with a huge margin.
Chrome accounts for 59% of website usage.
Firefox accounts for 5%.
Edge has 2%.
Is Net-Neutrality A Myth?
Google's defiance of net-neutrality comes as a strong blow!
To cite an instance, reportedly it was found that, a video which was accessible in Ultra HD quality from Chrome browser couldn't be found on Edge browser. Apparently, Edge is limited to an inferior video quality FULL HD, as compared to Ultra HD. This difference was found exclusively in Edge and Mozilla while Chrome browsers displayed high-resolution videos. This faintly indicates that there has been a monopoly induced in "fair-game".
Although Google has never been clear about its stance on Net Neutrality, the petty tactic doesn't seem like a good plan on the tech giant's part. Given the user-base it boasts off, Google won't really want to leave such unseemly footprints on the battleground!