The online video streaming media is maturing untimely. The two internet giants Amazon Prime and Netflix are going beyond the extra mile to win this highly competitive battle of the digital video space. While Netflix has been vocal about its growth and numbers so far, Amazon has long been tight-lipped about the size of its Prime members, until now.
A recently leaked document revealed that Amazon's top television shows drew more than 5 million people to the Prime membership by early 2017. This is the first time such vital information about the Amazon Prime is disclosed on a public forum. According to the document, 26 million members watched Prime Videos, including TV shows and movies it licenses from the third party, in 2017 in the US. On the other hand, at the end of March 2017, Netflix had 48 million paid subscribers in the US, which is nearly double of Amazon's Prime members for videos. Overall, 80 million internet users in the US subscribed for Amazon Prime membership by March 2017.
Last year, Amazon had a budget of around $5 billion a year for its original content. Netflix had an estimated expenditure of $6 billion for the same year. But, Amazon Prime is a broader subscription with one-to-many offerings like promotional and shipping benefits. In contrast, Netflix offers only video content that too at a higher price than Prime. Netflix plans start at $7.66 per month, while the Prime video comes bundled with Amazon Prime subscription priced at $99 per year.
In a 2016 technology conference near LA, Jeff Bezos said, "When we win a Golden Globe, it helps us sell more shoes".
Supposedly, the core of Amazon's strategy is to make use of the Video content to convert viewers into potential buyers on its online retail. The internal documents revealed cost-benefit metrics for 19 exclusive Amazon Prime shows.
Lately, the Company had declined to comment on the documents viewed by Reuters. But the Founder, Bezos, has been upfront about the company's use of video entertainment to drive merchandise sales. Prime members also buy more goods from Amazon than non-members, Bezos has said.
The critical blockbusters like "Transparent" and "Man in the high castle" have helped Amazon in luring more customers to enrol for the Prime Membership. The Man in the High Castle has an estimated production cost of $72 million, and it succeeded in attracting 1.15 million new Prime subscribers, ultimately proved to be a big moneymaker. Also Transparent created a buzz among top actors and producers after it won eight Primetime Emmy Awards. Exactly what Amazon needed.
Though Netflix asserts a global dominance in the internet video space, in the wake of a rapid surge in the video streaming media worldwide, Amazon Prime, also, is going niche to develop better local and regional contents.
Amazon vs Netflix: Not Competiting Outside the US
For Amazon India is the largest market from the perspective of Prime subscribers. By roping in many regional content providers and licensing regional movies Amazon is penetrating some of the fastest growing markets. By having a look at the below comparison it's clear that both Amazon and Netflix have got separate priorities and market targets. The US is the only common grounds on the list of Top five marketers where Amazon and Netflix are competing with each other for dominance.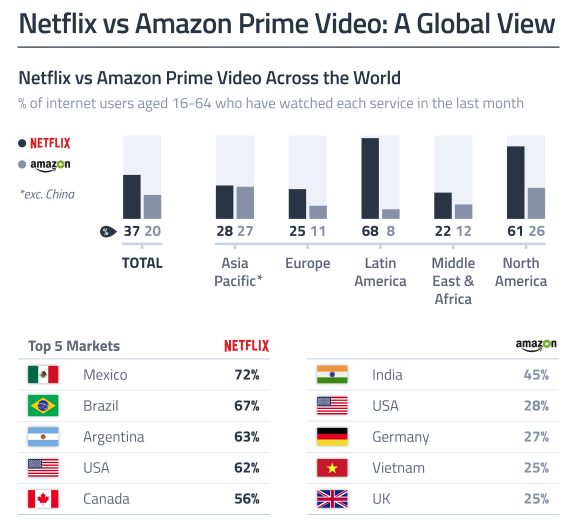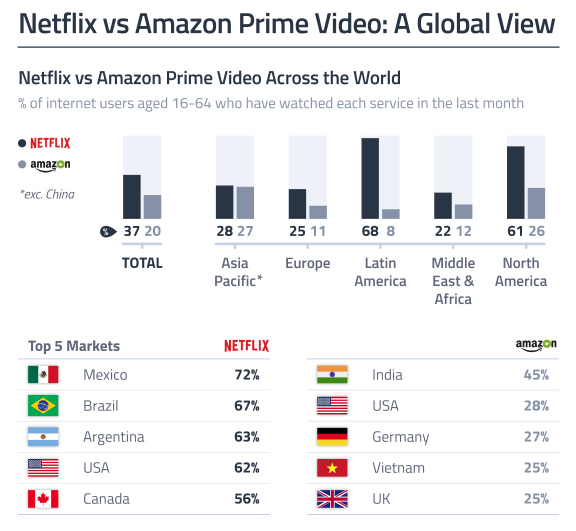 Amazon is strategically penetrating the developing economies prior to exploring and competing in the markets where Netflix already has a strong presence. The growth of Amazon Prime in India – the world's second-largest country by the population and internet users – clearly indicates the company's preferences. India is an extremely multilingual country, Video-on-demand (VOD) market was worth $64 million in 2017 and is expected to reach $168 million by 2021. According to a consulting firm EY, India had approx 160 million digital video viewers in 2016 and is expected to reach 250 million in 2017. And by the end of 2020, India is expected to become the second largest online video viewing audience, globally. That figure is bound to increase considering the rapid growth in internet penetration since the last year. Everyone is grateful to Jio!
Amazon has collaborated with many local players in the streaming content space. On the other hand, Netflix works with global players like Skydance. While Netflix is fairly focussed on selling to the elite bunch of Indian society, Amazon Prime has targeted the burgeoning middle-class segment. Amazon has number of sitcoms and other videos in different regional languages. It is also giving consumers an opportunity to sign up for multiple content brands via an Amazon Prime account. Now the user can have access to platforms that houses local content too which makes Prime appealing to local markets.