In the past decade or so, the smartphone has overwhelmingly dominated the consumer tech hardware industry, and for good reason. The unprecedented worldwide smartphone sales, growth levels, as well as consumer popularity over the years, mean that the smartphone is the industry's biggest cash cow. Companies such as Apple Inc. (NASDAQ:AAPL) were rejuvenated by the smartphone boom, which catapulted them to the very top of the tech industry hierarchy. Others such as Samsung and Google also owe their current status as global powerhouses to the overwhelming success of their smartphone hardware and software ventures.
The immense success, however, enjoyed by smartphones has also, in a sense, made many of these companies, as well as the industry itself, over-reliant on smartphones. Now the fate of these companies is directly tied to the success of the smartphone industry. For example, the iPhone accounted for almost 55% of total revenue generated by Apple in Q4 2017. This means that smartphones sales growth and revenue is a vital metric that dictates the future of numerous companies. Unfortunately for the industry, the latest numbers are quite troubling.
A new report outlines the worldwide smartphone sales in 2017, and the findings are extremely worrisome, if not all that surprising. In Q4 2017, global smartphone sales to end users numbered in at about 408 million units. This number is quite a bit lower than the 432 million unit sales in Q4 2016 and represents a decline of 5.6% YoY. The smartphone industry, which has traditionally exhibited consistent growth, suffered its first-ever YoY decline (since Gartner commenced tracking metrics in 2004).
So what does this represent? Is this just a one-off blip, or is it symptomatic of a larger issue? Is there an impending change of status quo in the industry, or has the industry begun its gradual descent from the top?
Let us have a closer look and take a deep dive into the questions.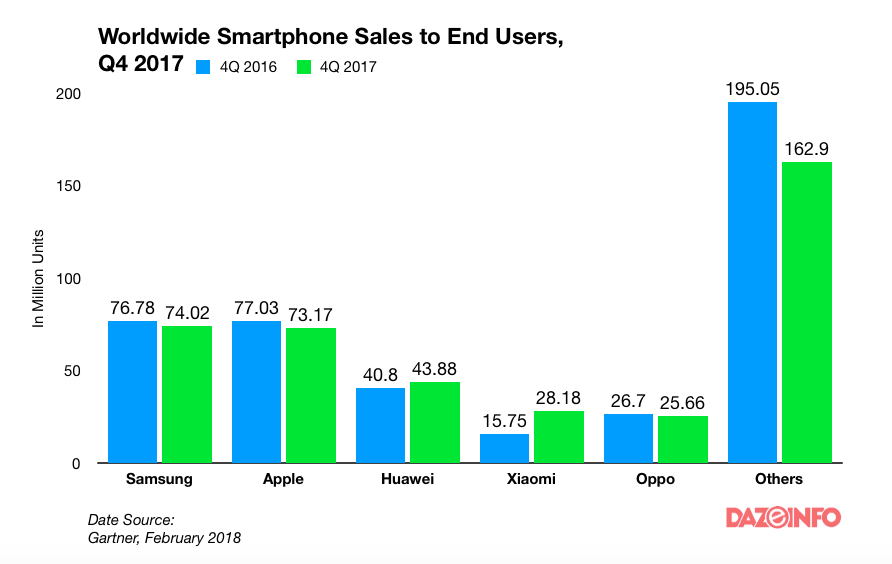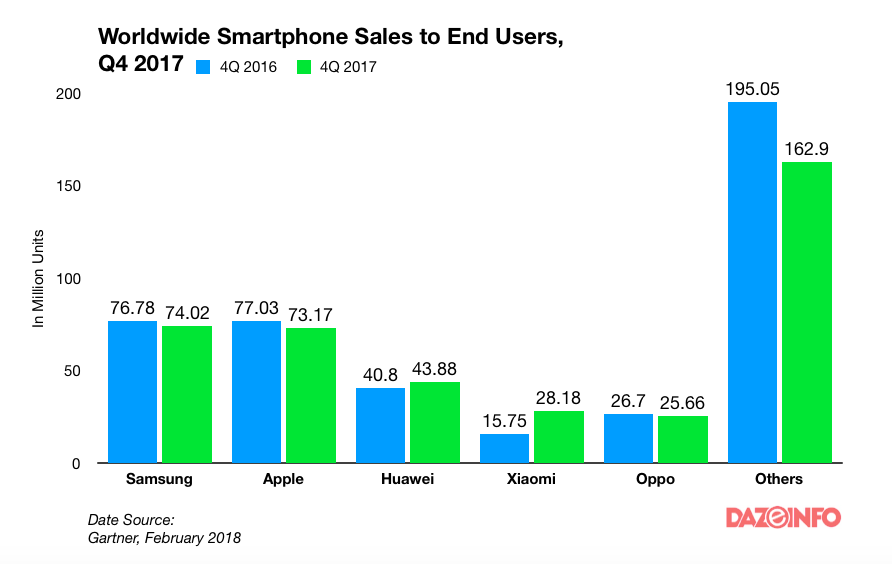 Worldwide Smartphone Sales: Dissecting The Factors Behind The Decline
The fourth quarter of 2017 witnessed the first ever YoY decline in global smartphone sales. Considering the remarkable consistency and impressive growth the industry has achieved over the past decade or so, this new development cannot be dismissed as a one-off occurrence. So what has changed as of late? Why have global sales declined in Q4? Some of the factors behind this are:-
Inability To Break The Low-Cost Floor – Over the past year or two, much of the volume sales growth for mobile phones, particularly those from new customers, has come from emerging markets. The popular purchasing trend here is heavily biased in favour of low-cost devices, both smartphones and feature phones. While there has been significant advancements and improvements in the low-end smartphone segment, they are still unable to compete with feature phones in terms of quality in similar price brackets. As a result, the smartphone industry has failed to breach this particular barrier to growth.
Technology Ceiling – Just like most new technologies, smartphone development proceeded at a breakneck speed for the early parts of its lifetime. However, over the past few years, we have begun to see diminishing returns. It is increasingly common to see yearly device upgrades only benefiting from spec upgrades and minor form factor changes. As such, there is less and less every year that differentiates the newer smartphone models from their predecessors. This has resulted in lesser desire to purchase or upgrade from both prospective and existing customers.
Longer Device Lifespans – Smartphone design and technology has unceasingly marched forward ever since the device's inception. Today, smartphones feature sturdier construction materials, more powerful hardware and bigger feature sets than ever before. Metal constructions are common and greatly help in enhancing durability. Smartphone SoCs have gotten powerful enough then even older chips breeze through everyday tasks. These developments have greatly diminished customer desire to upgrade as often, contributing to falling sales.
Saturation In Elite Markets – Elite markets such as the US and Europe powered the initial smartphone sales boom. However, due to the limited population, the growth potential in these regions has been rapidly shrinking. Smartphone penetration in the US surpassed 80% in 2016. The primary market here is now customers upgrading from older smartphones rather than new customers.
Is The Industry On The Path To Irreversible Decline?
While this is the first time the industry has experienced the yearly decline in a quarter, growth has been slowing down for years now. Q4 2016 saw a 7% increase in sales compared to Q4 2015 resulting in 432 million unit sales. Q4 2015 itself saw a 9.7% increase over Q4 2014 with 403 million unit sales. These numbers heavily contrast with the sales figures for Q4 2017, which fell to 408 million, representing a YoY decline of 5.6%. With this in mind, we ask ourselves – Is the industry on the path to decline? If there is one lesson we can take from the history of consumer technology, its that nothing remains at the top for too long. The Personal Computer, which dominated the industry for so many years, now languishes near the bottom of the industry hierarchy. The smartphone as we know it could share the same fate. In fact, it is all but certain that it will. It is not a question of if it will happen, but rather when it will happen.
A while back we took a look at the nascent yet hugely promising Augmented Reality technology, and how AR based hardware could replace smartphones as the personal consumer technology device of choice for a lot of people. However, like we pointed out back then, these exciting new technologies are still in their infancy, and the smartphone is still very much king at this point in time. Despite a fall in sales in Q4, overall smartphone sales in 2017 still resulted in a net growth. Global smartphone sales in 2017 totalled over 1.5 billion, a small yet notable increase of 2.7% over 2016. This means the smartphone is not going anywhere anytime soon, even if it may not be the unstoppable juggernaut it once was. It also raises the possibility that these newer sales numbers may be indicative of discrete issues, or a shift in status quo, rather than an irrevocable decline. A closer look shows that this is indeed the case.
A Change In The Status Quo
While the overall sales declined in Q4 2017, the major contributors to this were industry leaders such as Samsung and Apple. Both of these companies, who arguably powered the smartphone boom, suffered poor quarters by their lofty standards. Meanwhile Chinese upstarts Huawei and Xiaomi continued to march forward with impressive growth numbers.
Samsung – Samsung sold just over 74 million smartphones in Q4 2017, a 3.72% YoY decline. However, their flagship Galaxy S8 and S8+ devices sold quite well. These devices usually have a much higher selling price, as well as profit margin, resulting in a higher overall average selling price for Samsung. The issue here is Samsung's mid and low-end portfolio has suffered, particularly is strategically important markets such as India. This means that Samsung will be increasingly dependent on the premium smartphone segment in elite markets such as the US to generate revenue going forward. There are reports of Samsung planning to refresh its low-cost portfolio in the near future in order to return to competitiveness in other markets.
Apple – Apple suffered more than its biggest rival in Q4 of 2017. Sales fell by a worrying 5% margin, despite three new offerings in the form of the iPhone 8, iPhone 8 Plus and iPhone X. However, there are some extenuating circumstances that might explain this. The staggered release of the iPhone 8/8 Plus and the iPhone X may have affected sales, with many customers holding out for the special 10th anniversary model instead of the regular iPhone 8/8 Plus. The iPhone X itself was itself mired in production issues due to low component availability, resulting in low stocks. As a consequence, some analysts expect iPhone X sales to pick up in Q1 2018.
Huawei – Chinese OEM Huawei had a decent quarter in Q4 2017, with nearly 44 million smartphone sales and a YoY sales growth of 7.6%. Huawei has enjoyed quite a bit of success in Europe as of late, which has undoubtedly helped fuel their growth. However, Huawei still does not have a strong hold on other key markets such as the rapidly growing low-cost market of APAC, or the premium market in the US. In order to challenge the big boys Apple and Samsung, Huawei needs to find a way to expand their reach in these regions.
Xiaomi – Compared to the rest of the industry, Xiaomi's sales numbers in Q4 2017 are frankly ridiculous. Xiaomi sold over 28 million smartphones in Q4, a massive 79% increase over Q4 2016! The primary driver behind this is their Mi and Redmi lineup of smartphones, which sold incredibly well in India as well as China. In fact, Xiaomi broke several sales records in the Q4 festive sales period in India, selling over 1 million smartphones in just 2 days during a sales event. They now have a stranglehold over the hugely promising and rapidly growing smartphone industry in India. With their plans to expand further in other markets such as Indonesia, Xiaomi is well on their way to becoming a global phenomenon.