In December 2016 when Bharat Interface for Money (BHIM) UPI app was launched by the honourable prime minister of India Mr. Narendra Modi, there was hardly anyone who doubted the success of the app. In fact, there were many who were bullish about the adoption of BHIM UPI app considering the market shift, the number of banks backing BHIM and the unprecedented push and support from the government of India. BHIM UPI app just completed one year of existence and it's disappointing to see that BHIM UPI app is still able to capture a sizable share of the market.
According to the latest data released by National Payment Corporation of India (NPCI), with BHIM UPI app accounted for 6% of total UPI transactions that took place in December 2017. Of 145.5 million total UPI transactions that were recorded in December 2017, 9.1 million were processed through the BHIM app.
From just 2.5 million transactions in March 2017 to 9.1 million transactions in December 2017, BHIM UPI app has created quite a traction in the market. In the last few months, BHIM UPI app has recorded nearly double-digit growth month over month. Between November and December 2017, the number of transactions through BHIM UPI app increased by 10%.
At a first glance, the growth figure of UPI transactions that took place via BHIM app looks promising. However, when we analyze the growth data of BHIM UPI app in the light of overall growth in the number of UPI transactions, the scenario changes upside down.
In the last quarter of 2017, the number of overall UPI transactions nearly doubled. From just 76.8 million UPI transactions in October 2017, the industry recorded 145.5 million UPI transactions in December 2017. In Q4 2017, total 327.1 million UPI transactions took place, registering a whopping 452% growth compared to the previous quarter when only 59 million UPI transactions took place.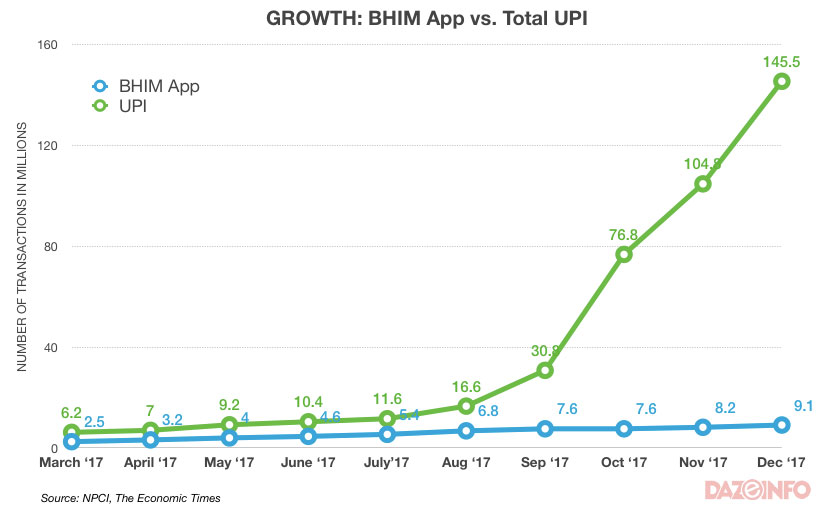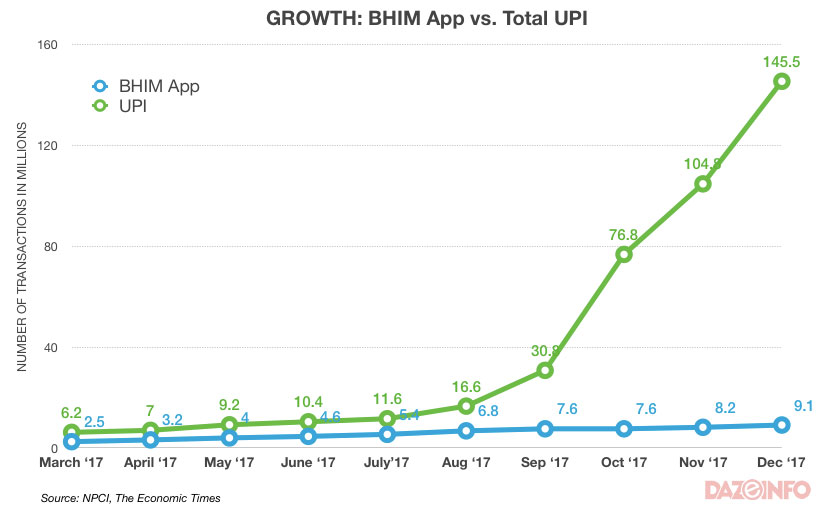 Interestingly, Google Tez, UPI transaction app launched by Google India, claims to have 12 million users in India and had recorded 140 million transactions in the month of October and November.
By putting all the above figure together, it's quite evident that BHIM UPI app is failing to gain grounds while others are securing a sizable market with each passing month. Besides Google Tez, PhonePe is another major UPI app that has secured 15% share of the total UPI transactions in December 2017.
Besides, the data also reveals that there is no increase in the average transaction amount of BHIM UPI app in the last 9 months. The average amount per transaction on BHIM UPI was Rs 3346.1 in March 2017, which has gone up to Rs 3400.8 in December 2017, a negligible increase of Rs 54.7 in the past ten months.
Overall, BHIM UPI app, which is live on 65 banks and has over 22 million downloads, need to offer a lot more to lure smartphone users who are actively indulged in mobile payments. Most of the newly developed market is being captured by the private players, likes of Google Tez and PhonePe. The government of India must create a USP as soon as possible unless it wants BHIM UPI app to meet the same fate as many other dying initiatives.