In the fast-changing world of technology, users are believed to be open to adopting the new products with a shorter upgrade cycle. However, to maintain a balance between customers' satisfaction and new market acquisition, brands make cautious moves to avoid any friction among existing customer base. Looks like, OnePlus is an exception here!
Barely five months ago OnePlus introduced, the so-called, new flagship killer OnePlus 5 in an action-packed event in Mumbai. It was raining promises and commitments to lure smartphone users. From inviting a fleet of celebrities to awarding prize money of Rs. 1 Cr. (US$150,000) to one of the fans, OnePlus left one stone unturned to make people believe that OnePlus 5 is the best smartphone the company has made ever. Consequently, the sales of OnePlus 5 skyrocketed in the first week itself and its exclusive online sales partner Amazon India witnessed OnePlus 5 setting all-time revenue grossing record in the first week itself. Alas, little did those hundreds of thousands of people who bought OnePlus 5 know that they are investing their hard-earned money in a device which is destined to discontinue after few months.
Within a short span of four months, the successor of OnePlus 5 is out in the market. Though the change in OnePlus 5T is not big enough, it is believed to sport a better display, upgraded under-the-hood components and superior technologies as compared to OnePlus 5.
Here Is Why OnePlus 5 Will Be Discontinued
According to the recent interview of Vikas Aggarwal, General Manager of OnePlus India, OnePlus has decided to discontinue OnePlus 5 once the stocks are exhausted. He justifies the move by stating that OnePlus is always committed to deliver the latest technology to its customers, and therefore staying focus one device at one time allows the company to deliver its promises.
"If you look at our previous phone, the OnePlus 3T the last batch was sold out during Diwali and now the product will be discontinued. The same goes for the OnePlus 5, which will also be sold out in some time, and we'll have only one product OnePlus 5T in the market. As a brand we want to make sure there is one device which is the latest, and the previous devices are usually sold out once the new product launches," says Mr. Aggarwal.
The decision, however, has not gone well with most of the OnePlus customers who recently bought OnePlus 5.
OnePlus 5: A Desperate Kill?
OnePlus 5 made its début in June this year. The company launched the device in a fanfare event and didn't shy away from mocking competitors, including Apple. Carl Pei, CEO – OnePlus, claimed that OnePlus is known for paying attention to every small detailing of the device. Apparently, they failed to do the same with OnePlus 5.
Within a few weeks of the device made available to people, OnePlus had started facing strong criticism from its 'loyal' customers for various issues with the device. Besides issues like rebooting while dialling the emergency number, device not recognised while connected to PC, random shutdown, the Jelly Scrolling issue with the screen was the major one. The number of issues in Oneplus 5 caused Forbes openly declaring "The Bad Week for OnePlus 5."
While the other issues didn't rattle users much, the Jelly Scrolling issue with OnePlus 5 screen created enough outcry. The company made its best efforts to play down the issue, but reviewers and experts didn't buy the company's argument. By now it was clear that OnePlus made a disastrous move with the screen and there was no solution to the problem but to redesign the device and replace the sold units of OnePlus 5.
The frustration of Oneplus was visible with some of its way of handling criticism. The company blamed its customers only for the issue.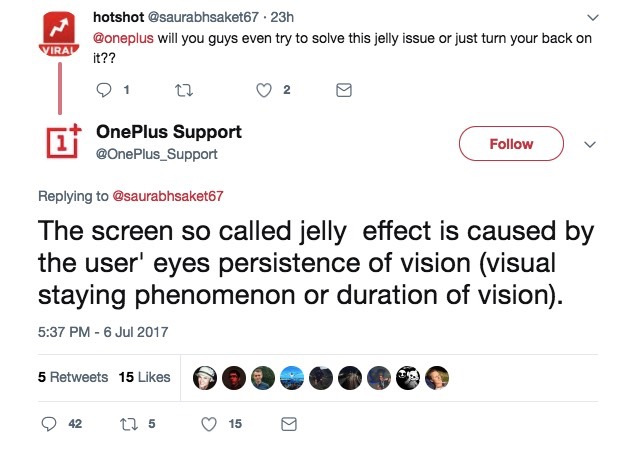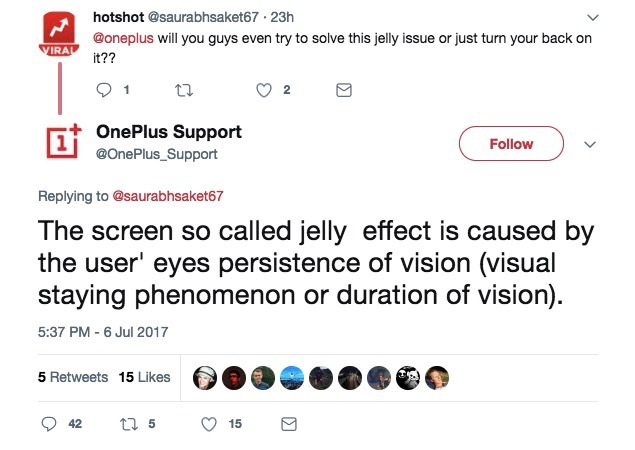 OnePlus knew that it would be a disastrous move if OnePlus 5 was recalled; The impact on company's reputation and financial status would have gone for a toss. They apparently decided to fix the issues along with few other tweaks and launch it as a successor of OnePlus 5 instead.
Industry experts believe that no company plans for a successor of a device at the same time. The success and failure of a device always have a significant impact on the launch of the next device. Announcing the successor within just 4 months of the launch of OnePlus 5 clearly indicates how grave the situation with OnePlus 5 was then.
If OnePlus 5 Discontinued, Customers Feel Cheated
The company launched OnePlus 5 with a price tag of Rs 32,999 (US$500). Between June and October, hundreds of thousands of people across the world bought OnePlus 5 device. Now as the improved OnePlus 5T is made available for almost at the same price within a span of just 4 months, OnePlus 5 users are crying foul.
"What's the point of investing premium in a device that becomes obsolete in just a few months. Not only the resales value will come down drastically, I am suspecting of receiving updates for a long considering it's a discontinued device," says Aneesh Mehta who bought Oneplus 5 just two months ago.
Aneesh is not the only one disappointed by the move of OnePlus that has not only launched the successor in just five months but also decided to kill OnePlus 5. The official forum of OnePlus is flooded with the warmth of OnePlus 5 users.
"I will think twice before buying another Oneplus device now. I see no merit in buying a top-end device of a company that discards its flagship within few months. The support on Hardware and Software of Oneplus 5 is a matter of concern now," says Ram Manepalli a power user of Oneplus 5 device.
Experts who have been following the development closely believe that it's going to be a big setback for the company. Besides losing out on customers' confidence, the distress among OnePlus 5 would have an adverse effect on the brand.
They believe the OnePlus could take a more informed decision with respect to OnePlus 5T launch. Instead of writing off OnePlus 5 completely and ignoring customers owning OnePlus 5, it would have been better if the company could have opted a strategy of a smooth upgrade. One of the best possible ways to do so was to announce the 40% – 50% discount on OnePlus 5T for OnePlus 5 customers who are willing to upgrade. After a few months of floating the offer, announcing to discontinue OnePlus 5 would have been a fair deal offered from OnePlus who made irked customers pay for the device having problems from the day one.
Some analysts indicate a far-reaching impact of the decision. The move to discontinue a five-month-old flagship could result in people shying away from buying premium devices from the likes of OnePlus now, who have mushroomed quite recently.
All said and done, the company has already revealed its plan and there is no sign of relief for OnePlus 5 customers, at least for now. Probably, the company would take a cue from Samsung who recalled millions of Note 7 devices sold worldwide to safeguard its brand value and retained customers' confidence. Indeed it resulted in financial stress for the company for some time but the perks are great that can be well understood from the sales figures of devices Samsung launched subsequently.