It's estimated that by the end of 2017, over 2.4 billion mobile phone users worldwide would be using smartphones, and the figure will further go high to 6.1 billion by 2020. With the growing number of smartphone users worldwide, the industry is witnessing another trend, rather worrying, that has reached an alarming level now.
According to the latest study, done by Deloitte, smartphone users in the US look at their phone 47 times in a day. The figure has been constant for the last three years though, but after paying a close attention to the smartphone usage by the youngest group the scenario becomes worrisome. The smartphone users belong to the youngest group, aged between 18 and 24 years, check their phone 86 times in a day, which is up from 82 times in 2016.
Smartphone has, apparently, taken over many things that we believed are important to start our day. It is proven by the findings of the study as well. Nine out of ten US smartphone users indicated that checking smartphone was the first activity they had performed every morning immediately after getting up. Interestingly, eight out of every ten respondents also claimed that checking smartphone was last act of their day before they sleep.
So, why do these addictive smartphone users check their device so many times in a day? And what do they spend their smartphone time in?
According to the Deloitte study, a majority of smartphone users use text messaging services on their device the most. 91% of the respondents said that Text messaging was their top priority, followed by voice calls. Interestingly, it's the use of emails on a mobile phone that attracts the eyeballs.
The increasing use of emails on mobile phones in the last four years clearly explains the growing addiction and time spend on mobile. As compared to 58% of the US smartphone users who claimed to check emails on their mobile phone in 2014, 81% of smartphone users now spend their time in checking their emails on their mobile phones.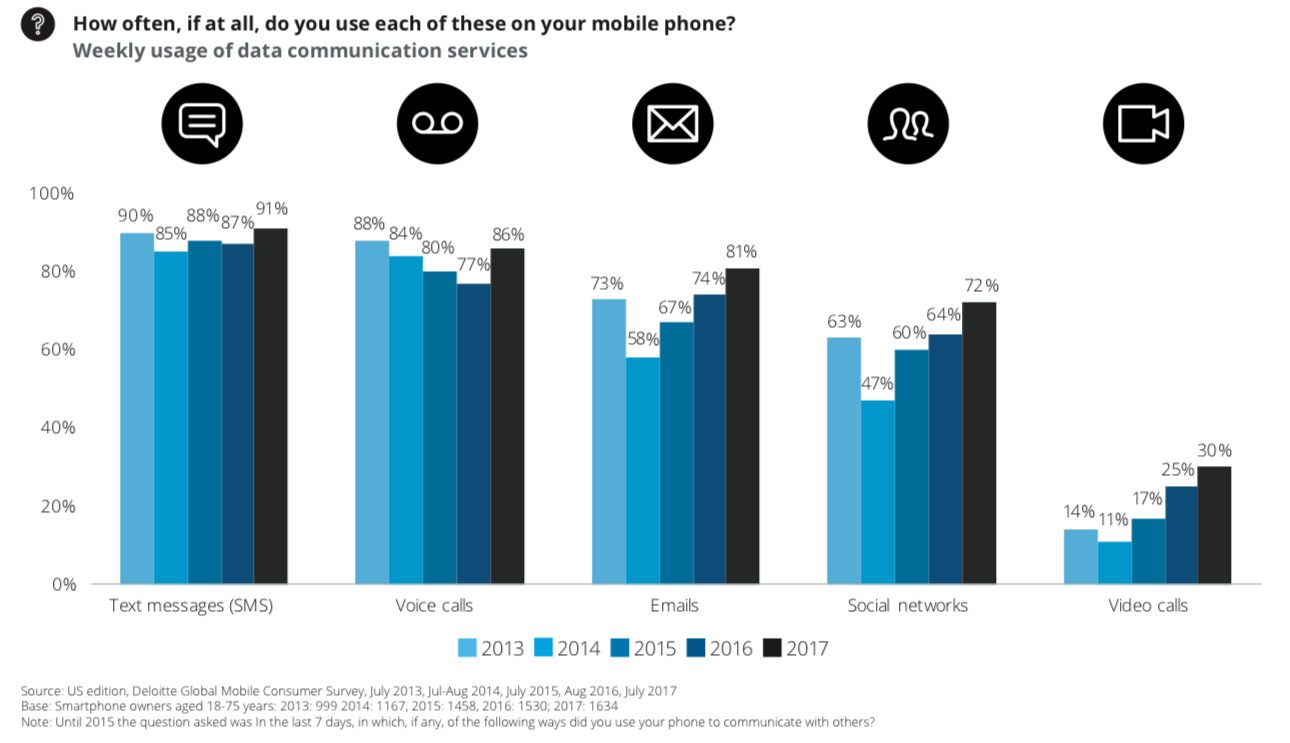 Despite improved mobile infrastructure and deep penetration of 4G network, the use of video call on mobile devices is quite low. Probably, that's the reason only 30% of the smartphone users who participated in the study claimed to make use of mobile video calls.
But, the big question here is, if users are taking any measures to limit the use of their smartphone to avoid the possible side effects, such as neck pain, nerve damage, depression, stress, weight management, etc!
According to another study, called The World Unplugged, done on 1,000 university students across 10 different countries, smartphone addiction has adverse effects on users mental and physical status. The students were asked to surrender their smartphone for a day. A majority of these students were diagnosed with significant mental and physical distress after few hours only. Panic, confusion, anxiety, extreme isolation during the withdrawal period were the other recorded issues among those students.
The study from Deloitte highlights that most of the smartphone users are completely aware of their mobile addiction. 47% of smartphone users who participated in the study claimed that they have been trying to reduce the time they spend with their mobile phone, either by keeping out of their sight or turning it off completely.
On the flip side, 38% of smartphones users don't see any need to limit their smartphone usage.
Though the Deloitte study only portrays the scenario of smartphone users in the US, the usage habits of smartphone users in other countries don't differ much. Flourishing economies, like India, people are not only dependent on mobile phones for voice calls or messaging, but also for business and financial transactions too. In such situation, it would be interesting to see how users would strike out a balance between necessity and addiction of smartphones.
[poll id="76″]