The mobile data consumption in India is growing at the unprecedented rate. The tug of war between telecom providers has resulted in a massive drop in data rates. Consequently, mobile phone users are consuming a lot more data on daily basis than ever before. The availability of high-speed data connectivity is one of the primary reasons behind exploded data consumption in India.
India, however, is not the only country experiencing the mobile data revolution. Albeit, it's influenced by the changing equations worldwide. The global telecom industry is on the cusp of yet another generational refresh in the next couple of years. Revolutionary new wireless technologies such as 5G are just on the horizon, even as others such as VoLTE are rapidly gaining popularity across the world. By its very nature, the telecom industry is fundamentally dependent on volume, and an ever expanding user base to sustain prolonged growth. Over the past few years, there has been an increasing sense of stagnation in elite markets such as the US and Europe. Rising smartphone penetration and relatively smaller populaces mean that avenues for growth are slim.
In such a situation, the industry is turning its attention towards the vast, yet largely untapped potential of the Asia Pacific region. Perhaps the embodiment of this potential is India. With nearly 1.2 billion mobile subscriptions and an increasingly lucrative telecom market, India may very well be a key market shaping the global telecom industry in the coming years.
Let us have a look at the changing standards of the regional telecom market, as well as identifying changing user's habits and expectations.
Mobile Data Consumption In India: Users Are Hungry
Ericsson's Mobility Report India for June 2017 outlines just how important mobile data has become for the consumer in the wake of growing mobile data consumption in India. By the end of 2016, Indian mobile users were consuming 1 exabyte of mobile data per month. However, estimates suggest data consumption will grow by nearly 40% CAGR to reach 8 exabytes of monthly usage by 2022! This represents an eight-fold increase in just six years.
Apparently, this means that average use per smartphone is also set to go up. Total mobile data consumption per active smartphone is expected to increase from 4GB per month in 2016 to 11GB by 2022.
So what is driving this incredible growth in data consumption? There are quite a few reasons:-
Launch Of Superior Networks
The past year has been a turning point for the Indian telecom industry. The launch of Reliance Jio, India's first VoLTE enabled 4G network triggered a kind of arms race between incumbent telecom operators. Since then 4G network coverage has expanded rapidly across the nation. Jio itself has promised to cover 99% of India's population by the end of this year. Now other network providers like Airtel are also following suite with their own VoLTE services.
Competitive Pricing
Along with near ubiquitous coverage, Reliance Jio also started a price war within the industry. Jio's free introductory offer, along with dirt low data prices and free voice/text services proved to be a very attractive proposition for many. To compete, incumbent operators have also been forced to lower their prices. As a result of such a competitive market, the consumer is reaping immense benefits.
Increasing Smartphone Penetration
With the ever increasing smartphone penetration in the world's fastest growing smartphone market, the demand for data services has naturally gone up.
Digital Banking/Wallets
The increasing reliance on digital payment solutions, spurred by demonetization, has further led to an increased demand for data services.
Changing Consumer Habits
Another large factor contributing to growing data usage is consumer behaviour. As data becomes cheaper and smartphones become ubiquitous, video streaming is becoming frequent and commonplace. In fact, Reliance Jio becomes the largest video streaming network in the world during its initial launch period due to the increased popularity of video streaming.
How Indian Users Are Consuming Mobile Data
The importance of smartphones as a way to access the internet in India cannot be overstated. In fact, by the end of 2016, 94% of mobile data traffic came through smartphones. This number is set to rise to around 97% by 2022! Of course, this means that users' smartphone usage habits are intrinsically linked to data usage as well. In accordance with the global trend, video streaming and social media are very popular in India as well. Apps like YouTube, Facebook are popular across mobile platforms like iOS and Android. Whatsapp Messenger remains the most popular app on both platforms. The integration of video with social media has further lead to the boom in data usage. In fact, streaming, in general, is becoming increasingly popular. 50% of smartphone users are watching in social videos and live streams on video-centric apps at least weekly, while 25% are regularly watching videos and podcasts from music streaming apps.
Another area which is garnering attention is the video game live streaming and recorded video, which interested nearly 40% of smartphone users. And users are interested not just in consuming video content but creating it as well. Around 33% of smartphone users record and share videos over various social apps such as Instagram, WhatsApp and Twitter.
Indian Consumers Value Quality Over Pricing When It Comes To Mobile Broadband
Indian consumers have a tendency to judge network quality based on popular use cases instead of numbers and metrics. The report found that the most important metrics used by users to judge network quality were:-
Time taken to upload pictures to social media
Time taken to open web pages
Video buffering time
Time taken to download email attachments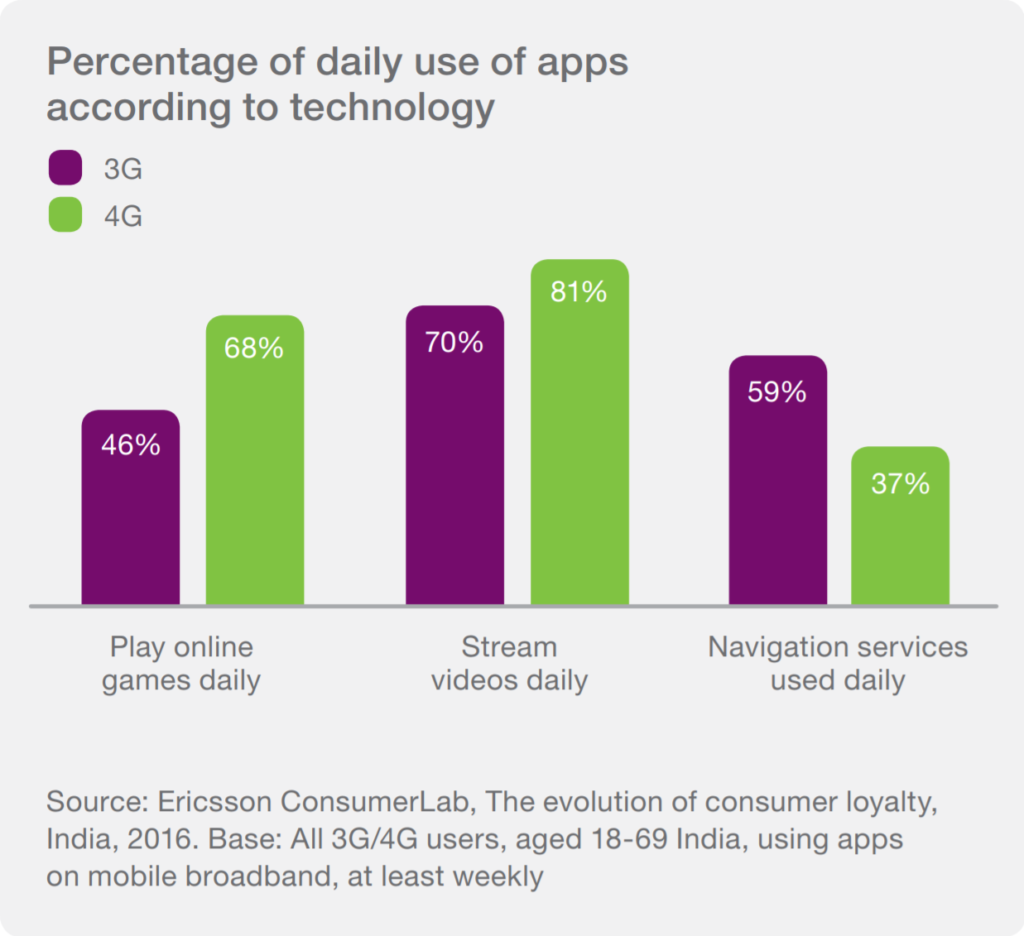 4G networks were also used more extensively for tasks such as video streaming and online gaming. Meanwhile, lighter tasks such as navigation were more popular on 3G. Given the heavier workloads attributed to 4G networks by users, the report found that a superior mobile broadband experience was 500% more effective than cheaper tariffs in retaining customer loyalty. This means that improving network quality is much more important than lower prices to drive even further growth. This comes as somewhat of a surprise considering India is traditionally an extremely price sensitive market. This also explains Jio's failure to dethrone Airtel as the top network provider in India, owing to their inferior network quality.