The mobile app industry is one of the single largest software economies in the world, and the growth of worldwide app downloads in Q2 2017 has proven it once again.
Smartphones have brought about a major shift in computing platforms and how we interface with them. The overwhelming popularity of the app based ecosystem has now intrinsically linked smartphones and other mobile devices with the app economy. However, there is one key difference between the two; while hardware sales have a definite growth ceiling which we are fast approaching, the full potential of application software is still far from being realized.
Sensor Tower's Store Intelligence Data Digest report for Q2 2017 is out, and it has some interesting salient points. Let us have a closer look at the data in the report and analyse newer developments.
App Downloads Register Impressive Growth
The total app downloads on the Google Play and Apple App Store grew by 15.3% YoY to reach 21.8 billion in Q2 2017, worldwide. However, these numbers are a tad under last quarters numbers, which saw nearly 22.6 billion downloads, globally. Despite this, the YoY growth of 15.9% in Q1 2017 is very similar to Q2 2017.
The proportion of downloads is expectedly skewed in favour of the Play Store with 70.2% of the total, or 15.3 billion downloads. This represents an incredible 21.4% growth over Q1 2016. This conforms to the prevailing growth trend in the Google Play downloads, which registered 21.7% YoY growth last quarter as well. In contrast, the App Store registered only 6.5 billion downloads, with a mere 3.2% YoY growth. This is even lower than the YoY growth we saw in Q1, which was around 4.5%.
Of course, these numbers are not particularly surprising as the user base of Android is considerably much higher than the iOS. However, one worrying trend for Apple is the relatively stagnant app growth as compared to Android.
Facebook Services And Games Dominate The Top Charts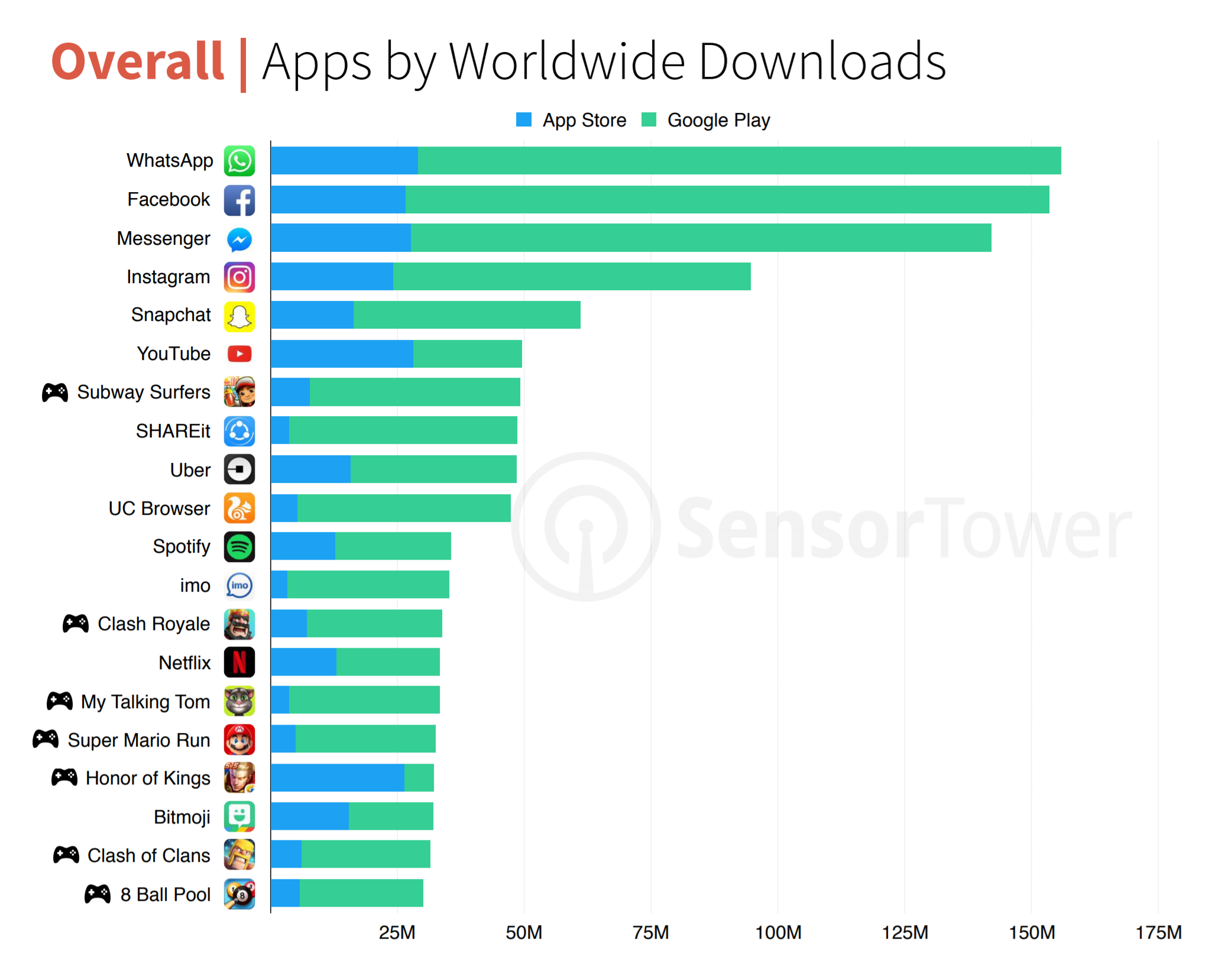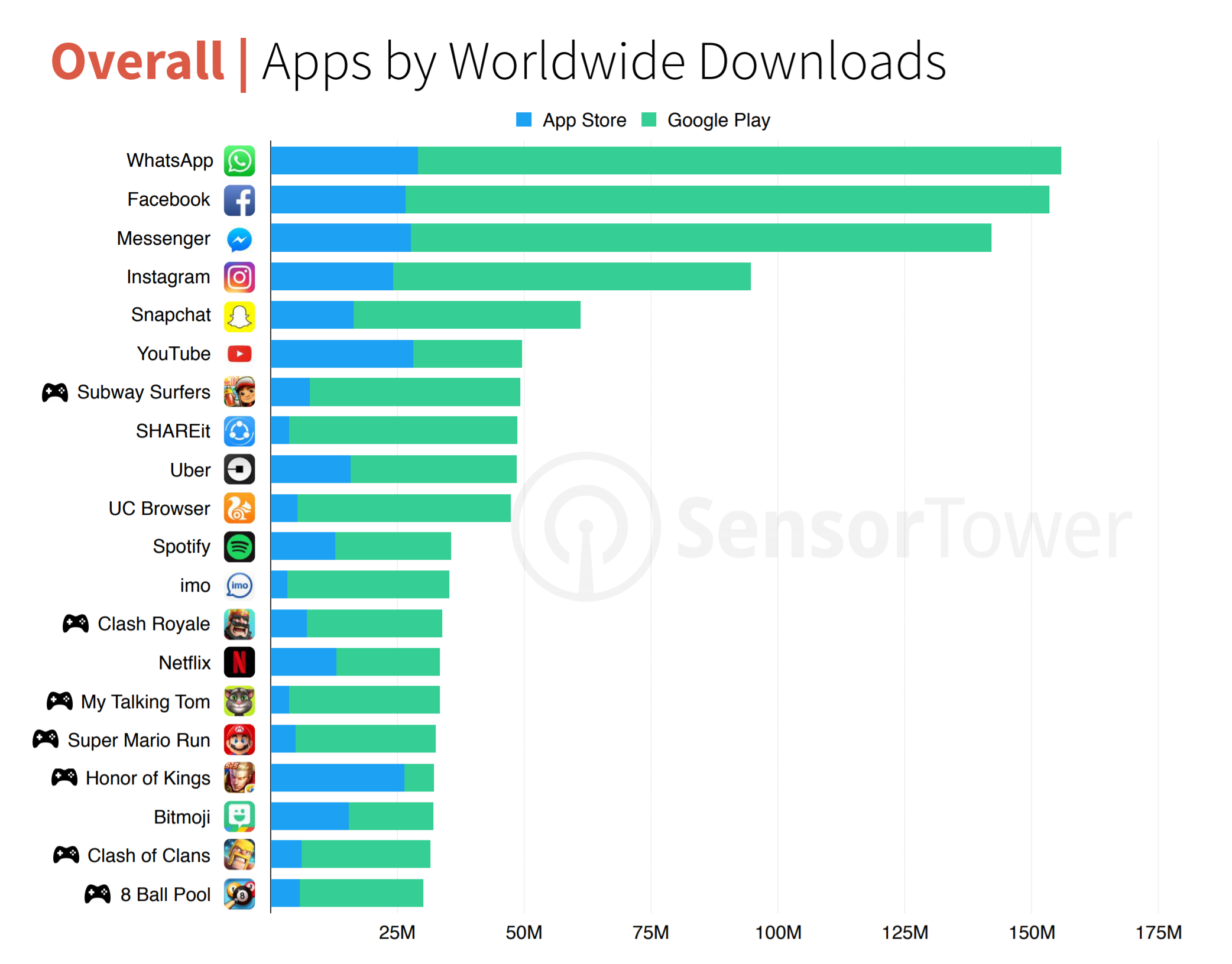 One striking feature of the report was the sheer level of dominance Facebook is currently enjoying in the app ecosystem. Four out of the top 5 most-downloaded apps worldwide belong to Facebook. WhatsApp leads with a mammoth 155.8 million downloads. The popularity of WhatsApp is now at an all time high, with over 1 billion daily active users! Facebook comes in at second, followed by Messenger, Instagram and finally Snapchat. Combined, Facebook and its subsidiaries account for over 600 million downloads on App Store and Google Play.
Another feature worth noting is the fact that all apps in the top 5 fall under the social media and messaging category. However, despite this, the social networking and communication app downloads actually went down compared to Q1 2016. This means users are consolidating around a few select platforms. While the established social media apps are seeing more and more interest, fringe players and upstarts are falling by the wayside.
Despite reports of declining mobile gaming sessions, games downloads registered strong growth this quarter. In Q2 2017, seven games made the top 20 most downloaded apps worldwide, compared to only 4 in Q1 2017. Mobile gaming giant Supercell had two games in the top 20 – Clash of Clans and Clash Royale. The continued success of Clash of Clans five years after launch is remarkable, especially on a platform where consumer engagement and interest is fleeting at best. Games were also the top downloaded category across both the Play Store and App Store with 6.64 billion and 1.90 billion downloads, respectively. This represents growth of 25.8% YoY and 1.6% YoY, respectively. So, not only are games the most profitable, but they are also the most downloaded type of app.
Differing Trends On The App Store Vs Play Store
Despite quite a few similarities like the dominance of social media apps, there are a few key differences between the two platforms. The YouTube app was extremely popular on iOS, ranking as the second most downloaded app worldwide. Of course, it was nowhere to be found on the top Play Store download list as it comes pre-installed on most Android smartphones. The situation is similar for Gmail and Google Chrome, which ranked 13 and 19, respectively, on the App Store. The Chinese app ecosystem also had a significant impact on iOS, as WeChat came in at number 8 on the App Store, while Tencent's wildly popular Honor of Kings ranked at 6, dropping down from the top position in Q1. This is still impressive, as the game has very limited regional availability as it is set for a global launch later this year.
Meanwhile, Android users were found to be bigger gamers than their iOS counterparts. Seven games were among the top 20 most downloaded apps worldwide on Play Store, with Subway Surfers ranked the highest at 7. Meanwhile, Honor of Kings was the only game on iOS to make the top 20. Another huge success on the Android platform was the file sharing app SHAREit, which has the only minimal presence on iOS due to system level restrictions. Star India owned Hotstar was the only video streaming service that made the top 20 ranking on Android, while Netflix dominated iOS.
Actionable Insights
Games downloads on Android continue to grow at a rapid pace. Games also dominated the top downloads list on Android, making Google's platform ideal for games publishers.
The Tools and Communication app categories saw a decline in downloads on Android, presumably due to enhanced OS level feature integrations. Non-game app makers would do well to focus on the burgeoning Photography and Entertainment categories instead.
Despite the apparent popularity of social media apps on iOS, overall social media app downloads saw an 11% decrease. Users are flocking to established platforms, leaving very few prospects for newer social media app publishers.