The exploded adoption of the mobile Internet, smartphones and mobile payment is resulting in an unprecedented rise in the sales volume from mobile devices. It is clearly evident with the latest trend report that highlights how mobile devices have become crucial for the success of any business nowadays.
Nearly 48% of merchants have recorded at least 11% or more growth in the number of sales coming from mobile channels in 2016, according to the latest report, titled Mobile Payments & Fraud Survey 2017, from Kount. It's encouraging to know that only 11% of merchants acknowledged no growth in mobile sales volume in 2016.
One of the key reasons behind such impressive growth figures is the ability to detect transactions coming from mobile. In 2013, only 44.8% of merchants were found to have the ability to detect mobile transaction. Within just four years the figure has swelled to 86%.
But it's not only the growth in their mobile sales volume that has boosted the confidence of merchants in mobile; it's also the extraordinary growth in revenue coming from mobile. In 2013, 50% of merchants recorded only 5% of their revenue coming from mobile. Fast forward 2016, the figure is squeezed to just 21%.
In contrast, 57% of merchants claimed that at least 10% or more of their revenue came from the mobile channels in 2016. Interestingly, this percentage of merchants is estimated to swell to 64% in 2017.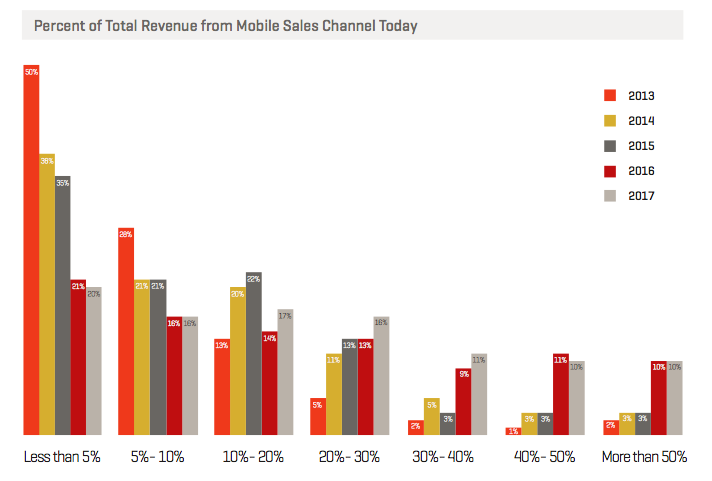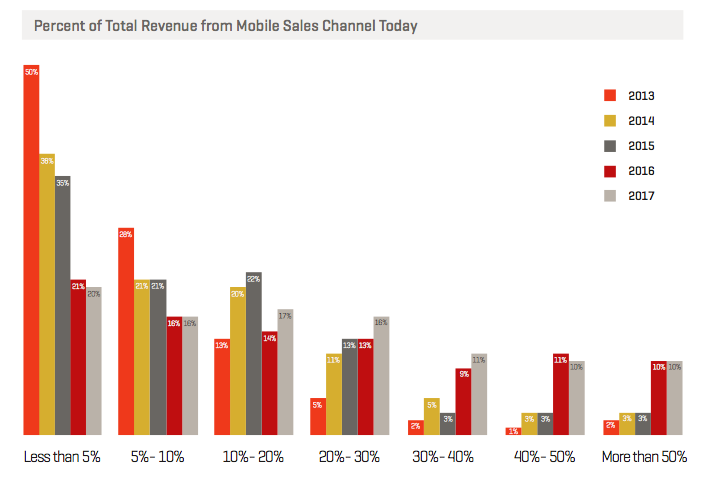 The influence of mobile on people's buying habits could be understood by the growing share of sales coming from mobile in the future. The report estimates that in the next two years one-fourth of merchants will see 50% of more revenue coming from mobile channels alone.
Merchants those are dealing in Apparel, Accessories, Digital Goods, Computers & Electronics, Ticketing and Games are bound to see exploded growth in their revenue coming from mobile sales channels in the next two years. Nearly 50% of merchants in each of mentioned categories will record 30% of more revenue from mobile channels.
These findings clearly indicate that people are no more using mobile devices only for discovery. Unlike a few years back, when people used to shy away from mobile for transacting, mobile users are finding a great degree of convenience and security in buying products from mobile. Mobile-only discounts, mobile wallets and rich mobile experience have hooked users to mobile shopping. By realising the fast changing consumer buying behaviours, merchants have also started employing a mobile-first strategy to make their mobile shopping experience more adorable.
Actionable Insights:
Merchants need to focus on providing a rich shopping experience to their mobile users.
As more shoppers are turning to mobile merchants needs to focus on acquiring users through their mobile apps. This will help merchants to tweak their offerings by leveraging on the data collected through mobile apps.
It's time for merchants to adopt the mobile-first strategy. As the lion's share of their revenue is bound to come from mobile, merchants need to sew users requirements with available products for more sales volume.