Back in March, we reported on a rather worrying trend for Apple of rising iPhone failure rates. At the time, the silver lining was that Apple's newest flagships, the iPhone 7 and iPhone 7 Plus had relatively low failure rates. However, new data from Blancco reveals that Apple's worries are far from over. The "State of Mobile Device Performance and Health Q1 2017" report by Blancco clearly outlines that Apple's problem has only been exacerbated by time.
The report also shines a light on various other issues weighing Apple and iOS down, while Google's Android continues on its relative upward trend.
The Failure Rate of iPhone 7 And iPhone 7 Plus Has Shot Up Alarmingly
In Q4 2016, we found that the iPhone 6 suffered from exceedingly high failure rates of 15%. Despite this, the newly released iPhone 7 and iPhone 7 Plus performed admirably on this front. Both of them only registered a low 3% failure rate each. At the time it seemed that Apple's failure rates would go down as the iPhone 6 would be phased out in favour of the newer iPhone 7. However, this has not been the case at all. In the short period of 3 months, iPhone 7's failure rate has more than tripled to reach 10%. The larger iPhone 7 Plus fared even worse, with an 11% failure rate.
The primary reason behind the rapidly rising failure rates of the newer iPhones is increasing sales and market share. Strategy Analytics notes that the iPhone 7 was the top-selling smartphone in Q1 2017. This makes it abundantly clear that quality control did not improve for the iPhone 6 to iPhone 7 generational refresh.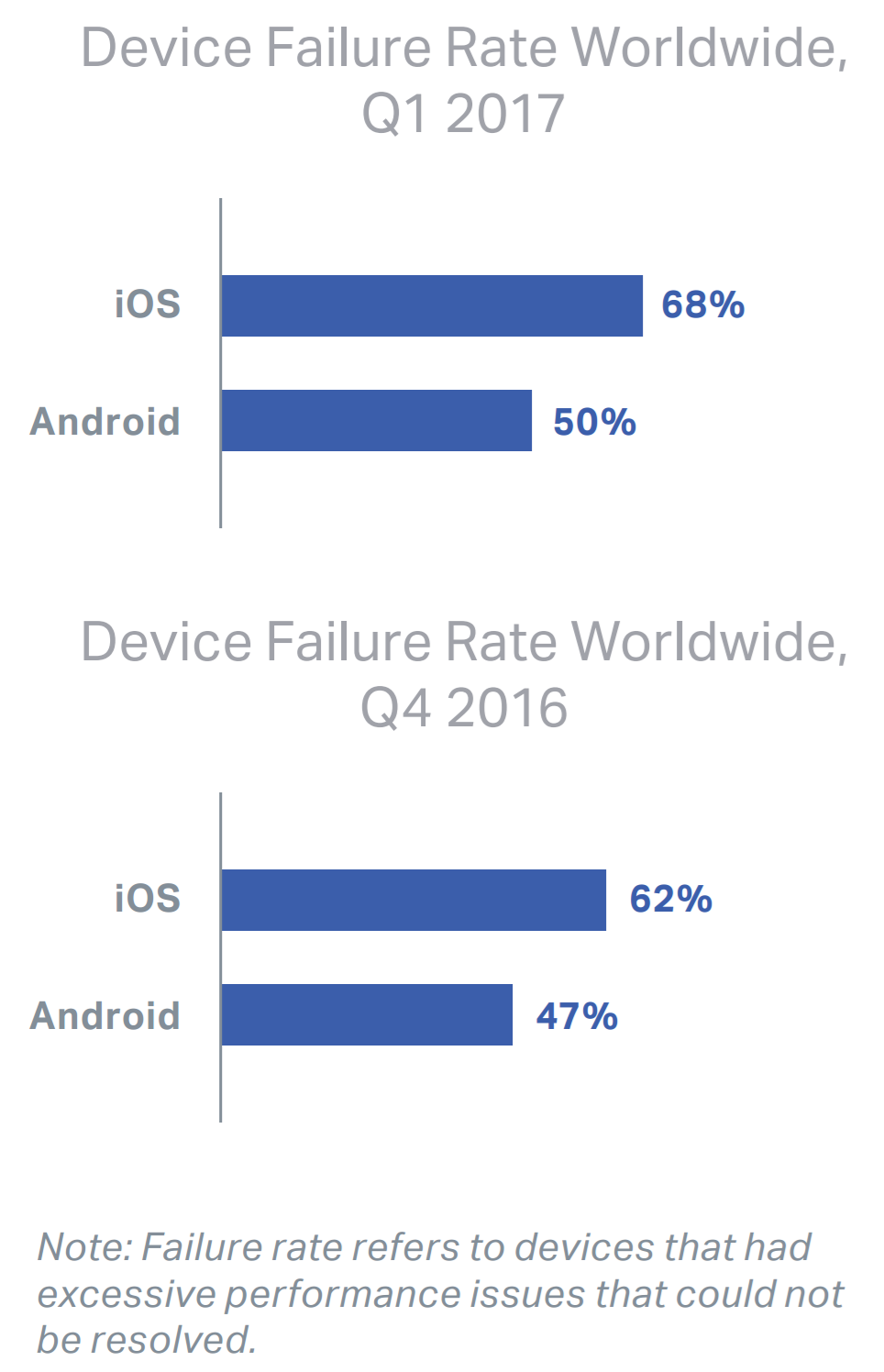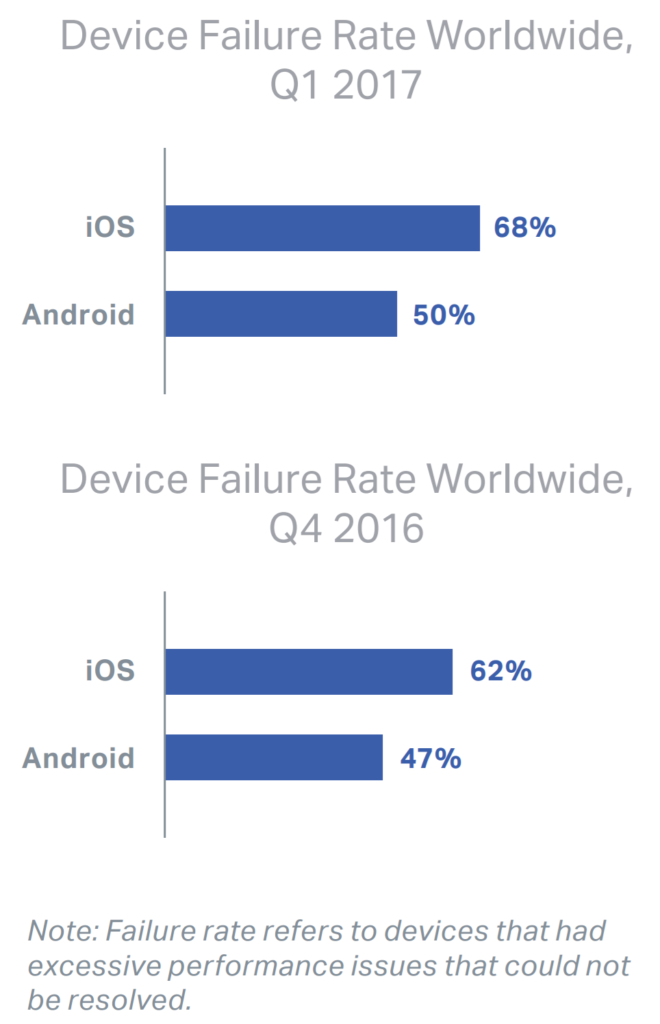 Meanwhile, things went from bad to worse for the iPhone 6 and iPhone 6S. These models degraded further with increased failure rates of 20% (up from 15% in Q4 2016) and 12% (up from 8%) in Q1 2017, respectively. In fact, Apple devices performed poorly across the spectrum. The overall failure rate of iOS devices went up from 62% in Q4 2016 to 68% in Q1 2017.
On the other hand, Android remained the reliability king with a 50% failure rate, albeit that is slightly up from 47% in Q4 2016. Most of Android's failure instances were comprised of Samsung phones with a 59% share. This is likely because of Samsung's large market share, and extensive usage behaviour. 8 out of the top 10 devices by failure rates were manufactured by Samsung, with the flagships Galaxy S7 and S7 Edge leading the charge.
iOS App Woes Continue
Last quarter, it was found that apps on iOS crashed two times more than apps on Android. The good news for Apple is that app crash rates have come down to 50% in Q1 2017 from 57% in Q4 2016. However, as is the trend in this report, Apple seriously lags behind Android which has registered improvement in app stability with a crash rate of 18%, down from 22% in Q4 2016. The bottom line is, iOS apps are now three times likely to crash than Android apps.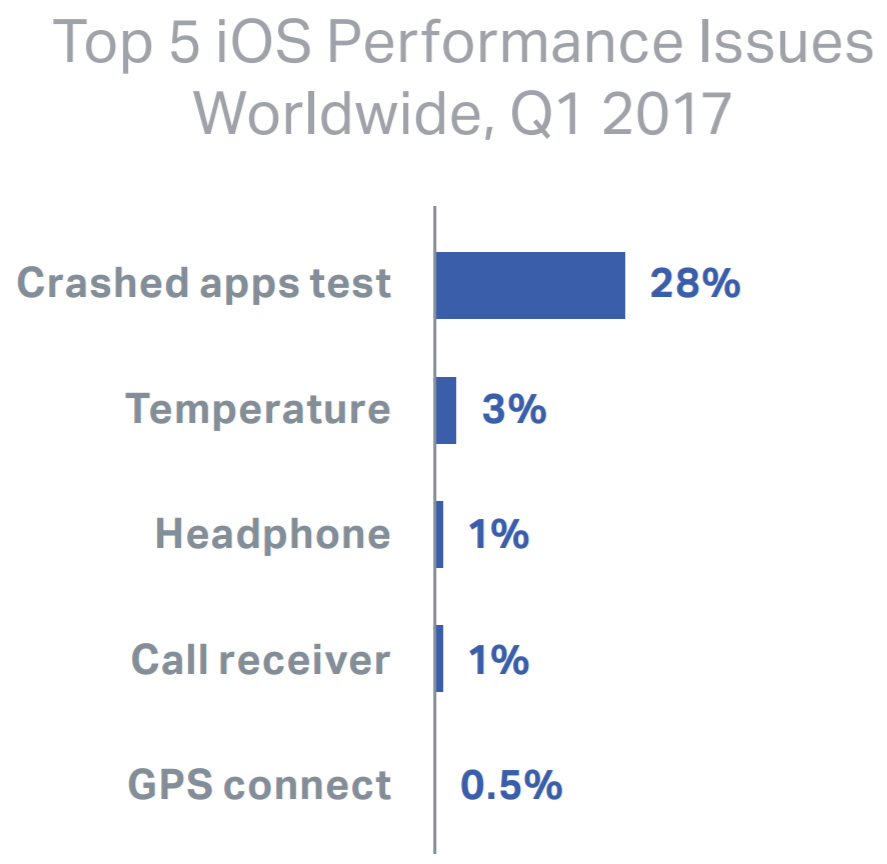 Familiar problems continue to plague Apple on the software and app front, along with a few new ones. Crashed apps and overheating remained the two big issues worldwide on iOS both in Q4 2016 and in Q1 2017. New issues relating to GPS connectivity have also cropped up. This is especially worrying considering our increasing reliance on GPS services for multitudes of services like taxi hailing apps, navigation and even gaming. A lot of these issues of overheating, crashing and poor connectivity can be attributed to the iOS 10.2.1 and subsequent iOS 10.3 software updates. It would seem as if Apple is struggling to optimise updates for its increasing portfolio of devices, resulting in increased instances of bugs and performance problems.
On the other side of the pond, Android continued to suffer from many of the same issues it experienced last quarter. In particular, camera malfunctions and poor signal strength irked Android users. Performance issues also increased a bit to 10%, up from 8% in Q4 2016, and taking the top spot in Android grievances. On the app front, Google's struggle with maintaining stability on its first-party apps continued, as Google Apps reported increased instances of crashing. This is a similar story to last quarter, as Google Play Services was also the biggest crash culprit.
While many may have expected Apple to bounce back after their poor performance in device stability and reliability metrics in Q4 2016, quite the opposite has happened. Apple and iOS stability and reliability continue to fare poorly compared to Android, and the gulf is only widening. With Android already claiming the lion's share of the smartphone market, Apple needs to arrest this decline lest they surrender more ground to their rivals.
Interestingly, despite all such growing concerns with Apple ecosystem, 92% of iPhone users who will be most likely to upgrade in the next 12 months will reportedly stick with Apple.
Actionable Insights
Apple's iPhones continue to suffer from worsening failure rates compared to Android. Users looking for longer lasting devices must now turn to Android in favour of Apple.
Poor update optimisation has led to declining stability of the iOS platform. Overheating and app crashes continue to plague iOS users even as Android remains comparatively stable. For app developers, this means that developing for iOS just got trickier.
Despite all their recent improvements, Android devices continue to suffer higher instances of laggy performance and first party app crashes. Persistent camera and signal connectivity issues also continue to affect users. This is often down to poor data and cache management, which is something both developers and users need to keep in mind.