With the rapidly changing climes of modern technology and how we interact with it on a day to day basis, smartphones have very quickly evolved from a premium luxury to a basic necessity. Just like it was with personal computers in the early 2000s, not only does having access to a smartphone afford the user a multitude of opportunities, it is now becoming integrated into important everyday tasks. Today smartphone finds ubiquitous use, especially in education, banking, social networking, media and entertainment-related activities. Now, with smartphone adoption at an all time high and showing no signs of slowing down, it is of immense importance to weed out and identify crippling problems and issues hampering the smartphone user experience, so that they may be rectified appropriately.
Let us take an in-depth look at the various facets and issues which are affecting the smartphone experience.
Apple and iOS Stability On The Decline?
A recently released study by Blancco provides relevant data and points to some surprising trends regarding mobile performance and health. The most startling find is the sharp decline in the reliability and app performance on Apple's iPhones juxtaposed by a steady improvement by its Android counterparts on the same fronts.
Traditionally, iPhones have been lauded for their impressive build quality, performance and stability. This has traditionally been Apple's strong suit, with iPhone enthusiasts pointing towards this rationale to emphasise Apple's superiority as being the "premium smartphone experience". The report finds a steady increase in failure rates for Apple devices, from a mere 15% in Q4 2015 to a worrying 62% in Q4 2016.
The increasing crash share of iOS devices can be, not necessary, attributed to Apple's improving market share of late. As a company manufactures more number of devices due to growing demand chances of device crashing elevate. The different demographic and usage preferences of new users put the devices on a rigorous test and result in device failures. Kantar Worldpanel ComTech notes the improvement in iPhone market share following the release of the iPhone 7 and iPhone 7 Plus during the Christmas holiday period. Similarly, Counterpoint shows the increased adoption of iPhones in Asian markets, dominating the premium smartphone segment in the Indian market with 62% share.
However, a lot of the performance issues are more prevalent on the newer generations of Apple devices, which signifies a lowering standard of Quality control, both in the hardware and software departments. The biggest offenders seem to be the iPhone 6 and iPhone 6S with both accounting for 15% and 8% of the total failure rates respectively. The iPhone 6 marked a major change in design and function philosophy for Apple, and the teething pains are evidenced by the high failure rate for these devices. The newer iPhone 7 and 7 Plus are also susceptible to high failure rates, with both accounting for 3% each of the total. These models are plagued with WiFi connectivity issues, touch screen issues, battery drain, media syncing problems and Bluetooth issues. The latter is a considerable cause for consternation because of Apple's decision to remove the 3.5 mm headphone jack and subsequent push for Bluetooth based audio solutions.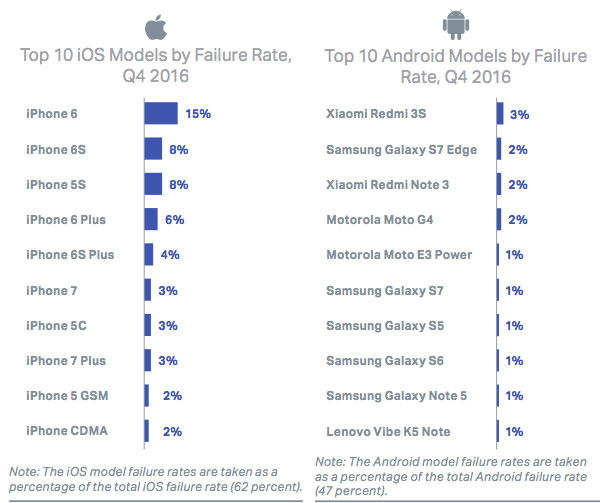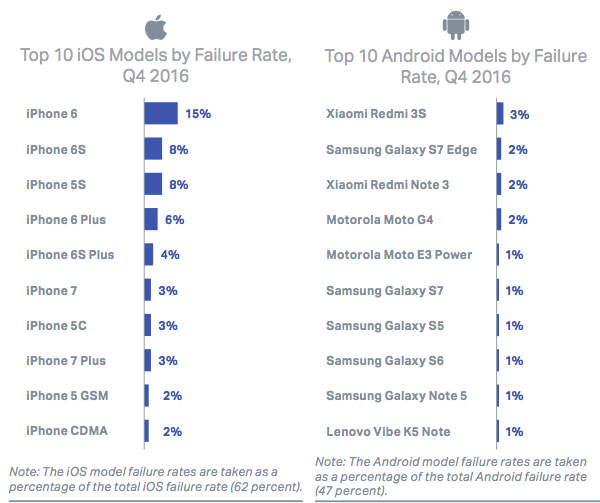 The biggest issues affecting iPhones, however, are overheating problems and crashing apps accounting for 14% and 32% of the performance issues respectively. Apple has been rolling out software updates more frequently than usual of late, and with their ever expanding portfolio of supported devices, the optimisation of these updates seems to have suffered. There are reports of software updates "bricking" devices or causing massive battery drain.
Apps also have a tendency to crash more on iOS devices than on Android, with the crash rate at 57% in Q4 2016, up from 50% in Q2 2016. The key offender is social media, with 7 out of the 10 most crashing apps belonging to this category. These include Instagram at 12%, followed by Facebook and Snapchat at 11% and 9% respectively in Q4 of 2016.
There is cause for hope for Apple yet. The data shows that iPhone failure rates stood constantly at 62% both in Q3 and Q4 of 2016, displaying an improving trend. The app crash rates have also dropped, from 62% in Q3 2016 to 57% in Q4 2016.
A New Performance and Stability King
In stark contrast to Apple's iOS, most of the new data is very encouraging to the Android platform. Despite losing some ground to iOS in premium segment (devices priced more than $450) in key markets such as US and India, Android maintained its dominance of market share. All this while failure rates on Android devices and lowered considerably, down from 85% in Q4 2015 to nearly half of that at 47% in Q4 2016. The devices suffering the highest failure rates were Samsung (16%), Xiaomi (5%), Motorola (4%) and Lenovo (3%) in Q4 2016. Samsung's poor performance was padded by the Note 7 fiasco and subsequent recall and high failure rates for the Galaxy S7 Edge (2%) and Galaxy S7(1%).
The data finds Android affected by a different set of problems compared to iOS, with camera, USB issues, signal issues, battery charging and draining being the biggest. For all of their recent strides Android cameras generally still tend to lag behind Apple's offering, especially in response times and low light conditions. The camera was a consistent problem for Android users as the failure rate increased from 8% in Q3 2016 to 10% in Q4 2016. While the USB glitches and issues reduced from 15% in Q3 2016 to 10% in Q4 2016, and this trend is likely to continue as more and more manufacturers the superior and more reliable USB Type – C standard. Battery issues still pervade the Android ecosystem extensively, ranging in severity from exploding batteries in the Samsung Note 7 to overheating and draining issues in Xiaomi Redmi 3S.
App stability has generally remained quite good on Android at 23%, 25% and 22% in Q2, Q3 and Q4 of 2016, respectively. Social media apps tend to be relatively stable on Android, experiencing minimal crashes. The top three crashing Android apps are IMS services (16%), Address Book (6%) and Google Play Services (5%) in Q4 2016.
We can attribute a lot of the credit towards the improved stability of Android to its evolution and maturity as a platform over the years. Improvement in advanced diagnostic testing has also enabled manufacturers to identify the problem source more accurately, and hence formulate a fix.
The new data flies in the face of conventionally held beliefs and notions regarding smartphones and their operating systems. We have observed a complete role reversal where Android, and not iOS, is now the go-to platform for a consistent, stable and crash free experience.