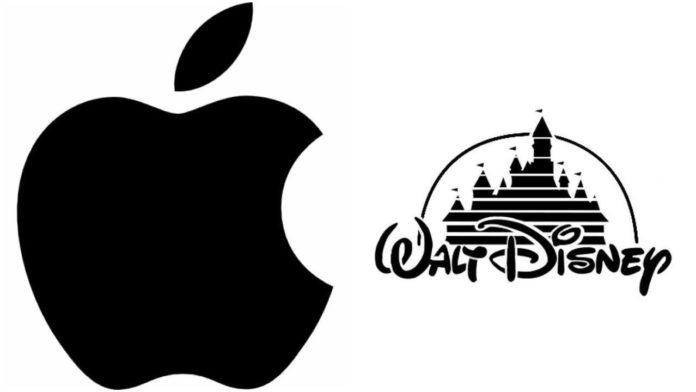 First thing first; if Apple Inc. (NASDAQ:AAPL) acquires Disney (NYSE:DIS), the iPhone maker would become the first technology, and second techno-media, company to clock the valuation of $1 trillion.
Big money acquisitions and mergers are a common occurrence in the corporate world. Big corporations often acquire other companies in order to diversify, acquire technology and expand their customer bases. For a while now, there have been rumours of a potential merger that would shake the technology and media industry to its very foundations. Rumours that technology giant Apple may buy media behemoth Walt Disney Co. have just been given more credence by a new speculative analysis by RBC Capital.
Let us delve deep into the report and identify the possible implications such a merger might have.
Apple Acquires Disney: The Numbers Behind
The Walt Disney Company is one of the biggest media conglomerates in the world and an iconic institution with worldwide recognition. Apple has a similar reputation in the technology industry. Apple is one of the biggest smartphone manufacturers in the world, with a stock market value of $700 billion. Undoubtedly, the scale of any deal between the two would be gargantuan.
RBC estimate that Apple would have to pay a 40% premium on Disney's share price. This estimation is fair considering the 35% premium AT&T paid for their acquisition of Time Warner in a deal worth $109 billion in 2016. This would mean that Apple would have to pay $157 per share, in a deal worth $237 billion! Such a deal would result in the creation of a $1 trillion company, joining the exclusive ranks of Saudi Aramco. This would also represent the largest acquisition is history, beating out Vodafone AirTouch PLC's acquisition of Mannesmann for $202 billion in 1999.
So can Apple afford such a deal? Technically, yes.
Apple's overseas cash balances are pegged to be over $200 billion. Any proposed buyout of Disney will be funded by this money, with the remainder being made up by debt. However, there are many other factors at play here too.
Currently, Apple cannot repatriate any of their overseas cash without incurring a heavy tax of 35%. Apple CEO, Tim Cook is banking on the Trump Administration's proposed tax reforms for a "tax holiday". This is absolutely key, and any possible deal will hinge on the outcome of this issue.
Apple-Disney Merger Would Benefit Apple
Apple has hinted that they might be looking at acquiring a media company for a while now. They were reportedly in discussions with Time Warner
before AT&T beat them to the punch. There are several reasons why Apple may now be looking to acquire Disney:-
Diversifies Apple's Portfolio – Apple is a market leader in the smartphone industry. Their relatively narrow products and services portfolio, however, leaves them vulnerable to changes in the market. As of now, the iPhone makes up for nearly 60% of the companies' revenue. An acquisition of Disney would help Apple diversify to the media industry.
Helps Apple's Push Into Services and Content – With stagnation in the growth of smartphone shipments, Apple has been looking to expand into the service and content. Subscription services like Apple Music are becoming key for Apple. Apple executives have even pledged to double the size of $24 billion per year services business in the next 4 years.
Brand Value – According to RBC analyst Amit Daryanani, "There are few brands that AAPL could acquire that wouldn't dilute its iconic presence and customer relationships; DIS would clearly strengthen (and not dilute) the brand value."
Compete In The Media Streaming Market Space – An acquisition would give Apple access to Disney's vast library of original content. This would help Apple enter the subscription-based video streaming market in a big way, and compete with giants like Netflix, Amazon and even Youtube.
Is The Deal On the Cards
By now we have already established how the merger would mutually benefit both parties. But, considering everything is in the rumour stage, the big question is, is the deal actually on the card? While it's too difficult to be conclusive at this stage, here are some reasons why it looks like a promising scenario for both the companies:
Apple has hinted at plans to acquiring a media company. They were reportedly in discussion with Time Warner executives before AT&T acquired them.
The Steve Jobs connection – Steve Jobs was the largest shareholder in Disney-owned animation studio Pixar. Disney CEO Robert Iger is also a member of the Apple board.
However, on the flipside, there are many reasons why the deal may fall flat, or may not be being explored by any party:
Th report by RBC is a speculative analysis, offering no real proof of an impending buyout.
RBC analysts call it a "greater than 0 percent probability event". This would suggest that no gears are in motion as of now.
There is a lot of variables involved in any potential deal. Most importantly, the deal hinges on Apple obtaining a crucial tax break.
The sheer magnitude and expense of such a deal would deplete a majority of Apple's cash reserves. It is highly debatable that Apple will be willing to do this.
Apple has never done any deals of such scale. Their largest acquisition to date has been the $3 billion buyout of Beats.
A deal like this could potentially block Apple's ability to host all content and limit them to Disney content.
Takeaways
An Apple-Disney merger could help catapult Apple to the top of the pack in the media streaming industry.
Apple is looking to acquire a media company for some time now, and Disney may be their target. Other options for Apple may be Netflix, CBS, Activision Blizzard and Paypal.
Possibly due to these rumours, Disney's shares rose 17 cents close at 133.21. They even reached 114.25 intraday, their best since December 2015.
Such a deal will make Apple the world's second $1 trillion company producing a tech/media juggernaut like never seen before.